Sport
Manc runners are uniting once again for the Manchester 24 Hour Run Against Homelessness
To see how far this student-led event has come in just a few short years is incredible and genuinely warms out hearts.
It's once again time for The Manchester 24 Hour Run Against Homelessness, one of the most inspiring and impactful charitable events of the year and one that you can be a part of.
For anyone unfamiliar with the initiative, the charity run is a mass participation group relay that is held over a full 24 hours right here in Manchester city centre, with Mancs and people all across the country tuning into a live stream to donate.
Runners and walkers alike set off together in recurring waves to complete 5km laps around the city streets, all in an effort to raise money for the Greater Manchester Mayor's Charity's 'A Bed Every Night' (ABEN) scheme, which aims to help provide shelter and support for those sleeping rough.
Providing crucial aid not only to Manchester's existing homeless community but those at risk of ending up on the street, the charity works tirelessly year-round to reduce the number of rough sleepers as much as possible and now the MCR 24 Hour Run Against Homelessness is back for 2023 to do their bit.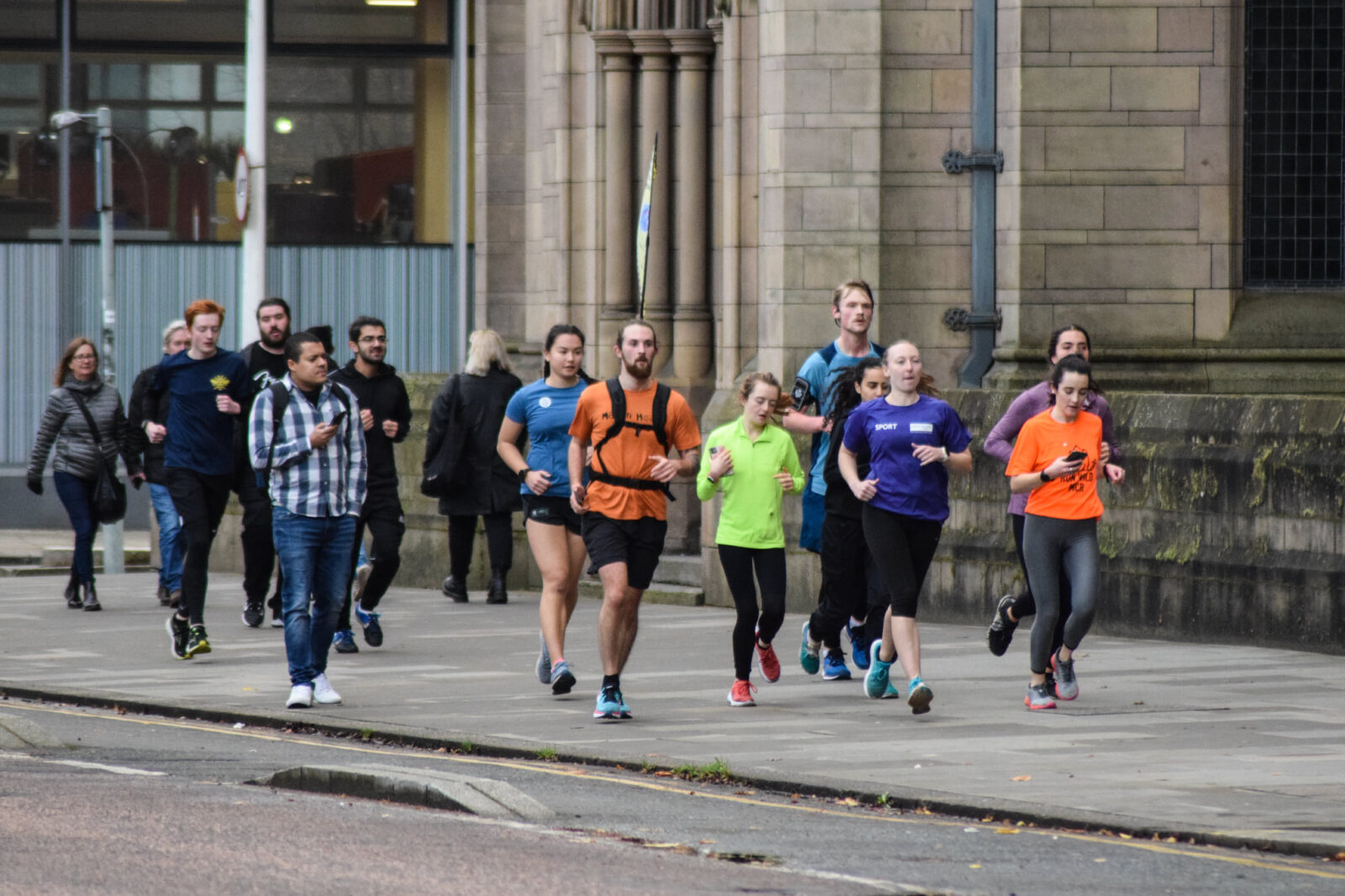 Now into its fifth year, the relay has raised an incredible total of £26,372.50, including £3,372.50 in Gift Aid since it first began, with over £12k of that being raised during the 2022 run alone and nearly 900 beds funded.
Set up by University of Manchester students and now alumni, Tom Lewis and James Bannister (who served as Chairman and VC for the uni's free running society, Run Wild MCR), the idea of the event was to run around the city and observe the conditions people living on the streets experience every night, all whilst raising vital funds to stop that happening.
All the money raised goes directly to the GMMC, which provides a comfy bed, a warm welcome and personal support for anyone sleeping rough on the streets in the region — a cause we can all get behind.
Their mission is to end the need for rough sleeping and hidden homelessness throughout Greater Manchester and since the event's inception in 2019, rough sleeping numbers across the region have reduced by 52%. Incredible stuff.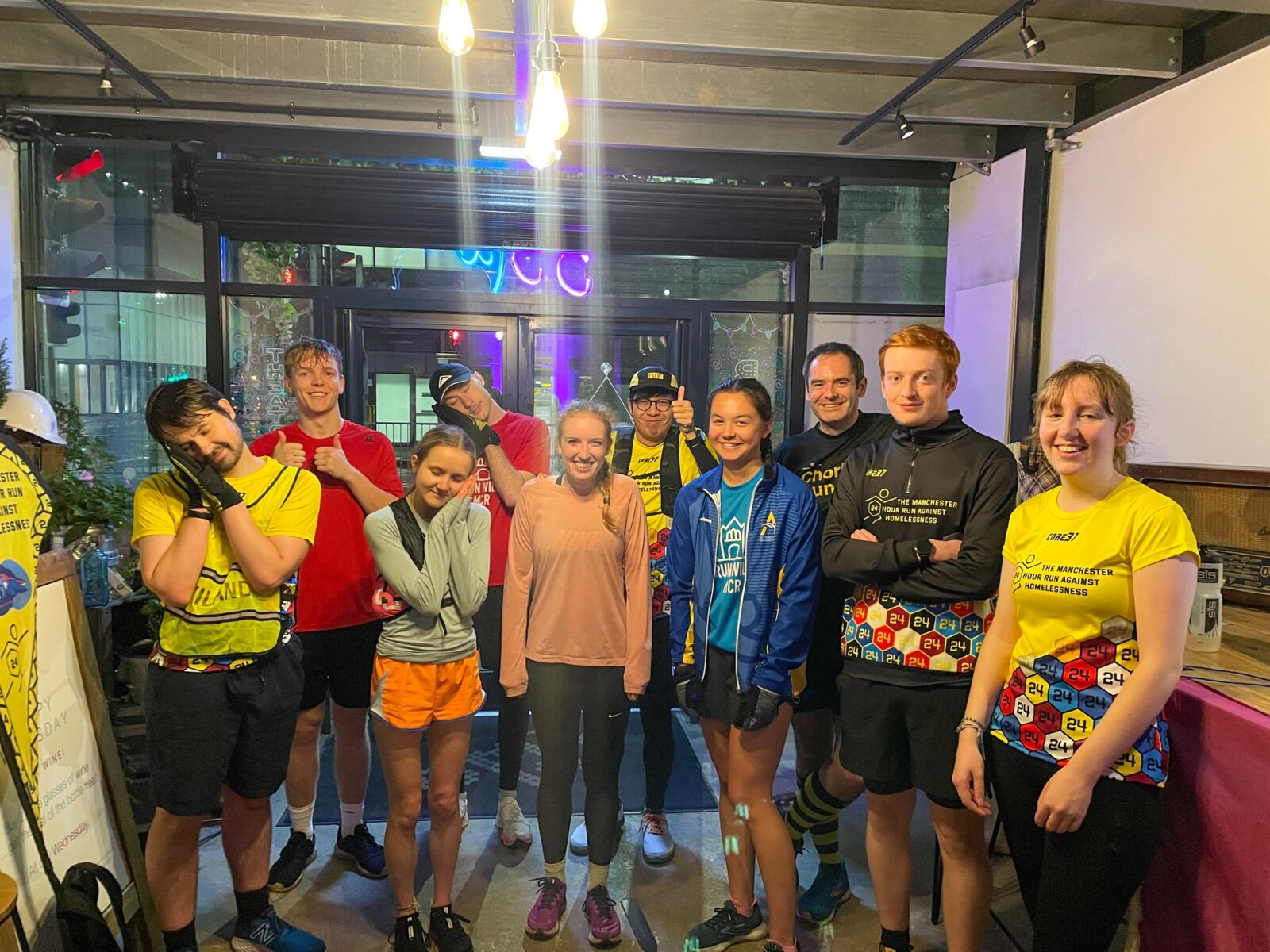 Last year's event alone reached around 65,000 people across various social media channels and saw an almost even gender split both in those who engaged with the Manchester 24 Hour Run Against Homelessness online and who took part for themselves.
2022 saw over 1,000 laps completed by hundreds of people, as well as over 30 running clubs and local organisations, sports-based or otherwise, taking part and putting the miles in for the event.
The Mayor of Greater Manchester himself, Andy Burnham, also paid an important visit to cheer everyone on and spread the word about the annual charity run. Rumour has it that Burno might even be taking part alongside the hordes of runners this year…
They also recently held their new 'Shake-Out' event from their new base of operations at 53two bar, theatre and arts charity venue on Watson Street, tucked just behind the main Deansgate strip, to raise awareness, get the fundraising ball rolling and show off the route for this year's run.
Read more:
While the people behind this truly remarkable event are still looking for local organisations to help promote the event and hopefully match their fundraising total for 2023, the Manchester 24 Hour Run Against Homelessness's reputation is growing more each year — as is their tally.
Taking place on 15 November from the HQ at 53two, where looped laps of the route will start and end every few minutes, we sincerely hope you come along and get involved with this extremely worthy cause.
Not only will a few members of The Manc team be taking part yet again this year but we'll also be sharing the live stream on our Facebook page. You can get donating NOW or on the night and we hope to see a few of you there and even more tuning in!
For all the latest news, events and goings on in Greater Manchester, subscribe to The Manc newsletter HERE.
Featured Image — Manchester 24 Hour Run Against Homelessness/Run Wild MCR