Sponsored
Manchester's first hair and beauty 'flexible workspace' is the only place in the UK to sell renowned US colour range
Phenix Salon Suites was created to offer an alternative to renting a chair for hair and beauty professionals.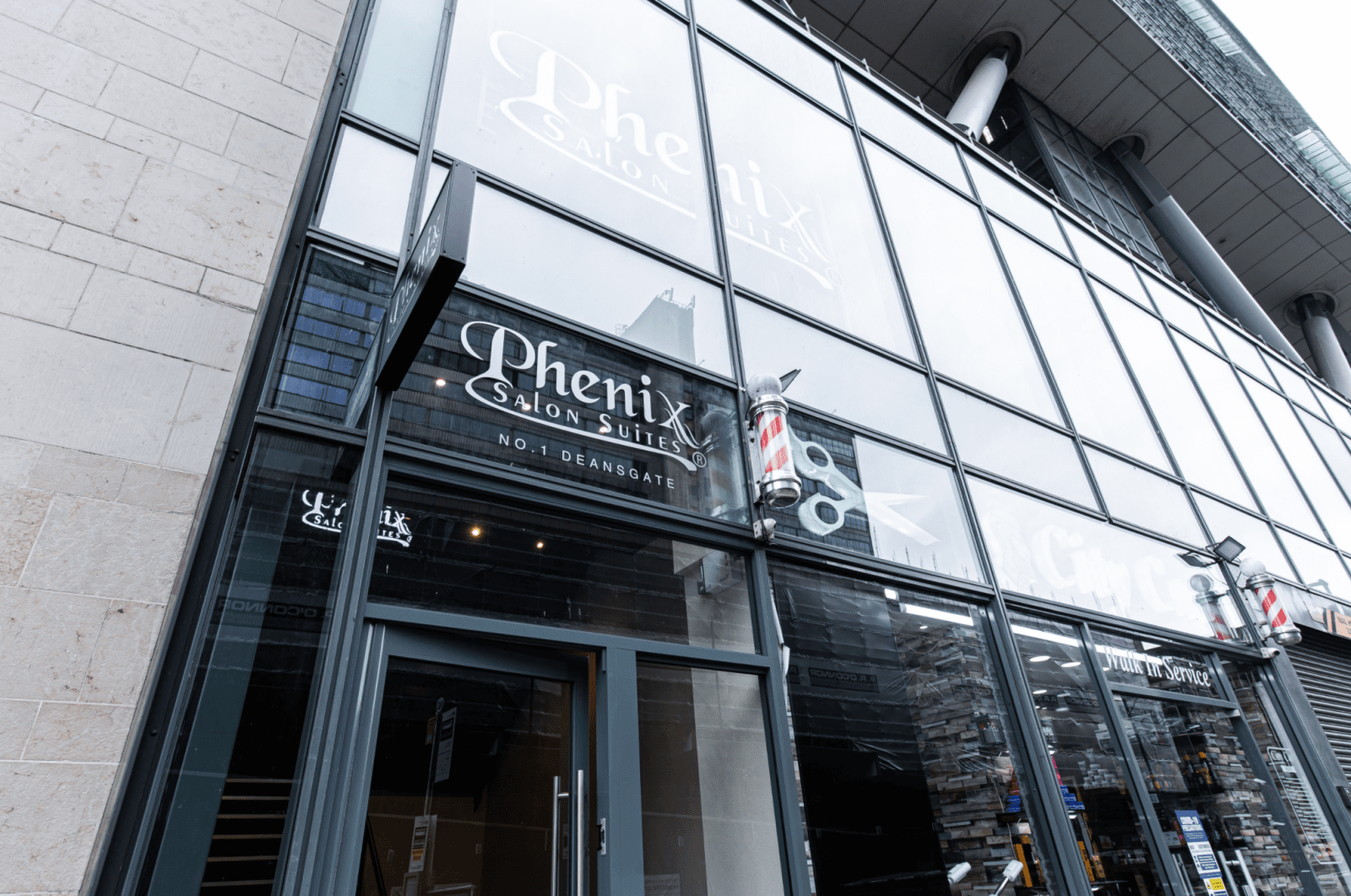 Did you hear that Manchester is now home to the UK's first ever flexible workspace for the hair and beauty industry?
And it's now the only place in the country to sell a renowned US hair colour range.
If you've made your way down the city centre's main thoroughfare at all over the past couple of months, then you may have noticed that Number One Deansgate has welcomed Phenix Salon Suites as its newest addition, after the legendary US brand has chosen Manchester as the destination for its first-of-its-kind UK hub – and it's already proving pretty popular.
Given that it's already a huge hit across the pond, with over 300 locations and partners to its name in the US, then it's probably no shock that the venture is taking off here in our city, but what is it actually about?
What's the story behind the business that's changing the hair and beauty game?
Bringing the concept of flexible workspaces over to the world of hair and beauty, Phenix Salon Suites – which was originally launched in Colorado Springs in 2007 by founder and entrepreneur, Gina Rivera, and was created to offer an alternative to renting a chair – gives industry professionals the chance to run their own businesses by leasing an intimate salon inside a fully-kitted-out facility.
Phenix is the first concept to offer the opportunity to become truly self-employed, and to own and operate a business without the hassle and expense of facility management and maintenance.
Each luxury studio comes complete with high-quality equipment so that tenants can concentrate on running the business without worrying about the costs or set-up of utilities, and Phenix also offers business mentoring to help grow client bases, network, skills, and income, all in a professional setting.
Having officially opened doors in our city back in October 2021, over 70% of the 29 studios in the Manchester hub have now been leased. There's a host of double suites still available for any hair or beauty professionals looking to launch a joint salon business or to work side by side.
Tenants include hair stylists, massage therapists, nail techs, skincare professionals and makeup artists, with some of the businesses having set up shop down the spa-like corridor including celebrity hairdresser Andrew Trott-Barn, legendary Manchester stylist Mitch Woodiwiss, Joseph Snee at Joseph Patrick Hair, Ashley Longmore at Moloko Hair, Kayleigh Johnson at Kayleigh The Hair Witch, Daniel Davies at Arkham Hair Design and many more.
Each unit has been completely personalised and decorated by its new tenants.
The new Manchester venue is now home to some unique spaces like a witch-themed salon, and a luxury hairdressers inspired by a mirror ball.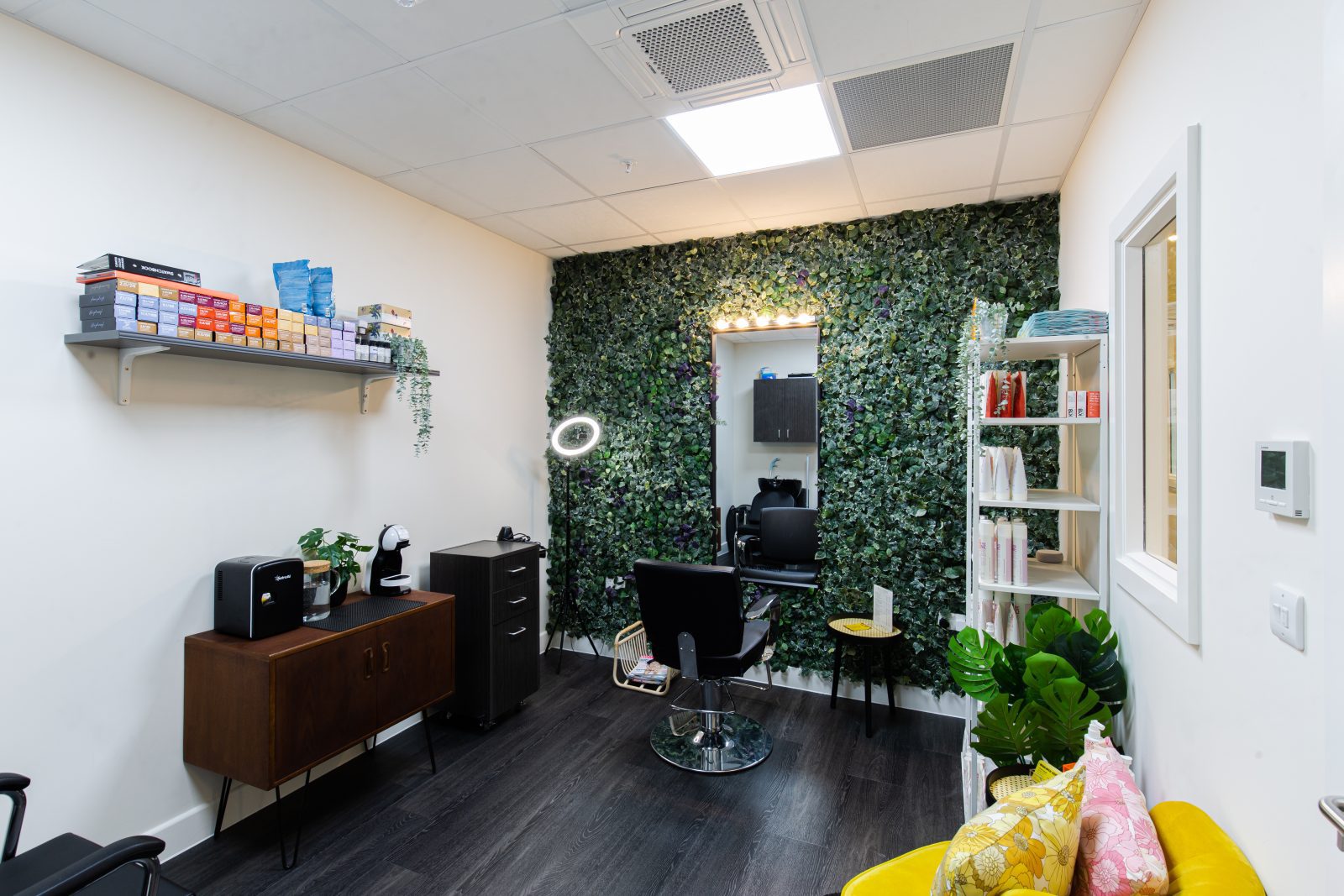 Lucy is one of the tenants at Phenix with her business Daytime Studio.
She said: "I started doing nails at home. As I started to grow, I knew I wanted to set up my own nail salon but the thought of renting a chair or a huge space was daunting. The fact that Phenix Salon Suites was a nice little space that I can personalise to my taste was perfect!"
Luke, of Purple Rinse, commented: "What appealed to me about Phenix Salon Suites was the chance to be independent, not having to manage anybody else, and to be as flexible as I want. It's a private 1-1 space, but you're not alone as you still have other like-minded people around you."
"We know how hard it is to set up a salon from scratch," said John Gillespie, operations director of the UK & Europe at Phenix Salon Suites.
"Even more so when it comes to finding something affordable in the middle of an incredible city like Manchester, so we wanted to make it accessible and achievable for anyone to create their own business, and [that's why] we've launched the very first Phenix Salon Suites here in Number One Deansgate – maybe one of the best addresses in the city.
"We chose Manchester as our first location here in the UK as it's already a leader in the hair and beauty industry and there are so many creatives and entrepreneurs."
"We knew immediately it was the right home for us," he added.
Leases at Phenix Salon Suites in Manchester operate month-to-month, with no long term contracts to enable tenants to work with flexibility.
Hairdressers and barbers will be provided with a backwash, styling chair and hair trolley, while nail artists or beauty therapists will be offered sink units and storage trolleys, and each tenant will also have access to a break room / kitchen space, as well as an on-site laundry room with free use of commercial equipment for fast washing and drying.
And the new tenants only have good things to say.
"There's no competition at Phenix Salon Suites," explains Hayley Crankshaw from Cheeky Bleach Hair Boutique.
"We aren't competing with the other stylists. We all want collaboration. We are like neighbours more than rivals as Phenix Salon Suites is giving working class people the opportunity to have their own business, without the significant debt, which was what really appealed to me, but I also liked the idea of being able to decorate my own suite to fit my own brand.
"There are also no time limits, so I can choose how many clients I see in a day.
"People are looking for flexibility these days and that's what's so great about creating your own small business with Phenix Salon Suites."
If Phenix wasn't already off to an incredible start as it is, as mentioned, the concept has now become the first place in the UK to sell a new hair colour range, Colours By Gina – which has already seen huge success in the US.
The Colours by Gina range is a specially-curated line of hair colour, which is designed exclusively for hair professionals and entrepreneurs, and is a carefully-chosen collection of calibrated shades that allow for beautiful results.
The PPD-free, c cream-based colours are a unique blend of specialised dye pigments, gentle alkaliser, and protective oxidisers.
Phenix Salon Suites even hosted a special free event to mark the launch of the colour range earlier this month, which included live demonstrations of the Colours By Gina 60 shade palette on real hair models, and saw all attendees walk away with a goody bag worth £50 that's filled with haircare gifts.
By swapping competing to collaborating, Phenix Salon Suites has created a community for hair and beauty professionals where they can create and express their love for the industry.
You can find more about Phenix Salon Suites here.
Featured Image – Phenix Salon Suites