Sponsored
All the best Joshua Brooks gigs and events on this February-April
This article contains affiliate links.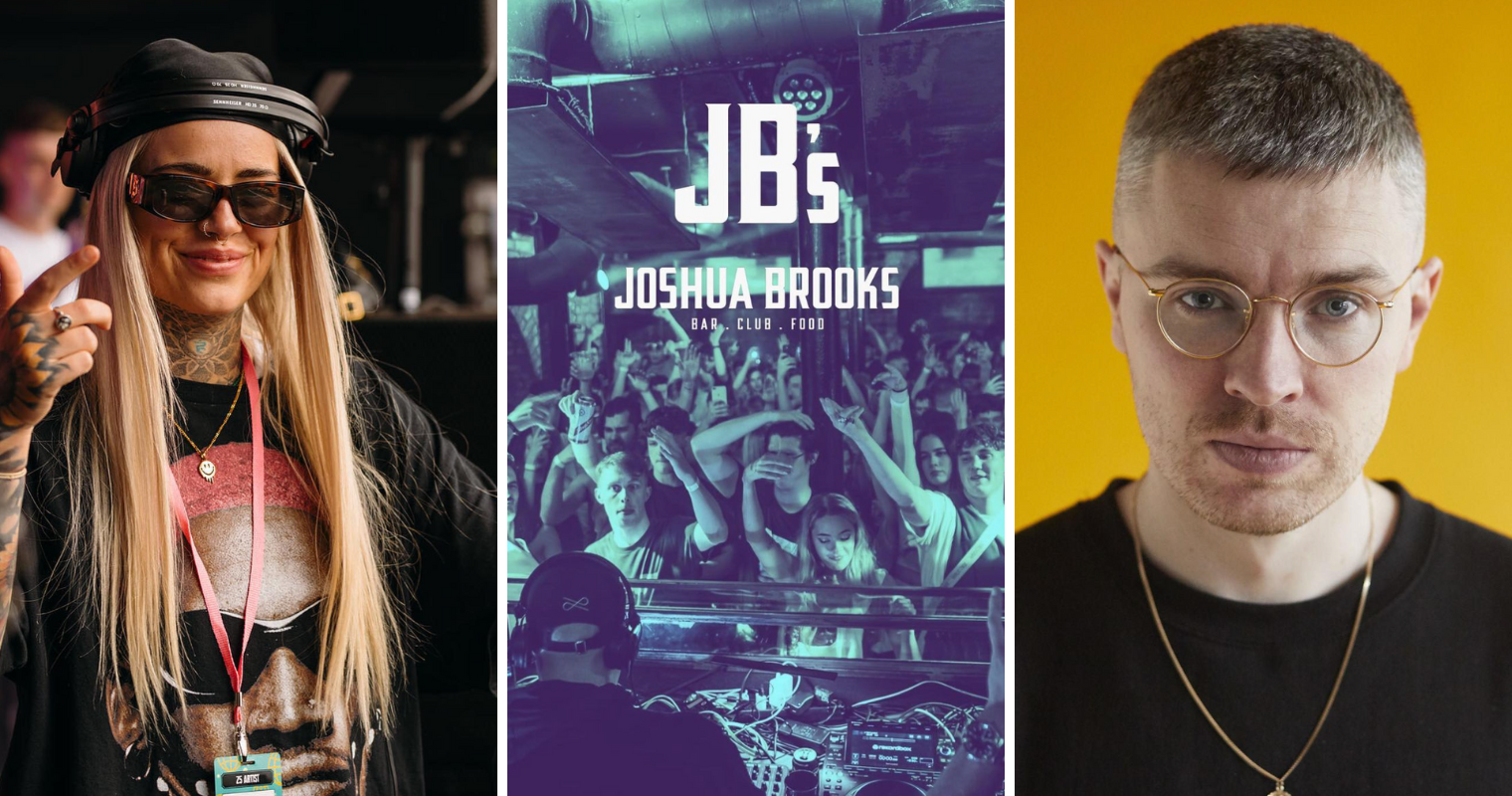 Now the January slump is finally behind us, we're raring to get stuck into a new season of live music, club nights and more. Thanks to Joshua Brooks' line-up, we've already got a fair few in our diary.
Since its revamp back in 2021, JBs has gone from strength to strength, not only welcoming back returning customers who've frequented the much-loved Princess Street venue for years but ushering in a whole new crowd. With plenty of food, booze, music and live events, it never disappoints.
With that in mind, Joshua Brooks has an absolutely jam-packed schedule of live music, club nights and more this month and leading right up until April, not to mention plenty more to come this year.
Here are just some of the ones we've picked out:
February
1. Shogun Audio – 10 Feb
With the likes of Pola & Bryson, Monrroe, GLXY, DUSKEE and Kira headlining, legendary drum, bass and jungle label Shogun Audio is returning to Joshua Brooks this February. Expect a thumping sound system, cutting-edge visuals and a room packed full of ravers. Grab your tickets HERE.
2. Super Bowl LVII – 12 Feb
Although the majority of dates on the list are music-related, the Super Bowl is one of the biggest sporting events of the year, so of course these lot are showing the game. With sharing platters and £2 pints on offer, not to mention table packages, it's going to be one of the best places to watch the Bowl.
3. Whippin Label Paty with Melé – 17 Feb
Whipping Records are bringing two of their most popular artists back to the Brooks with Mele and Toby Simpson set to rock up and play a mix of world music-influenced house, transatlantic hip hop, UK techno, classic Chicago grooves and more. There's something for everyone. Find out more HERE.
4. TS7 – 18 Feb
Treating the basement to what's bound to be a banging DJ set, Joshua Brooks is one of the next stops on TS7's massive headline tour, kicking off hours of house beats and basslines from 10pm onwards. You'll want to grab a ticket for this one.
5. Luuk Van Dijk – 24 Feb
Amsterdam DJ Luuk Van Dijk is one of the most diverse we've come across in recent years and he'll be greeting this beloved Princess Street venue with his unique sound once again just before the end of the month. Secure your tickets now and you'll get to listen to him all night long.
6. Yousef – 25 Feb
Yousef is one of our absolute favourites, playing a variety of deep and tech house to all-round floor-filling dance music and everything in between. With support from Powda and the Dunmore Brothers, he'll be playing for three whole hours — what a way to close out February. Get your ticket HERE.
March
7. Ammara and Nick Spencer – 2 March
Heading into March, we all know how great Thursday nights at Joshua Brooks are, even more so when they tea up with Tribal to bring you resident trick label DJ Ammara, as well as Nick Spencer, Max Rottier and Mcminn. Now that's value for money. You can book in for any phase or all of them (why not?) HERE.
8. Moxy Muzik with Darius Syrossian – 3 March
The following day, you have JBs second night of Moxy Muzik for 2023 with Iranian DJ Darius Syrossian, who's set to put on a three-hour set of house, UK garage and minimal techno. Moxy is one of the best up-and-coming local labels and definitely know how to put on a hometown show. Don't miss it.
9. Free From Sleep: Ilan Bluestone – 4 March
A pioneer of modern progressive house, London-based producer Ilan Bluestone has shot to fame on the international dance music scene. With some big singles and remixes over the past few years, not to mention his sophomore album Impulse, this master of synths is a good reason to stay up. Tickets HERE.
10. Horse Meat Disco – 10 March
Not just one of the best-named dance nights: it's simply one of the best dance nights full stop. The London stallions are bringing the likes of Supernature, Scott Forrest and Rhod Parry to set the night off on a four-horse race to fill the floor and take the roof of 106 Princess Street. We'll see you there.
11. Mason Maynard – 11 March
That's right, Mason Maynard is making a special appearance at Joshua Brooks along with guests Calvin Clarke and Ervs. The set will run from 10pm until 4am and tickets are bound to go quickly. Grab yours now while you still can.
12. What Hannah Wants – 17 March
Let's. Effin. Go. What Hannah Wants is to be heard and with a dedicated fan base already behind after some unforgettable nights at Warehouse Project, she certainly will be. Give us that hard-hitting house or give us death. Tickets will go on sale soon, so keep your eyes peeled.
13. Seb Zito – 18 March
A true raver born on the underground scene, Seb Zito sets are legendary. The owner of Seven Dials Records and Fuse London, not to mention a resident at Infuse Ibiza, the Joshua Brooks crowd will be treated to a full night of techno and deep house until 4am. Say no more — tickets HERE.
14. Hannah Laing – 24 March
Dundee's Queen of House, Hannah Laing is making her way down to Manchester as part of her North Headline Tour and we can't wait — her 'Murder On The Dancefloor' edit alone is worth coming along for. Tickets aren't yet live but you can join the waiting list now.
15. Max Dean – 25 March
Next up is Max Dean, who after absolutely killing it at JBs back in December has been invited back to the basement once again. The house and minimal tech DJ is only 21 but is already making a splash on the electronic scene. He's also got a few unreleased tracks just raring to go — maybe you'll get to hear them.
16. Toman – 31 March
To close out Joshua Brook's March offerings, Manchester is being treated to another rising Dutch DJ in Toman, as well as support from Pirate Copy. He'll be playing what's sure to be a lively three-hour set from 10pm and the student discount tickets have already sold out, so grab yours while you still can.
April
17. Just Skank 'The Reunion' – 1 April
Joshua Brooks is kicking off April in style with a throwback for the ages. It's been seven whole years since the last Just Skank event anywhere in Manchester and it just so happens that JBs has been selected for the night garage, D&B, dub and bassline. You simply cannot miss this one.
18. Fleur Shore – 14 April
As we hit the middle of the month, Birmingham's very own Fleur Shore is back at JBs and playing all night long, from start to finish — this girl doesn't need support. After a huge year playing all over the globe, she'll be making the basement her own. Tickets HERE.
19. Retro In The Park (Warm-Up Party) – 15 April
With festival season on the horizon, JBM Music and Retro Events are doing their bit to get you in the mood by hosting a warm-up party for this year's Retro In The Park. The massive weekend line-up of DJs, worldwide acts and local artists might be over in Burnley but you can get in the mood a month in advance right here in 0161. Might as well get started early.
20. Full Circle – 21 April
Last but not least, our final pick from Joshua Brooks' events this April is their Full Circle night which will take you back to what they call 'the golden era of deep house'. With the likes of Route 94, Infinity Ink, No Artificial Colours, Brian Murphy and more on the playlist, we tend to agree. Get in booked in HERE.
Read more:
These are just some of the gigs and events Joshua Brooks have on for the rest of the winter and heading into Easter/Spring. To see the full list of events leading into Spring and Easter, click HERE.
And don't forget they show plenty of live sport on the big screens there most weekends, so don't feel like you have to be able to stay up until 4am to enjoy a visit.
We're sure we'll see a fair few of you there on one night or another.
For all the latest news, events and goings on in Greater Manchester, subscribe to The Manc newsletter HERE.
Featured Image – Joshua Brooks (via Instagram)