Audio
12-year-old busker wins Salford Foundation Trust's Johnny Marr Award
He is the first recipient of the honour aimed at supporting local fledgling artists.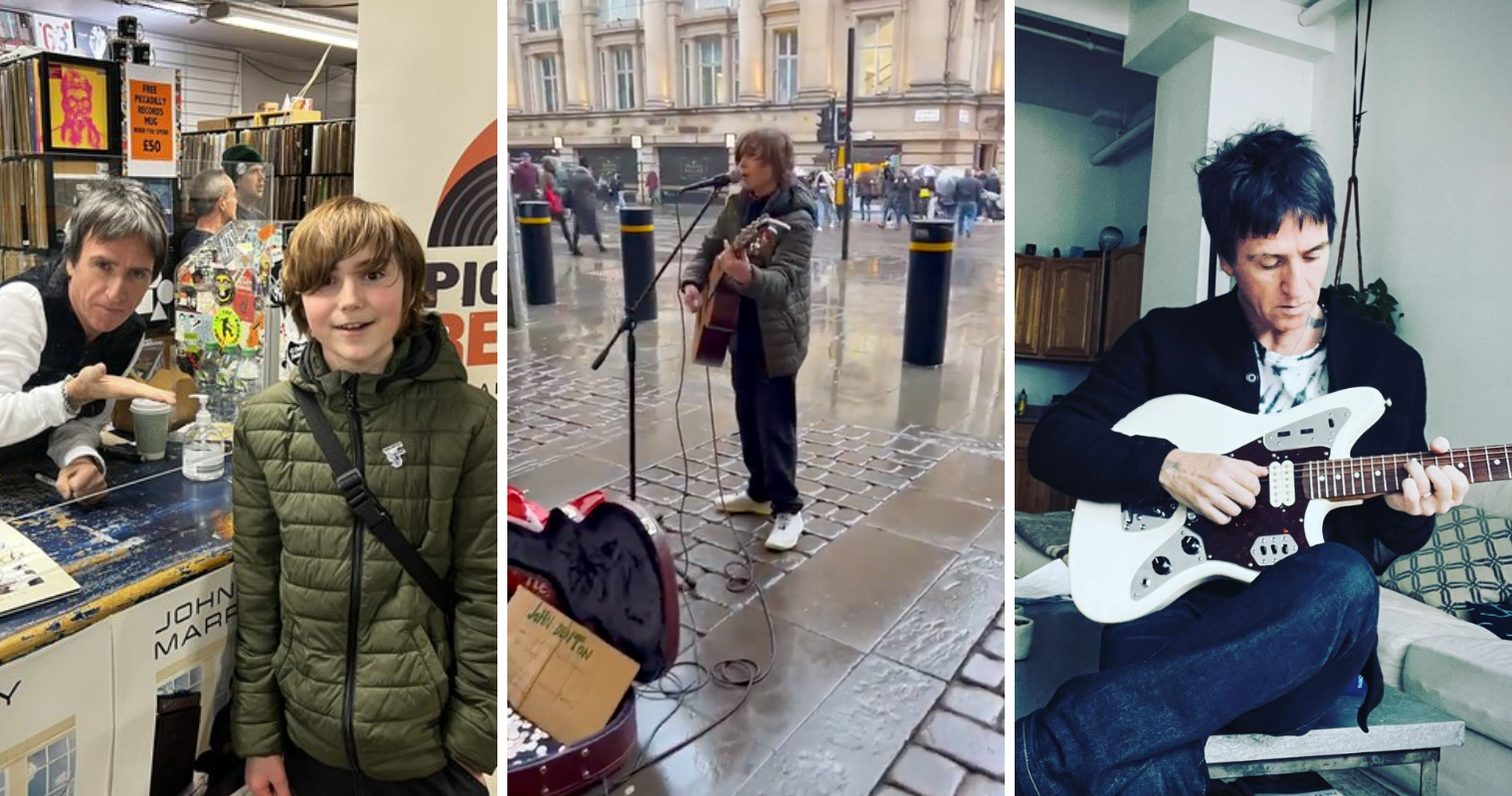 A 12-year-old from Manchester has won the inaugural Johnny Marr Award from the Salford Foundation Trust. Get in there, lad.
Salford schoolkid, John Denton, has played the guitar since the age of eight and has been developing his skills ever since, busking on the rainy streets of the city centre and even playing gigs at Salford Lads Club.
Now the aspiring teen has been presented with a prestigious honour by one of his musical heroes, as the foundation dished out their first-ever Johnny Marr Award to the dedicated young performer.
Having met the legendary Smiths guitarist and songwriter previously at a signing of his last album, Fever Dreams Pts 1-4, where he asked his idol for advice about starting a band, we dare say this latest development is up there with one of the highlights of his career so far.
Issuing a message of support on the Salford Foundation's website, Marr said: "It's a pleasure and privilege to give some assistance to a young musician especially when they're as dedicated as John. Well done brother."
John has been delighting the streets of Salford and Manchester city centre for some time now and regularly pulls in sizeable crowds with his covers of songs by popular local bands — The Smiths being one of them.
With videos of his performances often being shared online and regularly gaining thousands of views across various social media platforms, he has already started to build a passionate following.
Come rain or shine, he still belts it out all the same:
The Johnny Marr Award is chosen by a panel made up of members from the trust which supports talented young people in the city. The scheme will run for three years, selecting another young musician from Salford each year for financial assistance, each of whom will be awarded £1,000.
Peter Collins CBE, from the Salford Foundation Trust, said: "There couldn't be a more worthy recipient of the Johnny Marr Award. Even though John is only 12 he's already proven he's committed to making a future in music and we're delighted the Trust can give him a helping hand on this journey."
John has said he will be putting the funds towards more singing and guitar lessons and future music projects, as well as hopefully levelling up his performances.
Better still, after his first chat with Marr, John has since formed his own band called, The Height – named after an area in Salford near where he lives – and the group released their first single, 'Go' just before Christmas. Well in, boys.

John's dad Phil said of his son's award: "John's ambition is to have a career in music. He will be using the funding to have music lessons to help both his guitar playing and his singing. In these tough times, it's a massive help and means that he can progress in his passion.
"Music is not a hobby for John but just who he is and a creative outlet he hopes to enjoy for the rest of his life. He is incredibly grateful to Johnny and the Salford Foundation Trust who have provided this opportunity.
"It is a real privilege to get this award and he is determined to make the very most of the opportunity he has been given."
Read more:
Speaking on BBC Radio Manchester following the well-earned recognition, Denton told John Sweeney that after having started out asking cafes to let him play, "it's going great now" and that he has another gig lined up in March.
"Not being big-headed but we hope to be like Johnny Marr and go on tour and get a big following."
We wish you and your band every success, John — go out there and keep killing it.
We are absolutely loving how much this city is doing for its wonderful pool artists at the minute.
For all the latest news, events and goings on in Greater Manchester, subscribe to The Manc newsletter HERE.
Featured Image — Johnny Marr (via Instagram/Twitter)