Sponsored
You can get these giant custom-made bags or buckets of pick n mix sweets delivered to your door this Christmas
And there's a HUGE 25% Black Friday discount too.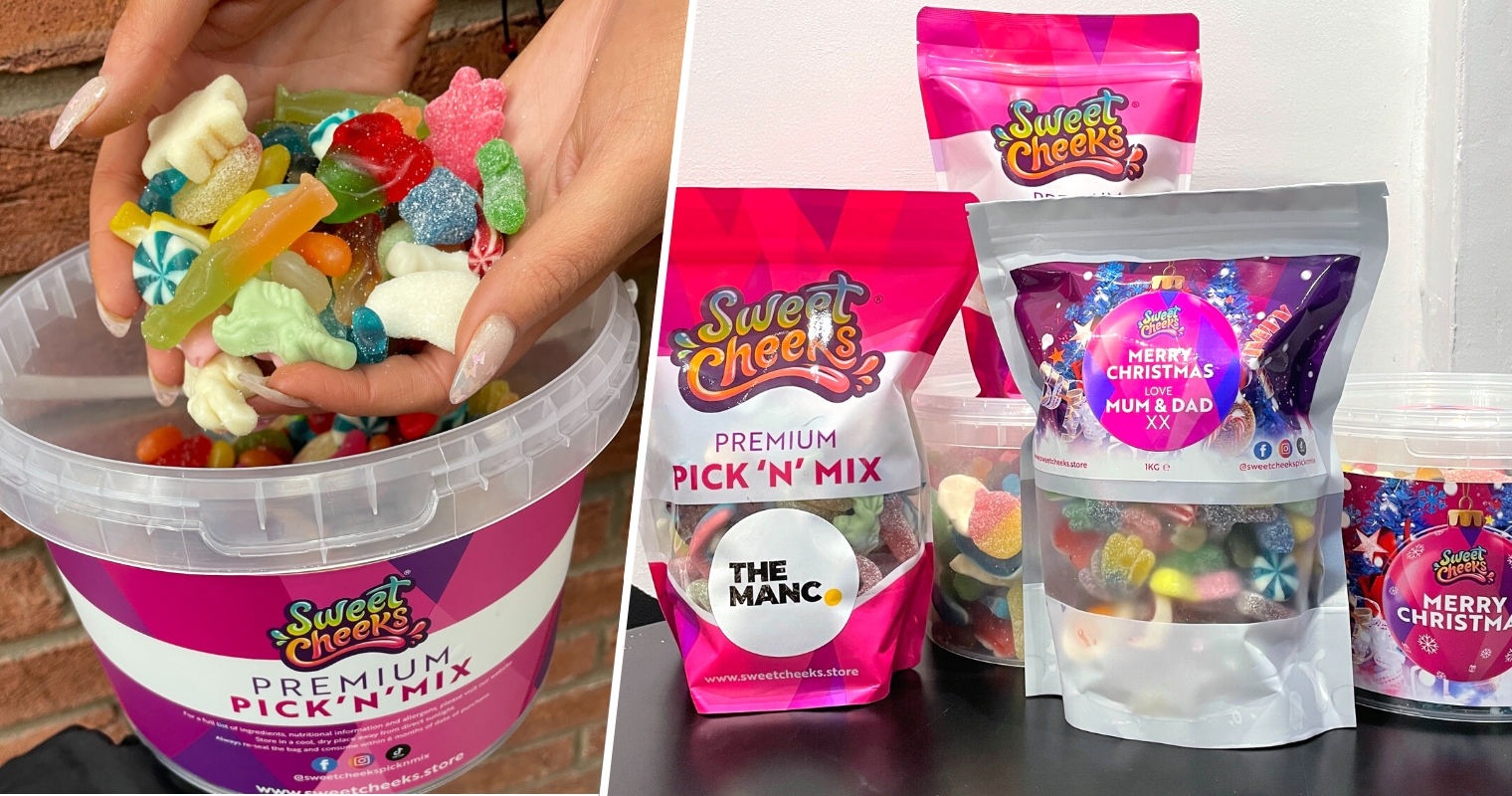 You can order GIANT buckets or bags of premium quality pick n mix, filled with sweets of your choosing, to be delivered to your home this Christmas.
Once you've made your selection, you can add a custom festive message or picture to your bucket or bag of sweets, free of charge for that personal touch.
Sweet Cheeks, a business based here in Greater Manchester, is also joining in with the massive Black Friday discounts and is slashing prices on their website right now.
Through its easy to use website, you can choose from classic pick n mix sweets like fizzy cherries, cola bottles, giant strawberries, jelly snakes, fried eggs and sour dummies.
There's also giant dolphins, gummy meerkats and jelly Minions up for grabs, as well as some festive Christmasthemed sweets. In fact, you can select your own custom mix from over 100 different varieties of sweets.
Having had masses of the sweets delivered to The Manc office, we can wholeheartedly vouch for them being absolutely delicious, with varieties of pick n mix we didn't even know existed. They even had The Manc branding on the bags and buckets.
Stockport-based Sweet Cheeks stocks options to cater to vegans, vegetarians and people with gluten or dairy allergies too.
For Black Friday, which falls on 25 November this year, Sweet Cheeks will be offering a 25% discount, so you can get your Secret Santa gifts or stocking fillers sorted.
The family-run business was first launched during lockdown in 2020. Owner Donna McCafferty told The Manc it was 'a way for people to send a sweet little customised message or picture on custom bags or buckets of sweets to help cheer people up when they were not allowed to meet up'.
She continued: "It really helped put a smile on people's faces during the hard times and we have continued to do this for people since then.
"We do get quite a few very cheeky messages from time to time too! 'I love you Chippy Tits', 'Sorry for being such a d*ck', and 'I love you more than fizzy cola bottles' being some that stick in our minds."
Read more: Deliveroo is doing a massive 25% off your takeaway for Black Friday
Sweet Cheeks pack all their orders fresh on the day of ordering, ready for delivery all over the UK – including free delivery in the SK6 postcode in Stockport.
You can browse the massive range of pick n mix sweets and place your order at www.sweetcheeks.store.
You can follow Sweet Cheeks on Facebook, Instagram and TikTok at @sweetcheekspicknmix.
Sweet Cheeks is also doing bespoke corporate orders for events.
Featured image: The Manc Group