Sponsored
You can watch Jurassic Park, Westside Story, and more inside a Peak District cave next month
The Village Screen's previous events inside Peak Cavern have already been described as "truly amazing experiences".
Jurassic Park, Westside Story, and Hook are just some of the blockbuster flicks on show inside one of the UK's most distinctive cinemas next month.
After what was the roaring success of the recent 'Spring Cave Cinema' experiences at Peak Cavern in the picturesque Derbyshire countryside, experimental North West events production company The Village Screen is set to return for a one-off Spielberg Spectacular weekend next month, and a selection of his cult-classics and fan-favourites are all on the lineup.
In what is a contender for one of the most unique movie-watching experiences in the country, audience members will be immersed inside an incredible natural environment, while watching some of Spielberg's smash hits projected onto a large 21ft screen with incredible sound and beautiful lighting.
Read more: The beautiful Peak District cave that's being turned into a cinema
The Village Screen's previous events inside Peak Cavern have already been described as "truly amazing experiences" with a "phenomenal atmosphere".
It's fair to say, it's more than just a cinema.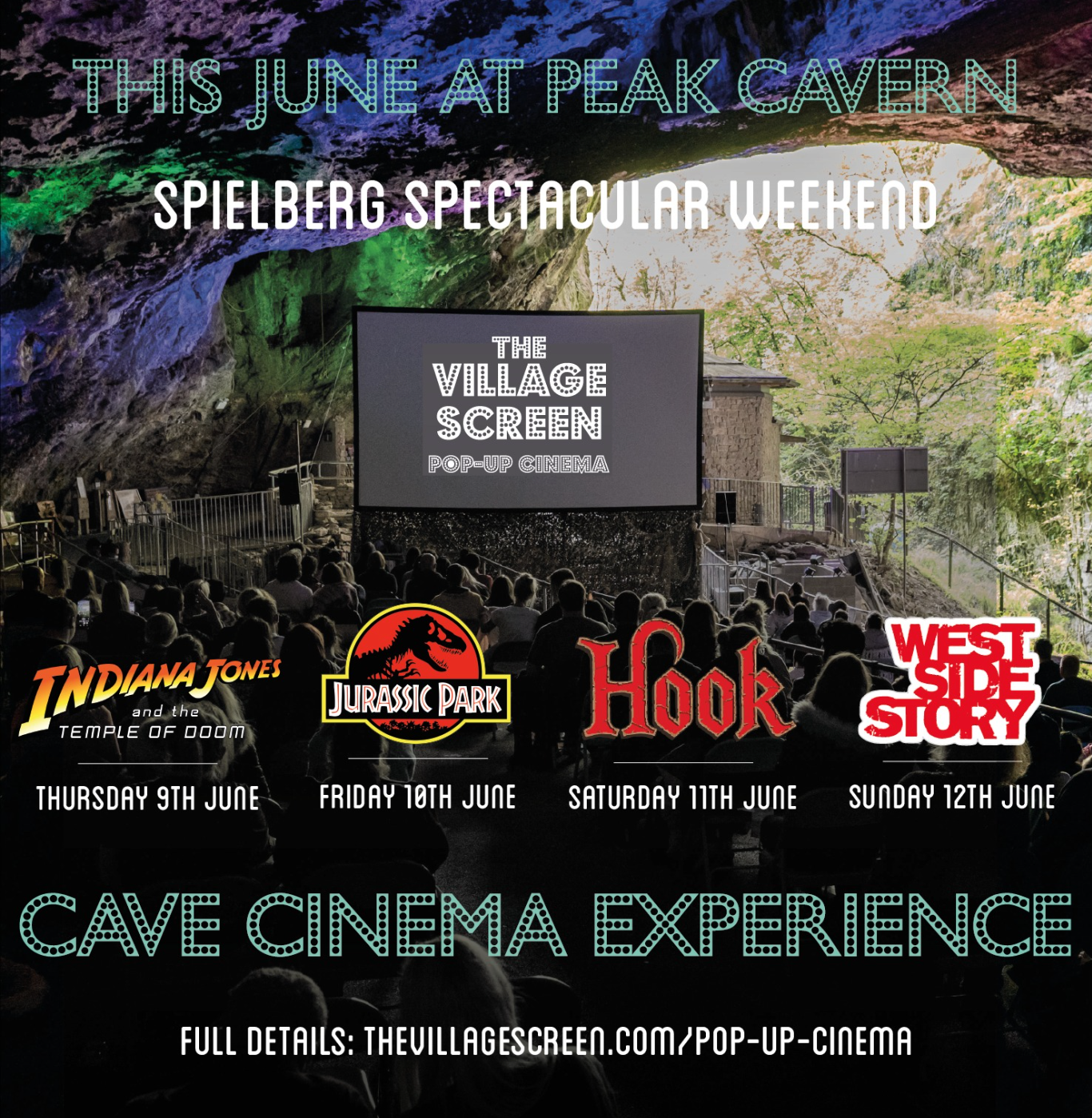 Film fans can expect live music in the car park area of the cave pre-show, street food from some of the region's finest traders, pop-up bars, drinks and snacks delivered right to their seats during each film, and there's even the option to hire blankets and cushions, and add on Snuggle Packages too – which also includes hot water bottles, a selection of sweets and chocolate to share, and more.
Guests will also be given the chance to write messages that will be displayed on the cinema screen before each film screening, and event organisers also promise there'll be a few "additional surprises" that make these events even more memorable too.
Read more: The northern events company turning unlikely spaces into incredible cinemas
Films on the jam-packed lineup include Indiana Jones and The Temple of Doom, Jurassic Park, Hook, and last year's Oscar-winning Westside Story.
The Village Screen's Spielberg Spectacular will be popping up at Peak Cavern from Thursday 9 – Sunday 12 June, with tickets now available from £23 for an adult, £21 for a concession (student or senior), and £19 for a child (under 16).
You can grab your tickets here.
After this, the company will next be back at Peak Cavern for Halloween, so keep an eye on its website and social media platforms for all the details.
Featured Image – The Village Screen