What's On
The northern events company turning unlikely spaces into incredible cinemas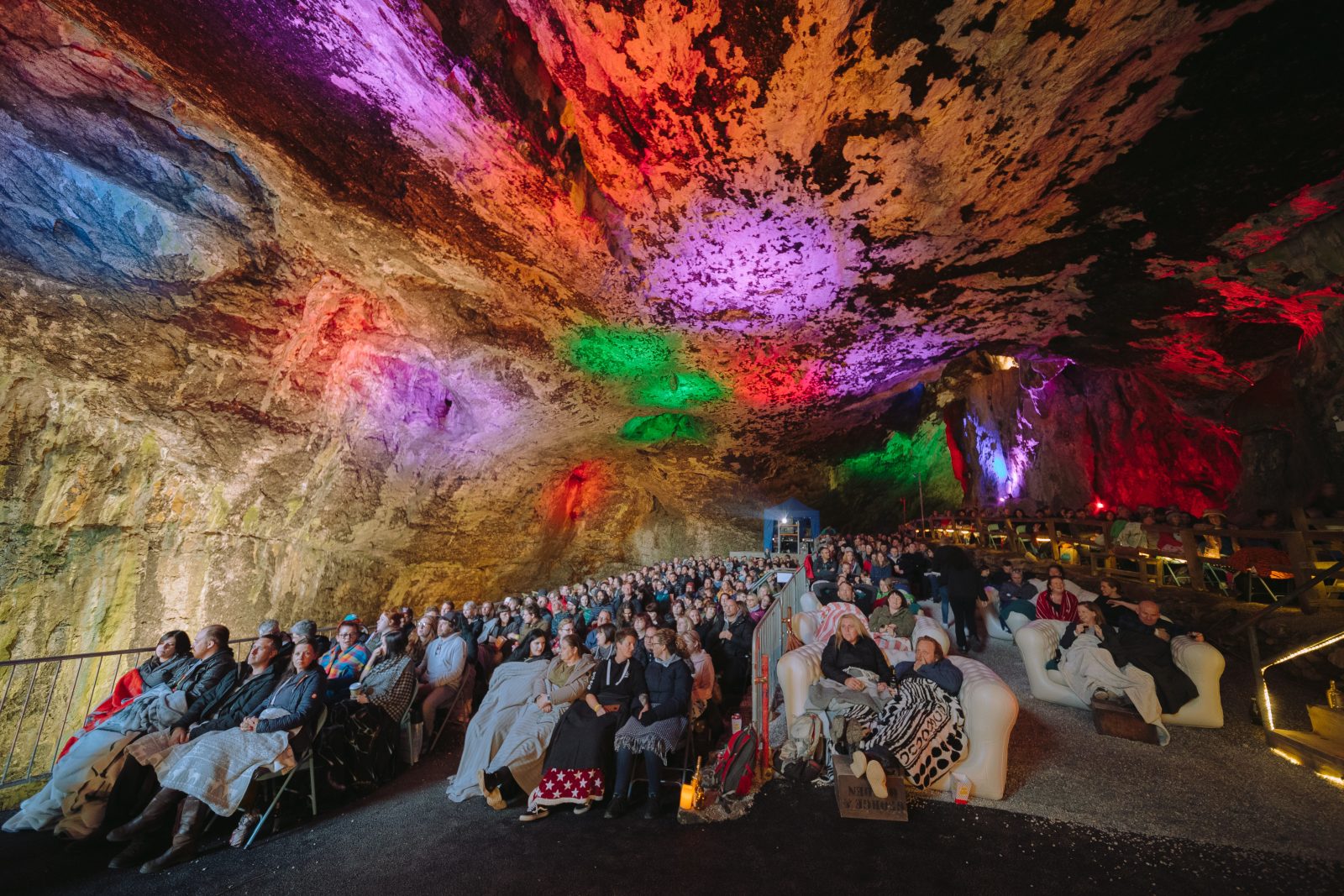 Some of the north's coolest events in recent years have seen some unusual spaces transformed into incredible pop-up cinemas, and it's all the work of one small events team at The Village Screen.
The Village Screen has taken over everything from a Peak District cave to an Edwardian swimming pool, filling these sometimes-forgotten spaces with light, sound, street food and entertainment.
The business was first created in 2015 by Claire Atkinson and Eamonn Hunt, who already ran the Village Green Events company and saw a gap in the market for experiential cinema events up north.
The very first Village Screen event was up on top of a Q-Park car park in the centre of Sheffield. After that, they screened The Little Mermaid at an outdoor swimming pool in Hathersage.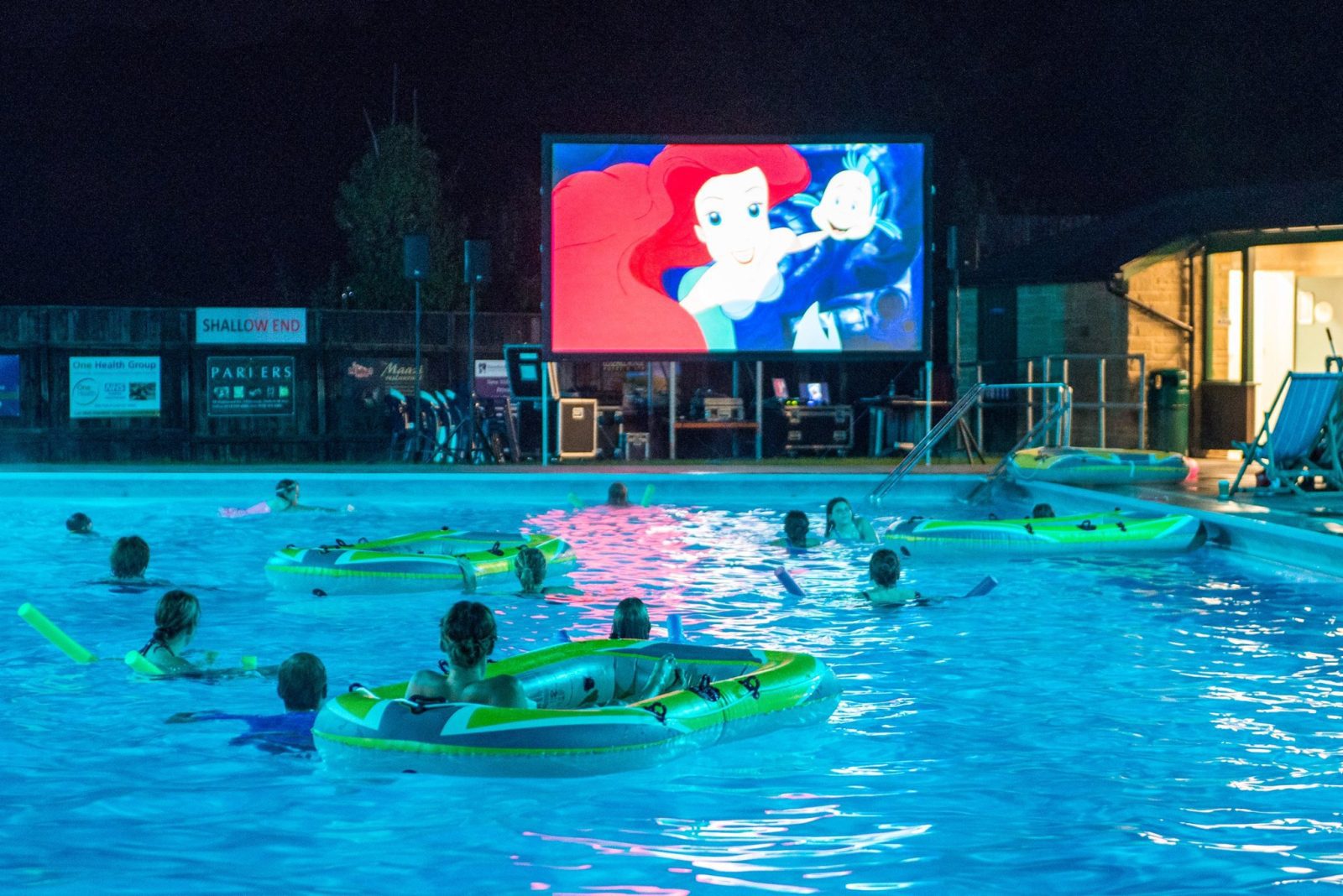 Pop-up cinemas have appeared everywhere from The Monastery in Gorton, the Park Hill Flats in Sheffield, the Winter Gardens glasshouse, the grounds of stately homes and several woodland areas.
Their time spent at Manchester's Victoria Baths, over in Chorlton-on-Medlock, has been particularly special though.
Emily Dexter, production manager at The Village Screen, said: "Our first event there was a screening of Jaws in 2016 and since then we have organised over 30 events inside this hidden gem. It was built in 1906 and was known as the 'most splendid municipal bathing institution in the country'.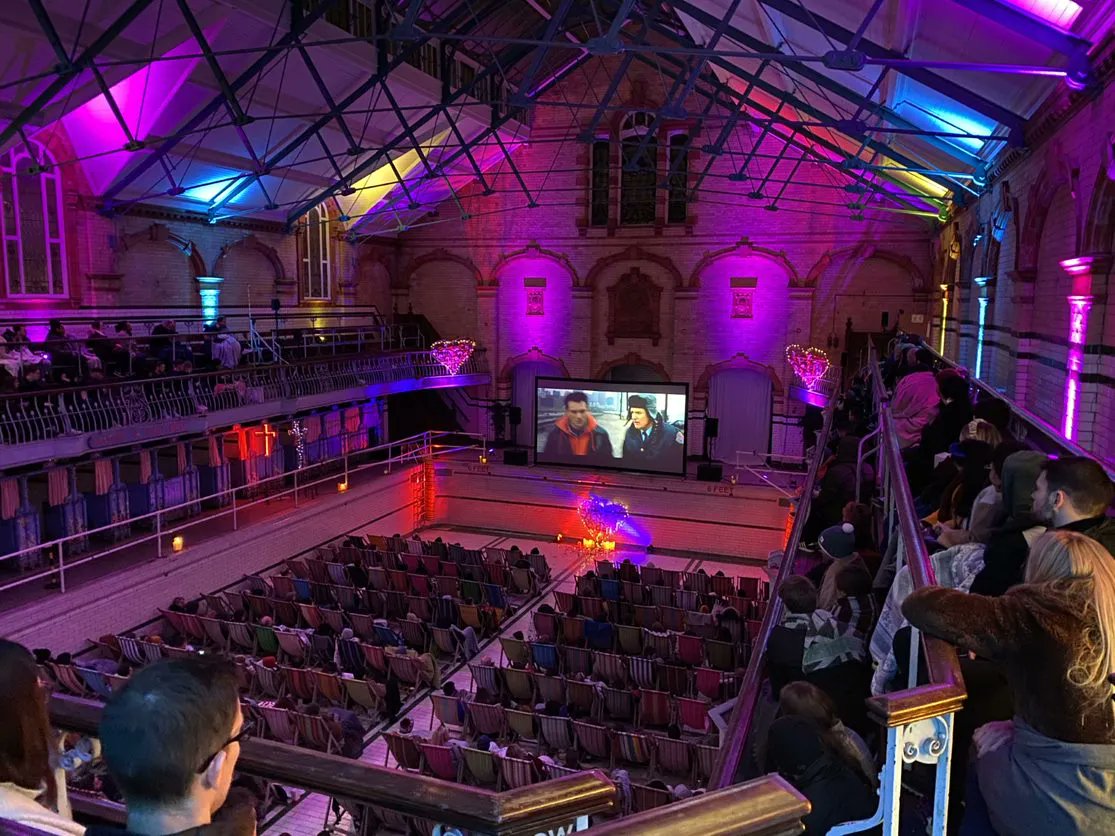 "It underwent renovation in 2007 and they have restored lots of its original features; tiled walls, stained glass windows and they even kept the original changing rooms – it's such a unique and special place to many people."
She added: "Our most memorable venue has to be the Peak Cavern cave. We've done over sixty events there since 2017 and it still blows us away every time we go.
"It's such an incredible location and being able to experience the beautiful surroundings of Castleton makes the experience that much better. We also love the fact that it's half way between Sheffield and Manchester, meaning that our audiences from both cities can enjoy the events there.
"Although it's a stunning place, it is a challenging set up to say the least. It takes around two-to-three days to load all of our cinema equipment, chairs, bar and décor inside the cave, which we do using a small buggy that fits up the very narrow path leading up to the cave. It's hard work but seeing our customers' reactions as they enter the cave makes it all worth it!"
As well as the film screenings themselves, the Village Screen has dozens of added details that make it so much more special than a regular trip to the cinema.
The incredible venues help, of course, but they also roll in live bands, street food, themed decor, state-of-the-art lighting set ups and friendly staff to make for a memorable day out.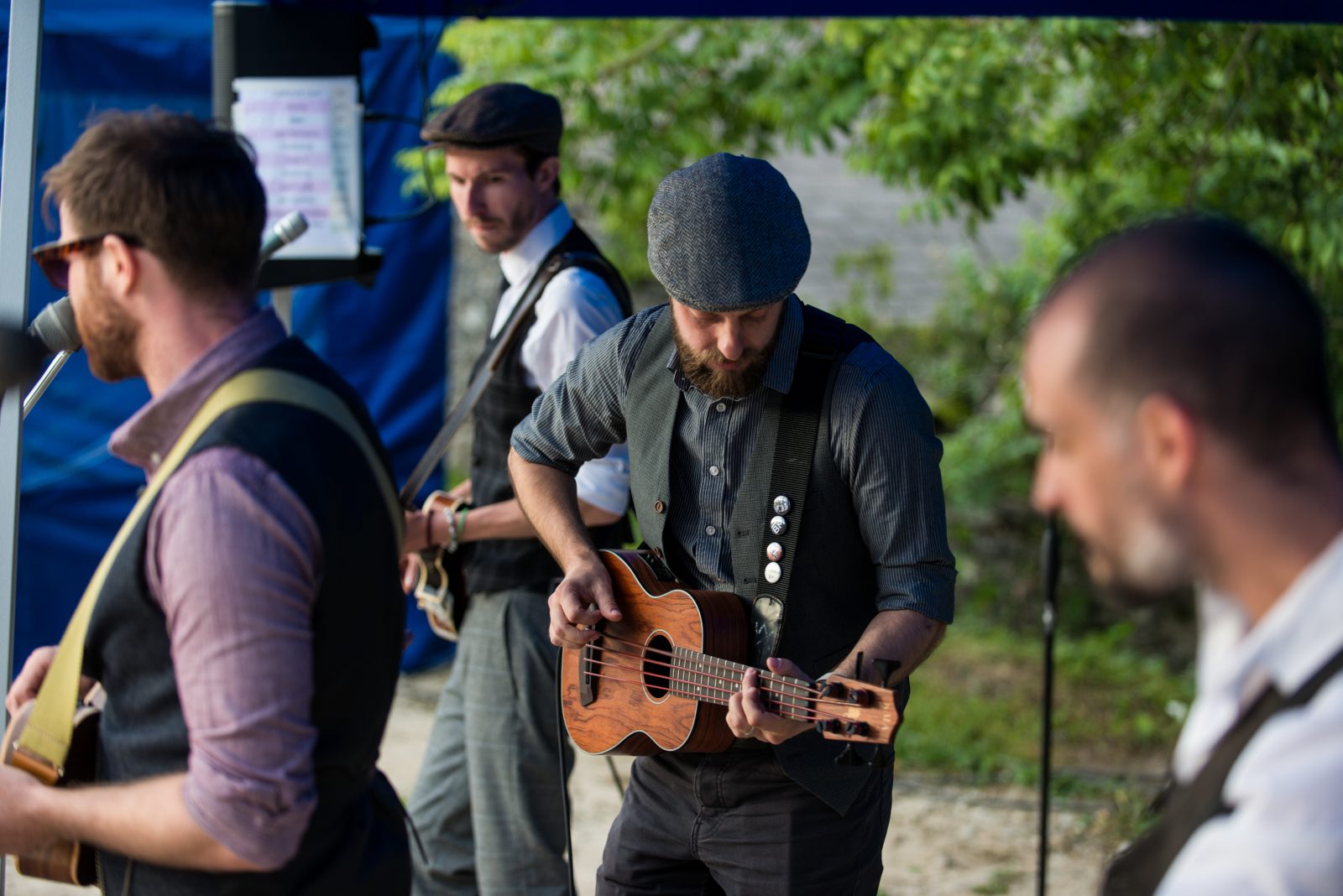 The small team behind the pop-up cinemas have done everything from hanging hundreds of floating candles to rigging fake bodies from the ceiling to set the right atmosphere for each screening, even recreating the iconic toilet scene from Jurassic Park.
Emily said: "People who haven't been to our events before might think we are like a standard chain cinema, but really we're creating experiential and imaginative events that people can enjoy with their friends and family.
"As we're a local independent business, we love to use local suppliers, staff, vendors, freelancers and entertainment as much as possible. So each time we run an event we're supporting businesses and people in the local area, which I think our customers really love to see as well."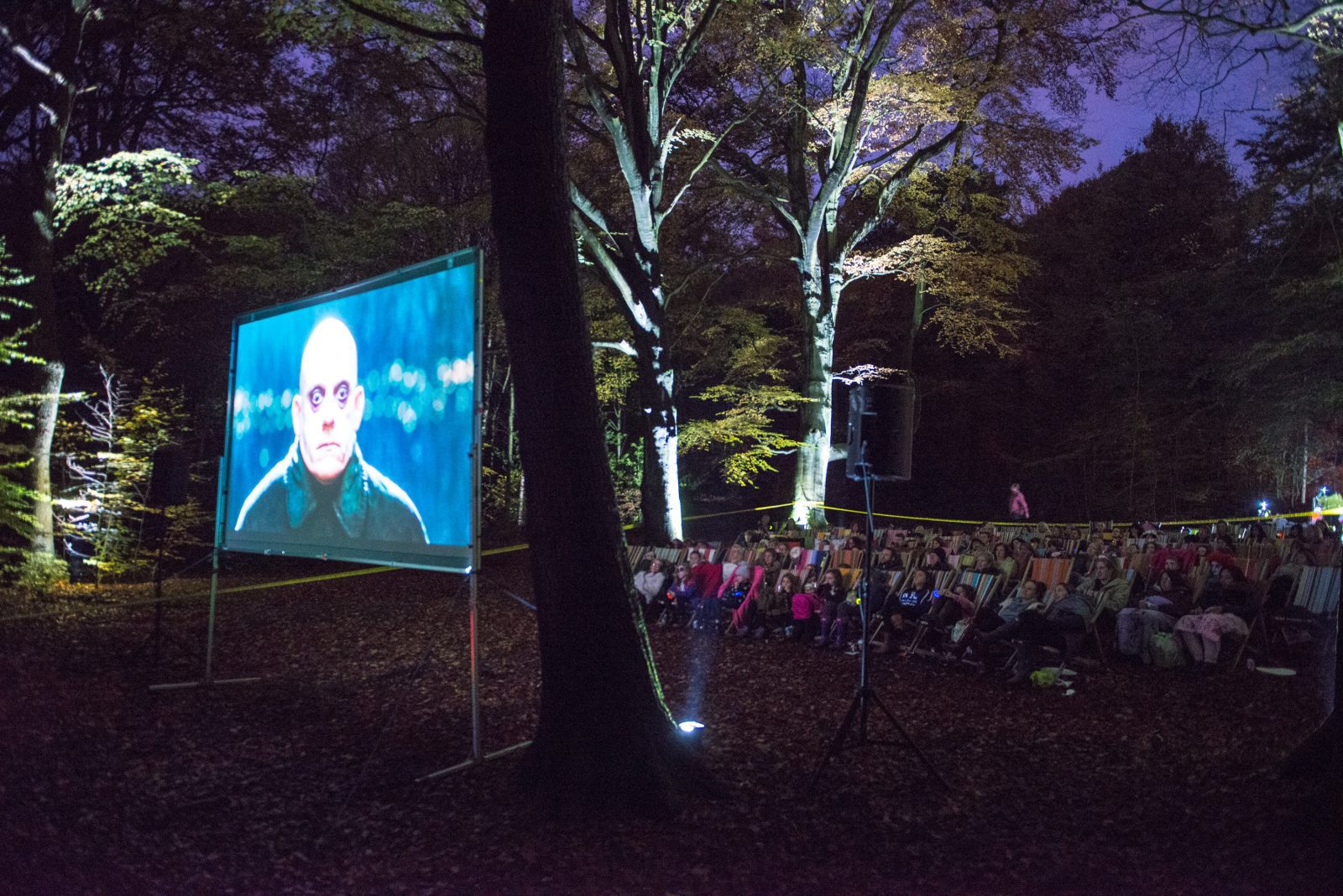 She added: "Our ethos has remained the same since 2015. We are still about creating exceptional events in quirky locations, but we've grown from two to five members of staff and we work on all kinds of creative events, including weddings and experiential events like Secret Supper Clubs for charity clients."
Although The Village Screen has built up an impressive schedule of events – they're about to take over the Peak Cavern again – they're not stopping here.
Emily said: "We'd love to do more events in an outdoor swimming pool with people lounging on inflatable chairs while in the pool, but we love any quirky location. The quirkier the better.
"We'd like to keep doing our events in the north of England, so if anyone has any venue suggestions, feel free to drop us an email or message on our socials.
"We're always on the look out for new and exciting places and if we love the venue, then we'll do everything we can to do a cinema event there."
Upcoming events with The Village Screen
Thursday 27 October – Scream (1996), doors at 6pm, film at 8pm
Friday 28 October – Ghostbusters (1984), doors at 6pm, film at 8pm
Saturday 29 October – The Dark Knight, doors at 5.30pm, film at 7.30pm
Sunday 30 October – Hocus Pocus, doors at 2.30pm, film at 4pm
Sunday 30 October – The Lost Boys doors at 6.45pm, film at 8.45pm
Monday 31 October – Poltergeist, doors at 6pm, film at 8pm
Friday 18 November – Harry Potter and the Philosopher's Stone, doors at 5.30pm, film at 7.30pm
Saturday 19 November – Harry Potter and the Chamber of Secrets, doors at 5.30pm, film at 7.30pm
Sunday 20 November – The Goonies, doors at 2.20pm, film at 3:50pm
Sunday 20 November – The Lost Boys doors at 7.00pm, film at 8.50pm
The Village Screen team can also organise smaller garden party cinemas as well as private parties and weddings, with a treasure trove of hire items.
You can get in touch with them here to find out more.