Sport
Alejandro Garnacho issues emotional statement as injury is said to be 'worse than expected'
He could be out for 'six weeks' or more.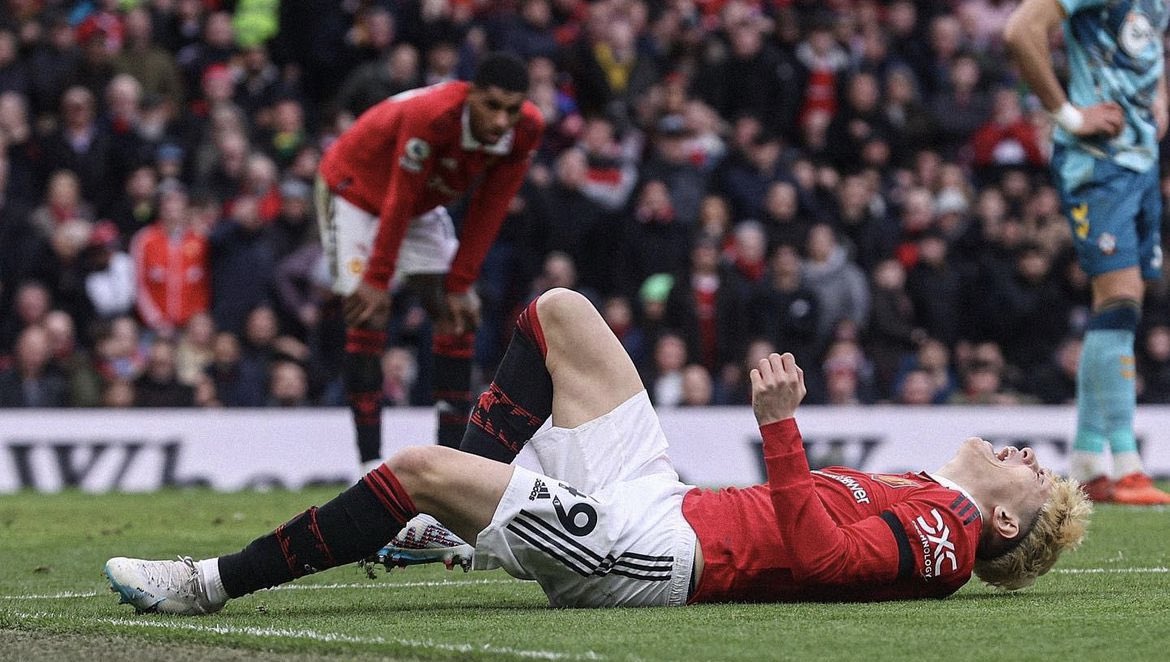 Manchester United star Alejandro Garnacho has issued an emotional message on social media as he confirms he will miss several of the club's upcoming games as well as his first international call-up.
The youngster was on the receiving end of a scissor tackle by Southampton defender Kyle Walker-Peters on Sunday, which despite Casemiro receiving a red for his own accidental follow-through on Carlos Alcaraz, did not result in a booking.
Regardless, the card-worthy albeit accidental challenge left the 18-year-old writhing on the floor in pain for several minutes as United medical staff examined him before he was ultimately helped to his feet and limped off the pitch.
While Reds will have been hoping it was merely a knock, the Argentinian forward shared an update to Instagram followers on Tuesday, informing them that he will now "not be able to help [his] team in the upcoming games in what is a very important part of the season".
Even prior to his statement, fears over the extent of his damage only worsened after TyC Sports' Gastón Edul reported that following initial scans, Garnacho's injury was found to be "worse than expected" and might also miss his upcoming games for Argentina.
It is thought that he sustained an ankle ligament injury as a result of the collision and will now miss United's Europa League Round of 16 match against Real Betis, their FA Cup quarter-final against Fulham; Argentina's friendlies against Panama and Curaçao, as well potentially further league games.
The teenager received a first senior call-up for his country only earlier this month but as explained in the post, he is "disappointed to also miss the opportunity to be with [his] teammates in the Argentinian National Team", noting it "would have been a great and proud moment for me and my family."
While Garnacho vowed to "come back stronger than ever", Edul claims that the players could be ruled out for "six weeks" or more.
Read more:
Sadly, the much nastier and more disappointing backdrop to Garnacho's injury was the racist abuse Walker-Peters received from so-called 'fans' online following the match.
Issuing his own statement after the game, the 25-year-old said: "the racial abuse I received is something that no player or person should ever have to experience. We need to be better, and this is bigger than just football". He also called on social media platforms to do more to prevent these incidents.
He ended his message by wishing Garnacho the best and insisting, "it would never be my intention to injure a fellow professional. I wish you a speedy recovery and hope to see you back in action as soon as possible."
Southampton have condemned the abuse, noting that they are "disgusted and disappointed in the behaviour of those online who lower themselves to abusing players for the colour of their skin" as well as taking aim at social media platforms "who allow such hatred to breed and fester." Garnacho and teammate Raphael Varane were two of the first to send their messages of support
Injuries happen but abuse like this never should.
Football belongs to everyone and racism has no place in the beautiful game.
For all the latest news, events and goings on in Greater Manchester, subscribe to The Manc newsletter HERE.
Featured Image — Alejandro Garnacho (via Instagram)