Sport
Manchester United decide not to appeal Casemiro red card as he insists he plays with 'no malice'
Casemiro hadn't received a straight red in over 500 European games. He's not even been in England a full season and he's been sent off twice.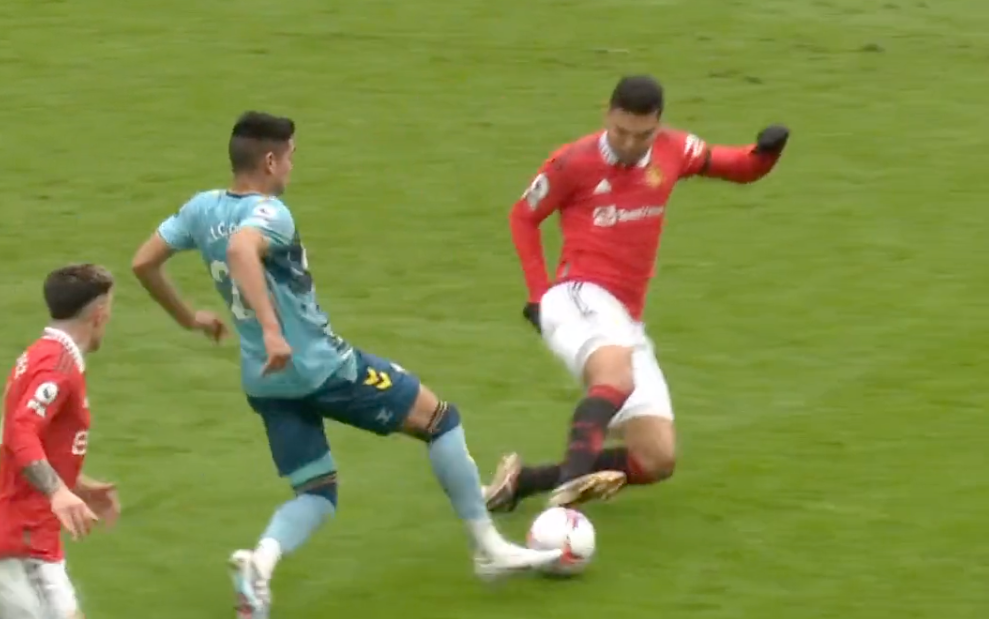 Manchester United have decided not to appeal Casemiro's red card against Southampton, which will now see him miss the next three league games and Sunday's FA Cup quarter-final against Fulham.
Casemiro was sent off against 20th-place Southampton in the 34th minute on Sunday following a full-blooded challenge on opposition player Carlos Alcaraz.
While he won the challenge fairly in many people's eyes, the Brazilian took some of the man in the process, as his foot made a connection with the ball first before rolling over the top and clashing with the Saints player's shin on the follow-through.
However, despite Erik ten Hag, his teammates, fans and plenty of neutrals alike questioning Anthony Taylor's decision — with calls for him to be sacked even trending on Twitter — it is said the club will not be appealing the card and the 31-year-old will now be out of the squad for the next four English games.
This may come as a surprise to some as even when decisions are more clear-cut, most teams usually launch a somewhat hopeful appeal on the off-chance that it might be overturned.
However, the sentiment seems to be that the United feel there was very little chance of it being rescinded, with ten Hag himself having once again called the referees' consistency into question.
Speaking after the game, the Dutch coach told media he thinks "inconsistency" is the problem; "players don't know anymore what is the policy. I guess, all across, you see this weekend yesterday Leicester vs Chelsea, VAR is not coming on the line.
"Today it is coming on the line and today two penalty situations they don't come on the line. I think especially [with] the first it is clear and obvious handball. So, what is the policy?"
As he went on to note to various reporters, "across European leagues, in over 500 games [Casemiro] had never a red card and now he has twice. He plays tough but he plays fair: also in this [instance] he is playing fair. Same as against Palace, so it is very debatable.
"When you freeze it looks bad, but everyone who knows something about football, who is acting on top football, they know what is bad and what isn't bad, what is fair." Fortunately for the Red Devils, the midfielder is still eligible to play in the Europa League.
Another aspect that angered United and their supporters on the day was the fact that it was not a confident decision (i.e. an instant red) from Taylor, having first awarded a yellow card before being sent over to the monitor and making his decision based on the clip in isolation and slowed down — the kind of replay which football fans regularly argue warps an official's perception.
Nevertheless, the referees' union seems to be sticking together on the decision with the likes of ex-pro Dermot Gallagher noting that since his studs were up and both feet left the ground as he lunged in for the tackle, Casemiro was deemed to be out of control of his body and risking serious foul play.
As always with these kinds of incidents, aggrieved fans are now sharing clips of other challenges throughout the season where VAR hasn't intervened when other clearer fouls and card-worthy decisions have occurred.
Included in the statement following the decision, the club shared a video of an interview by Spanish football magazine Panenka with Casemiro from last year, which seemed to give some more context as to why he was so upset following his second red in such an illustrious career.
It's worth noting that even the fouled player Alvarez got up off the deck to console Casemiro following his second red card in his last three Premier League appearances.
"I always try to get to the ball", said Casemiro, "I always go strong because that is who I am and I like the intensity I play with, but there is no malice. I have never gone with studs to hurt a player".
Read more:
For all the latest news, events and goings on in Greater Manchester, subscribe to The Manc newsletter HERE.
Featured Image — Sky Sports (via YouTube)/Panenka (via Twitter)