Sport
GB News' 'Alternative Match of the Day' was so bad we're convinced it was a parody
It didn't show any of the actual football, there were technical issue and since they couldn't actually analyse anything, the presenters just kept calling people 'woke'.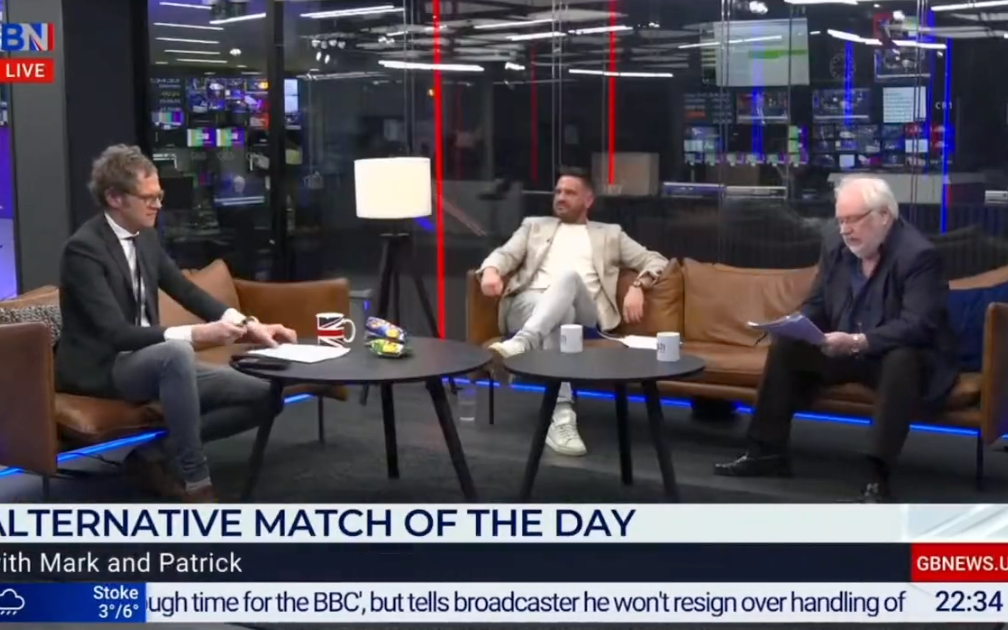 In a bit of guerilla broadcasting that absolutely nobody asked for, GB News decided to run their own 'Alternative Match of the Day' programme on Saturday, just without showing any of the football…
That's right, after the fallout from the BBC asking Gary Lineker to 'step away' from his duties on the football analysis show and UK TV institution, with his fellow pundits and presenters all standing in solidarity and boycotting the latest episodes, alternative media outlet GB News decided to step in.
However, since it is mainly BBC, Sky and BT that have the rights to the weekend's action, their coverage could only go so far as showing a few still images of the games and a big graphic which read the title of the show while they listed the various scores.
Unbelievably, that wasn't even the worst bit. Since they had no footage to watch back or actual sporting people to break down and analyse the matches with any real insight, they just resorted to repeating buzzwords from the 'anti-woke' thesaurus. Brace for cringe.
Right, seriously, what is actually happening?
While we won't purport to have sat through this tripe, it seems as though the majority of the broadcast went on and on like this without anyone asking the question, "shall we talk about the football now?", "whose idea was this again?" or "can you make it stop?".
As one person remarked on Twitter, it was "kind of GB News to remind everyone how brilliant MOTD usually is", but there was also some seriously problematic stuff on show too, with LGBTQ+ newsletter Out and Out Football noting that "while it's fun to mock the fragile masculinity on show, the comment about Brighton being 'full of rainbow flags' is pure homophobia."
Fortunately, as this brave soldier wrote in his caption, he "watched this sh*t so you wouldn't have to".
Read more:
It's no wonder GB News reported losses of more than £31 million after just a year on air.
We don't mind putting impartiality to the side on the odd occasion and sharing our unadulterated opinion on this one: we sincerely hope this is the last time GB News ever feels like they need to provide the UK's footy fans and TV viewership an alternative Match of the Day. We assure you, we can do without it.
That being said, the latest development in the BBC boycott situation is that Gary Lineker is expected to return to presenting sport sometime soon with an apology from the corporation also being rumoured.
For all the latest news, events and goings on in Greater Manchester, subscribe to The Manc newsletter HERE.
Featured Image — GB News (via Twitter)