Sport
American Wrexham fan's reaction to getting a ticket to Stockport County goes viral
Let's be clear: being that emotional to go and see your club is quite sweet — the fact she flew all the way over to experience Edgeley, of all places, is just a bit jarring.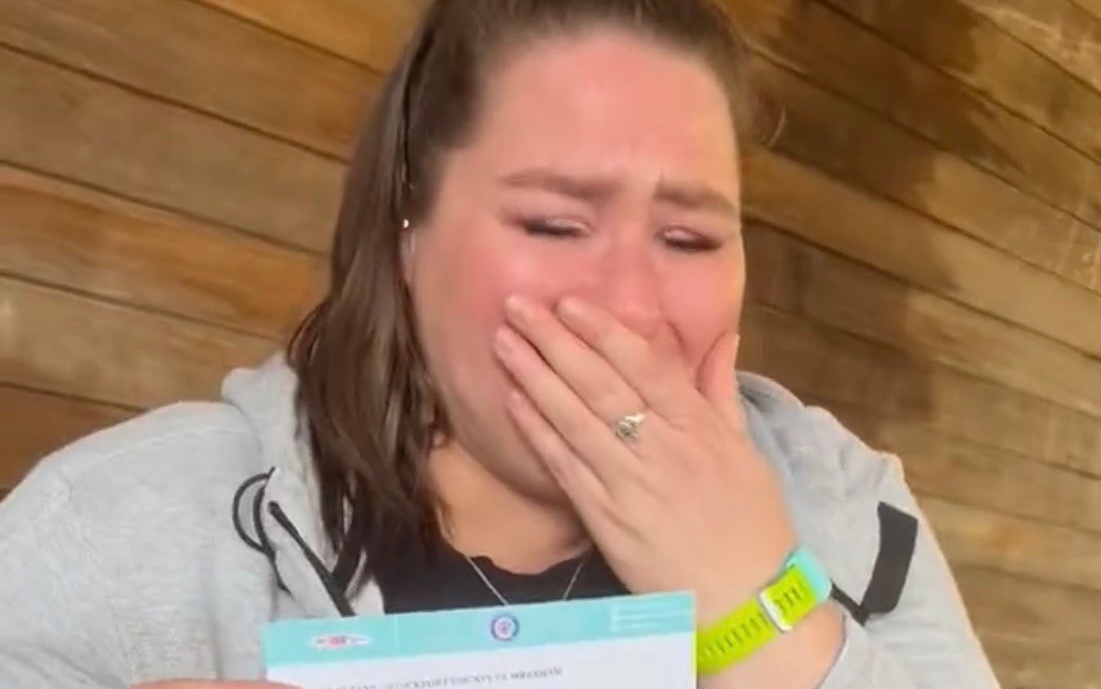 An American Wrexham AFC fan who managed to get her hands on a first-ever ticket to see The Red Dragons in person has gone viral on social media, not only because of her emotional reaction but because the destination she flew over for was none other than Stockport.
Wrexham have gained a massive influx of fans over the past couple of years following their blockbuster buyout at the hands of celebrities Ryan Reynolds and Rob McElhenney, with even more coming along for the ride after watching the accompanying Welcome to Wrexham documentary.
That being said, most Americans who still might be relatively new football fans certainly wouldn't have been expected to be spending their hard-earned cash travelling over to Britain to watch their side in Wales, let alone away here in Greater Manchester. Then again, not every fan is Dana Burkey.
As much as she was clearly excited and seemingly very emotional to receive a ticket for her first game, footy fans obviously found it hilarious that this poor lady paid what we can only assume was an obscene amount to travel to Edgeley in Stockport, only to watch her team get battered by County 5-0.
Yes, unfortunately for this recently converted Wrexham supporter and avid fan of the FX documentary series, after travelling to none other than Stockport to watch her beloved Dragons, she received the full hospitality of Edgeley Park in the form of an absolute thumping by the home side.
As if this mini-tragicomedy wasn't already poetic enough, for many it was even funnier that the heavy defeat came against the same team that denied them promotion from the National League two seasons prior and whom so much of the series' drama and heartache centred around to begin with.
There were nearly 10,000 in attendance for the League Two match on Saturday as Dave Challinor's side recorded their biggest win since the 6-0 against Wycombe Wanders in 2007, thanks to a hattrick from Isaac Olaofe, a goal and assist from high-flying loanee Louie Barry, and a finishing touch from captain Paddy Madden.
It's safe to say the fixture has struck up somewhat of a rivalry between the two clubs of late, so once Hatters and neutrals alike caught wind of Burkey flying over from the US to watch the game in person, they were having a field-day even before they saw the score at full-time.
https://t.co/I9LLYkQkYl pic.twitter.com/CFbwESFWV7

— Daniel (@DanielH_LUFC) September 23, 2023
https://t.co/UW4sUfs7EC pic.twitter.com/LPpsVIdHIB

— Tomos Hughes (@TD_Hughes) September 23, 2023
She got the real football experience and I love that for her. This'll either make her hate them or make her a proper fan https://t.co/O99AkdcstV pic.twitter.com/6Mf1Ygfdzw

— Sam Bird 🇳🇱 (@SamBirdyy) September 23, 2023
Read more:
As many noted online, while it won't have been the day out in Stockport Dana was hoping for, at least she was part of a real football experience; there's nothing that tests your resolve as a fan more than travelling to an away game and paying all that money only to see your team get battered.
To be fair, whatever she spent flying over here probably isn't far off how much a train to Euston from Piccadilly sets us back these days.
You can see the highlights of Stockport 5-0 Wrexham down below — though we're sure this particular fan won't want to watch it back anytime soon.
For all the latest news, events and goings on in Greater Manchester, subscribe to The Manc newsletter HERE.
Featured Image — Dana Burkey/Stockport County/Gaz Drinkwater (via Twitter)