Sport
Salford Red Devils could face 'heavy fines' after fans light flares, throw beers and two are arrested on suspicion of assault
The club are now investigating the incidents and will be punishing those identified.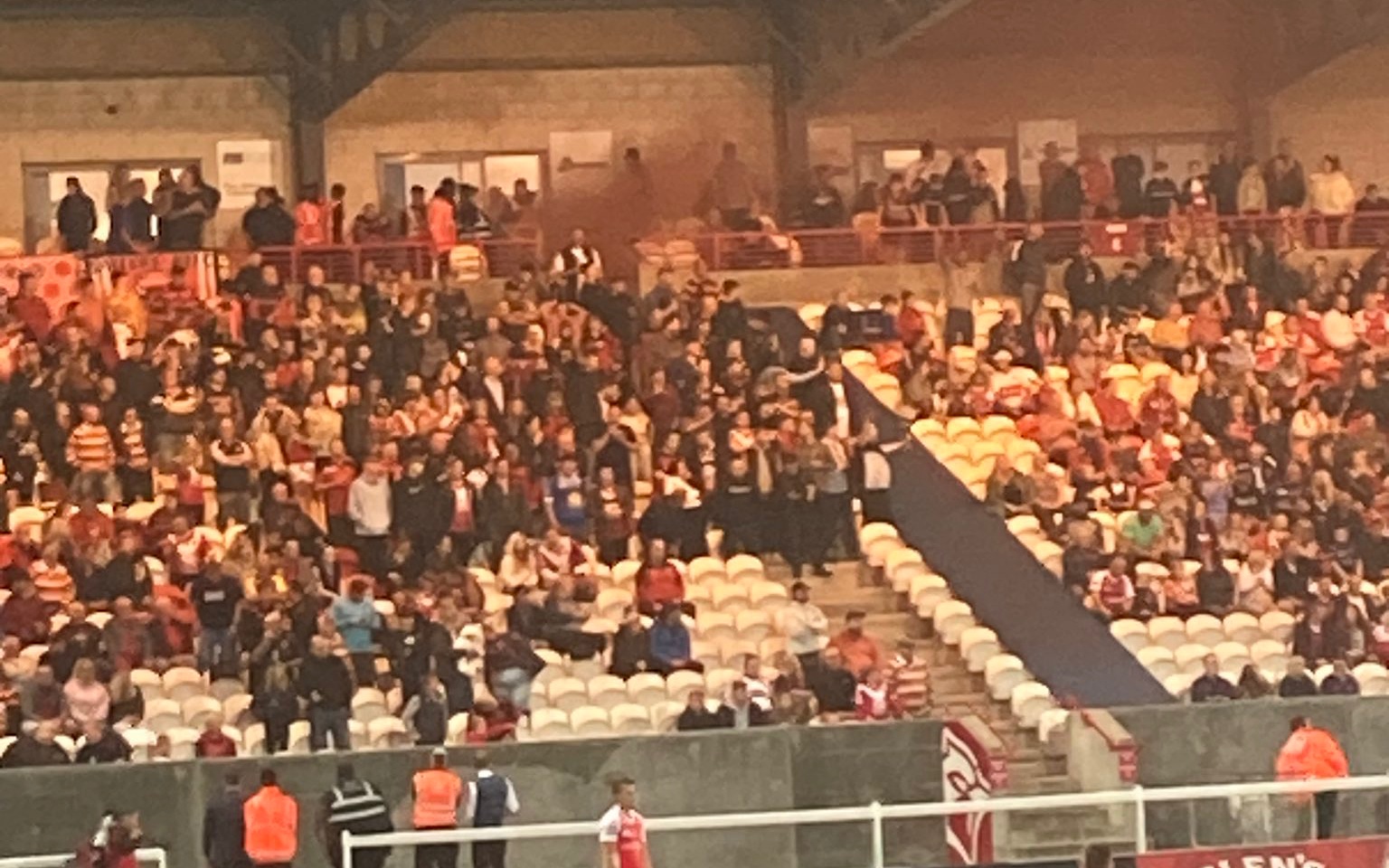 Salford Red Devils could be hit with heavy fans following an outbreak of anti-social behaviour at their recent game against Hull KR this past weekend, where fans were reported for letting off pyrotechnics, throwing beers across the stands and two men were arrested on suspicion of assault.
The Greater Manchester rugby league side lost 12-0 in a fraught Super League fixture both on and off the performance on Saturday, 16 September, with the travelling Red Devils having to make their own inside Hull's Craven Park stadium.
Sadly, however, the atmosphere amongst many supporters took a less-than-desirable turn for some as flares were set off in the stands and Salford fans reportedly began throwing beers at the home section.
According to local press, some of the anti-social behaviour took place outside of the ground as well, with five individuals being ejected from the stadium and two men being arrested on suspicion of assault causing actual bodily harm. Salford issued a response condemning the behaviour a couple of days later.
The statement goes on to explain that they are now "investigating incidents of anti-social behaviour" at the game and details how not only did the reported incident "place others at risk" but could also "result in the club being issued heavy fines."
While the club insisted they "are proud of the passion so often displayed in the stands by our fans" and "understand the excitement on the field can get us all carried away at times", they reinforced that supporters have a "collective responsibility to ensure a respectful and safe environment for all to enjoy."
Recognising that incidents of disorder were only committed by a small group of fans, they reiterated that they "should not and will not be allowed to give our supporters a bad name", assuring that they will now be taking appropriate action and issuing bans where necessary.
Speaking to ITV, fan Becky Green said that another woman in the stands had brought along her daughter for her first game and the young girl sadly had "beer thrown over her", adding, "It's the worst crowd of fans that we have had all years to be honest."
Read more:
Police are now said to be working with both clubs to identify the individuals responsible for the various incidents of anti-social behaviour and misconduct.
Humberside's Chief Superintendent Christine Wilson said: "We know that the majority of people who go to rugby matches just want to support their team to win, and that was a great game marred by a small number of supporters who had the potential to cause real harm."
Authorities are yet to confirm where the two men arrested have been charged.
For all the latest news, events and goings on in Greater Manchester, subscribe to The Manc newsletter HERE.
Featured Image — Salford Red Devils/Hull KR (via IG)/ Red Robins Podcast (via Twitter)