Sport
Johnny Evans' kids 'don't believe he used to play for Man United'
He made nearly 200 appearances in red the first time around.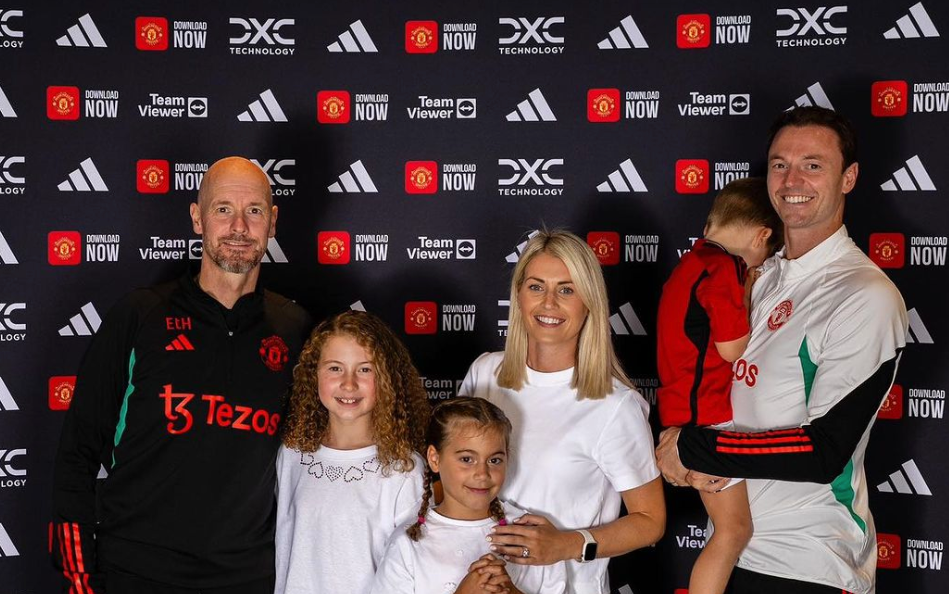 In case you missed one of the more unexpected transfers this summer, former Manchester United defender Johnny Evans is now back at the club after eight years.
And while you might expect it to seem a bit unbelievable for some fans to wrap their heads around, it turns out even his kids are struggling to believe he was ever there to begin with too.
The now-restored Northern Ireland centre-half spent eight years playing for the first team before joining West Brom in 2015, but came up through the youth ranks at Man United from the age of nine, and made his first senior appearances in the 2006/07 seasons.
However, it would seem his children – while apparently aware that he spent some time there – maybe didn't quite realise just how much of a long-serving player he was, how much he contributed to the club, and how much he won there.
Speaking to MUTV, following his somewhat surprising return to the club after the best part of a decade, Evans said that it's a dream to be able to come back after such a long time, and for his kids to be able to see him play in Red.
"I think they know I used to play for Man United, but I don't think they believe me in that sense," the 26-year-old joked in his first interview since re-signing for the club on a one-year deal until June 2024.
"It's nice that they're going to be able to watch me.
"My eldest was actually born during my last season at the club [2014/15], so it'd be nice to be able to take them to Old Trafford.
"For the children to see their dad running out at Old Trafford would be something special for any child, so I'm really fortunate and lucky that I get to do that".
Evans' last game for the Red Devils at the end of his first spell was against Crystal Palace back in 2015, and his first game back was during this year's pre-season tour against Lyon.
But despite initially joining up to regain his fitness and hopefully find a new club, there was talk of his short-term contract being extended almost immediately after clearly impressing the manager in training.
While Evans obviously won't be expecting to play that regularly, and was clearly signed as a backup centre-back, with Raphael Varane now out of action and Victor Lindelof also a potential injury concern at the moment, his addition to the squad depth will no doubt be needed with United in all four top-flight competitions this year.
He's also opened up on how the move has revitalised him, stating that seeing all the young players has "made [him] feel very young again", and how it helped him get back into the mindset of "trying to come into this first team every day and impress and show the manager what you can do."
Are you happy to see the long-time servant back at the club, Reds?
Elsewhere at Man United, they suffered their worst-ever share price drop after rumours that the Glazers might no longer be selling, compounded with multiple controversies over the past few months, saw more than half a billion wiped off the club's value.
Read more:
For all the latest news, events and goings on in Greater Manchester, subscribe to The Manc newsletter HERE.
Featured Image – Johnny Evans (via Instagram)