Sport
Ander Herrera calls Mourinho a 'sh*thouse', addresses spitting on City's badge and breaks down over 'painful' United exit in tell-all interview
It became abundantly clear that Herrera still has a lot of love for Man United.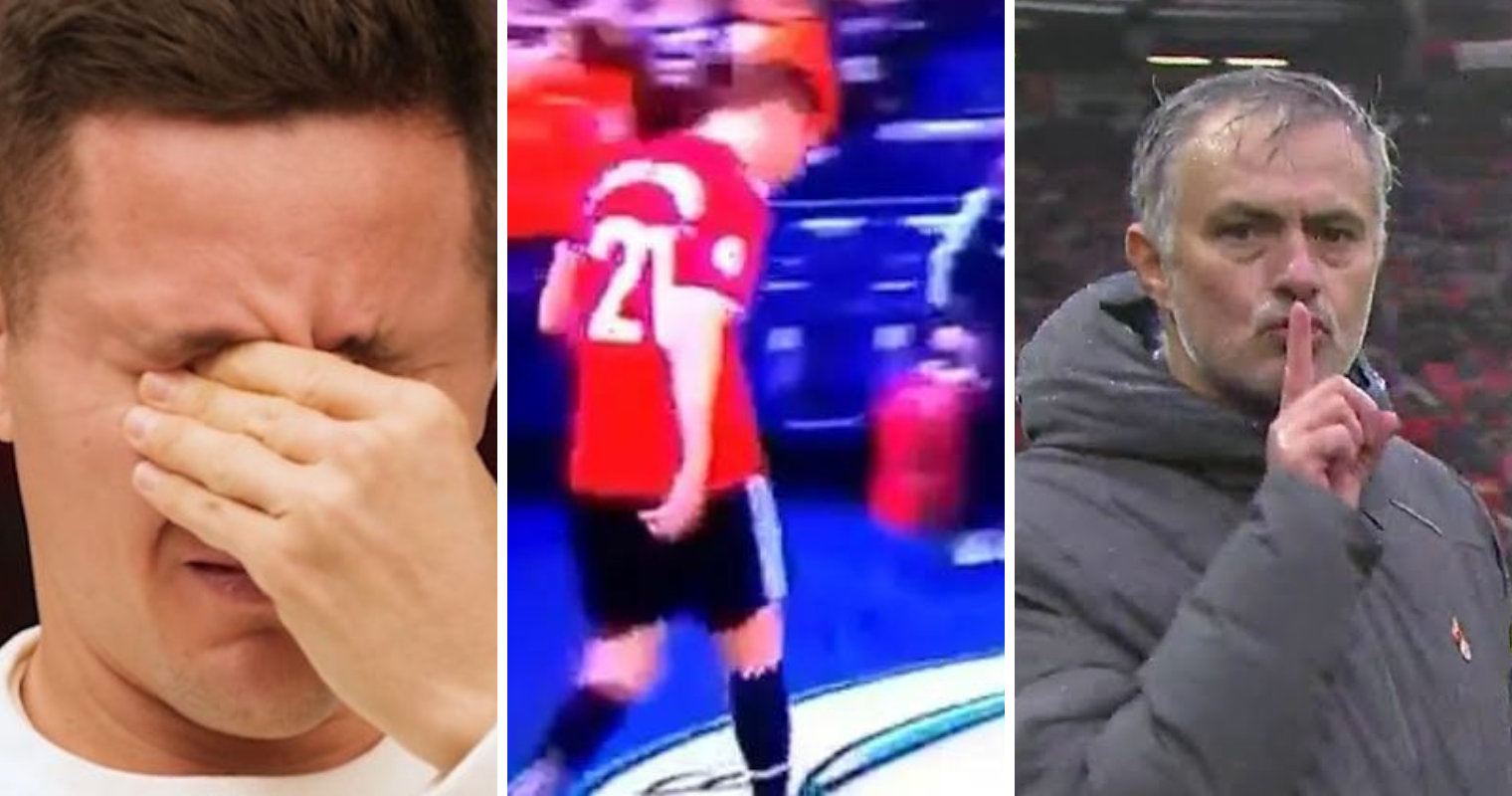 Former Red Devil Ander Herrera recently appeared on Manchester United's latest UTD Podcast and his interview turned out to be just as informative as it was emotional.
Released on Tuesday, 20 December, the ex-United midfielder spoke to co-hosts Sam Homewood and Helen Evans about his time at the club and how much the badge still means to him, with the episode simply entitled: "I have United in my heart".
Discussing everything from his experience under different coaches, the 'sh*thousery' that became synonymous with his playstyle; that video of the Manchester City badge Reds share every derby day and laying bare the details surrounding his "painful" United exit, it was one of the most honest talks yet.
Having rejoined Athletic Bilbao (the club he left for Old Trafford) on loan from PSG, the presenters visited him at their home stadium as he talked through his early playing days and the impact his dad had on his career. However, it didn't take long for them to get on to Man United and the waterworks soon followed.
It's clear that the love for the club still remains as beyond speaking passionately about his time there throughout the pod, Herrera breaks down in tears and even has to walk off the set after he is asked about how he ultimately felt he had to leave Manchester — an outcome that few fans wanted either.
Having become a beloved and reliable senior figure at the club way before his five years in a Red shirt were up, the Spaniard went on to explain some of the details surrounding the contract dispute that he described as a "painful" experience that left him "down" and "unhappy" given what he felt he deserved.
Despite stating that he didn't want to "talk bad" about anyone, he did "expect a little bit more" from the club having been a committed servant and player of the year the season before. Sadly, although the club were busy offering new contracts to other players, he was not afforded the same luxury.
Thankfully, there rest of the interview revolved around much more enjoyable and humorous topics like his time under José Mourinho and what became almost a perfect marriage between two masters of an overarching trait that never fails to both delight and wind up fans every week: 'sh*thousery'.
As was made plainly clear, Herrera enjoyed his time under Mourinho, dubbing him not only "one of the greatest managers of all time" but the one that saw him discover a new position, making him the "more defensive midfielder" that really helped bring out the so-called 'dark arts' side of his game.
Herrera confessed, "He was also a little bit sh*thouse [like me] as a coach so it was a good time" — a totally honest and admittedly accurate answer that got a chuckle from the studio. While he conceded the football was more counter-attacking during that time, he insisted simply enjoyed "fighting for [his] club".
The 33-year-old recognised that as well as becoming an important player under him, José was also the last manager to lift a trophy at United, winning the Community Shield, Europa League and League Cup, all in his first season, not to mention regaining qualification for the Champions League.
Ander went on to add that his time under the Portuguese coach also coincided with him winning Fans' Player of the Season award and that moments like this made him "thankful" for their time together. Shortly after, he was then asked about one rather iconic moment under Mourinho…
Yes, sorry to disappoint you United fans, but the former number 21 assured that he did not spit on the City badge on purpose. Though he could only reinforce just how much he wanted to win – "to destroy them, same as Liverpool", even – he said he always wants a badge to be respected the same as his.
Still, as Homewood mentioned in the intro, United fans can still hold on to the idea that he simply had to deny it on camera and Ander knew exactly what he was doing. After all, it does fit the 'sh*thouse' mould.
For anyone neutral or those of you that don't remember, a video of Herrera spitting on the rival crest as he walked down the tunnel at half-time while United were trailing 2-0 went is now a go-to viral meme for Reds every Manchester derby. They went on to win the game 3-2, with Herrera grabbing an assist.
You can always just decide for yourself:
Read more:
As they teased on Twitter, this is a must-listen for any Manchester United fan and for those who look back fondly on the Basque footballer's days in the Premier League, in particular.
He will no doubt go down as one of United's biggest cult favourites ever, certainly in the post-Sir Alex era and there will be many fans who still believe he should have never been let go.
Are there any other players you feel the club should have kept?
You can listen to the full Ander Herrera Manchester United podcast episode HERE.
For all the latest news, events and goings on in Greater Manchester, subscribe to The Manc newsletter HERE.
Featured Image — Manchester United