Sport
Antony is being absolutely rinsed for his 'embarrassing' and 'pointless' skill against Sheriff Tiraspol
Oh, to be a fly on the wall in Roy Keane's house last night.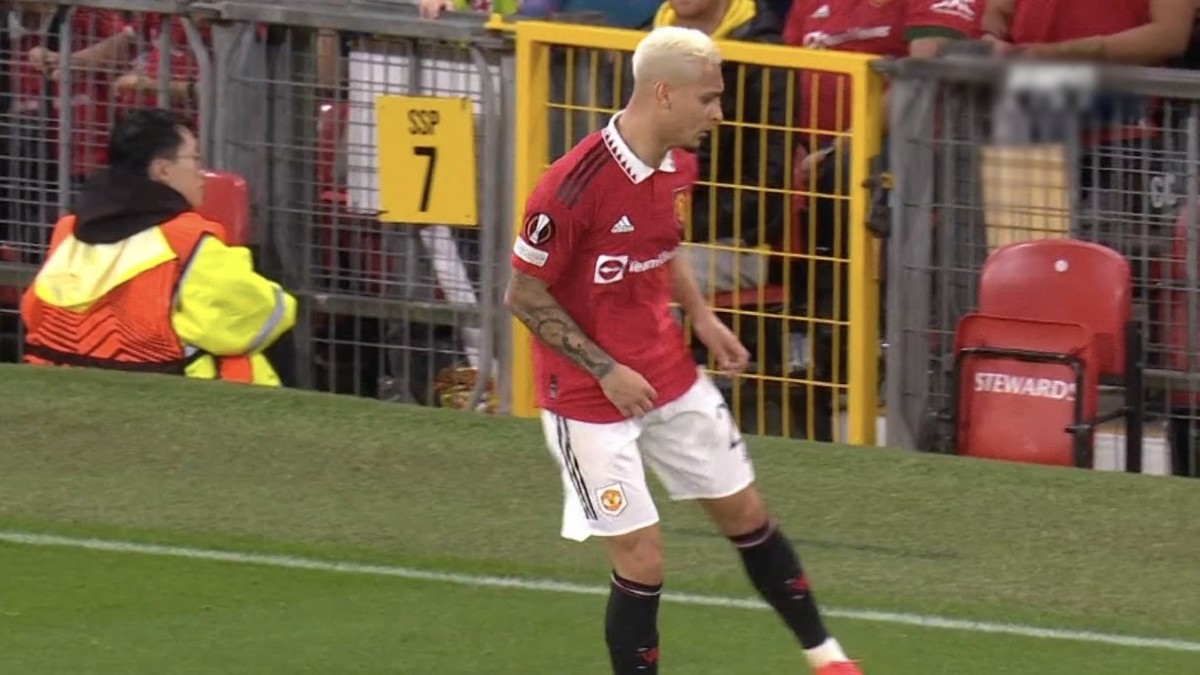 Manchester United were back to winning ways in the Europa League night with a 3-0 win over Sheriff Tiraspol, taking their unbeaten streak to seven across all competitions.
However, the biggest talking point on the night wasn't Erik ten Hag's run of results but rather a moment from one of his new signings, Antony, who pulled off a rather fun albeit pretty pointless skill.
lt got a cheer from large sections of the Old Trafford crowd but the reaction online was rather different.
As you can see, not only did commentator Ian Darke quip that the skill looked like something "out of Strictly Come Dancing", but co-commentator and one-time Red Devil Robbie Savage dubbed the move as "quite embarrassing, actually".
Trademark move or not, the fact he put his pass out of play immediately after didn't help either.
Former United players and pundits Paul Scholes and Owen Hargreaves didn't exactly give a glowing review of Antony's showboating either, remarking that the skill was "ridiculous" and didn't really achieve anything, with Scholes adding that he didn't do much else in the game either.
While the pair admitted that you can afford to do a little bit of showboating and try creative things on a pitch when you're three or four-nil up, Antony did this when the scoreline was still 0-0.
Moreover, some have suggested that Antony's spin was somewhat disrespectful to the away team who travelled all the way from Moldova for what, no doubt, would have felt like a big occasion on their list of fixtures this season.
Pundits over in the Sky studios were equally displeased with the 'Antony spin':
On the other hand, many Reds fans and neutral football fans alike got a laugh out of it, branding it as nothing more than a moment of entertainment and joking that they hope he does daft stuff like that "every week".
Some even pointed out that he drew defenders' attention while Casemiro made his run. That would be nice if the pass had actually come off.
Either way, as you might expect, people on social media have had their fair share of fun following the inexplicable bit of skill:
Though his face gave away said plenty at the time, ten Hag did address the moment, admitting that while "a trick like that is nice" it should be used so long as its "functional, you're not losing the ball" or you're "attracting players — then it's ok".
Nevertheless, the Dutchman went on to say that he will "correct him" in the future when it comes to showing his flair on the pitch.
The 22-year-old Brazilian has made an otherwise positive start to life in Manchester, having scored several goals already and even making history with his finish against Everton.
Read more:
What do you reckon Uniteds fan, just a bit of fun or pointless nonsense?
For all the latest news, events and goings on in Greater Manchester, subscribe to The Manc newsletter HERE.
Featured Image — BT Sport/ESPN