Sport
Ella Toone and the Lionesses stand in solidarity with Jenni Hermoso and Spain's 'unbelievable' women's team
The cries for the Spanish FA president to resign are only getting louder.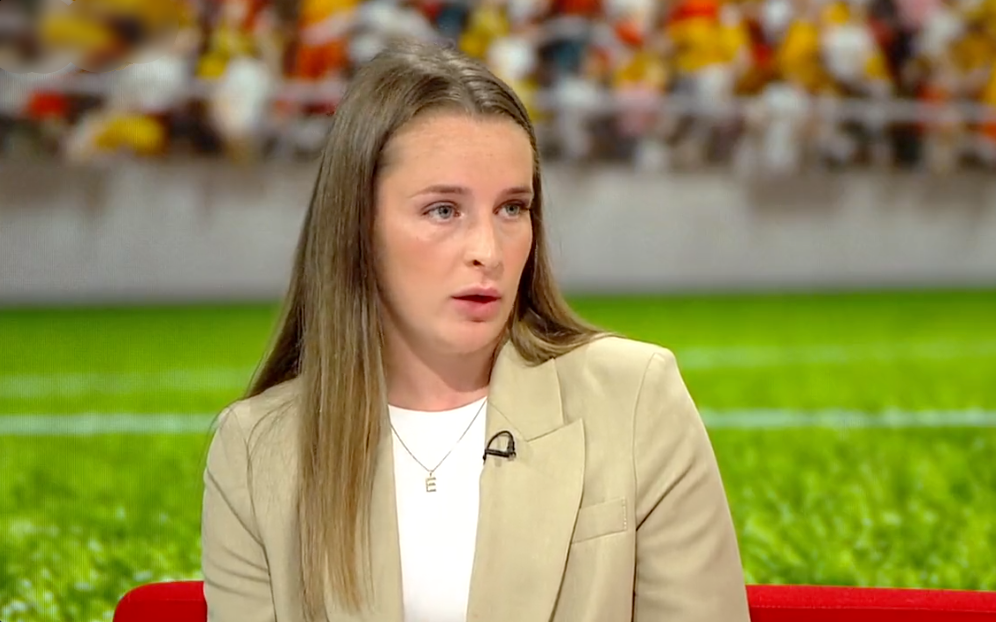 As Jenni Hermoso and the rest of the 2023 Women's World Cup-winning team rebel against the Spanish FA and now-suspended president, Luis Rubiales, England's Ella Toone appeared on BBC Breakfast to share a message of unified support from the Lionesses.
There are no words to express how much love and pride we have for this lot.
Joining the coach on Tuesday 29 August, the England and Manchester United forward was asked to give her feelings on the ongoing saga as Spain's football federation is now investigating Rubiales for kissing Hermoso without consent, as well as a variety of other controversies within the national team.
Not hesitating for a second to praise what she and the rest of her teammates have hailed as an incredible squad in the World Cup final earlier this month, Toone went on to say that the nonconsensual kiss was simply unacceptable.
"It's not the best", said Toone, adding that "Spain were unbelievable throughout that tournament" and while the fact that they won their first Women's World Cup "should be the main talking point… It's been overshadowed by something that happened after the game that is unacceptable and the Lionesses all stand by Jenni Hermoso."
Last week, after reports that the women's team are now refusing to play until Rubiales resigns and the majority of the coaching staff have now walked out, Sarina Wiegman and her side shared a message of solidarity, stating "We all stand with you, @jennihermoso and all players of the Spanish team."
"Unacceptable actions allowed to happen by a sexist and patriarchal organisation," they wrote. "Abuse is abuse and we have all seen the truth. The behaviour of those who think they are invincible must not be tolerated and people shouldn't need convincing to take action against any form of harassment.
Being asked to reflect on what motivated them to share the heartfelt message, the 23-year-old said the idea was posed by "some of the leaders in the squad" but assured it was one they "all believed in and wanted to put out as a team", adding they now just "want the right thing to be done".
The treatment of female Spanish players over the past year alone is by no means limited to what he has dismissed as a mere "peck".
With countless members of the squad having refused to play under equally controversial manager, Jorge Vilda, at points, and allegations of mistreatment at various levels throughout the national team, the narrative seems to be increasingly one of a systemic problem in women's football in the country.
With 15 players having previously signed an email that claimed they had been subjected to "situations that affect our emotional and personal state, our performance, and consequently the results of the national team" earlier, people have similarly been calling for Vilda to be sacked for some time.
Although the specifics of what the players alleged are not entirely known, footage of the 42-year-old coach touching a female member of his backroom staff's breast whilst on the touchline at the World Cup has also been shared online.
The more evidence that continues to come light, the louder the cries for both of them to resign get, and people are now taking to the streets across Spain under one message: 'Se acabó' — i.e. 'it's over' and there will be 'no more' instances of female professional footballers being abused.
Read more:
As Toone went on to say, "it's a tough situation" for the Spanish national team and "it's sad that we're still talking about things like [Rubiales] misconduct" when both countries should be focusing on simply celebrating their teams' achievements.
She concluded by saying that Spain's FA president should "definitely" vacate his post, insisting that it's "too far gone now for an apology… it's much bigger than that now, so hopefully the right thing is done. He needs to move on".
Regarding Vilda, he is one of the few members of the coaching staff who has remained part of the team but there is growing pressure for him to follow his boss on the way out and to also face investigation.
Earlier this week, the BBC also came under fire whilst reporting on the entire scandal after they mistakenly used images of a Manchester City legend when referencing Luis Rubiales.
For all the latest news, events and goings on in Greater Manchester, subscribe to The Manc newsletter HERE.
Featured Image – BBC/Lionesses (via Twitter)