Sport
Erling Haaland could seriously net 50+ goals this season – yes, seriously
We're not even remotely joking. If he continues at this rate, his numbers in all competitions could be terrifying.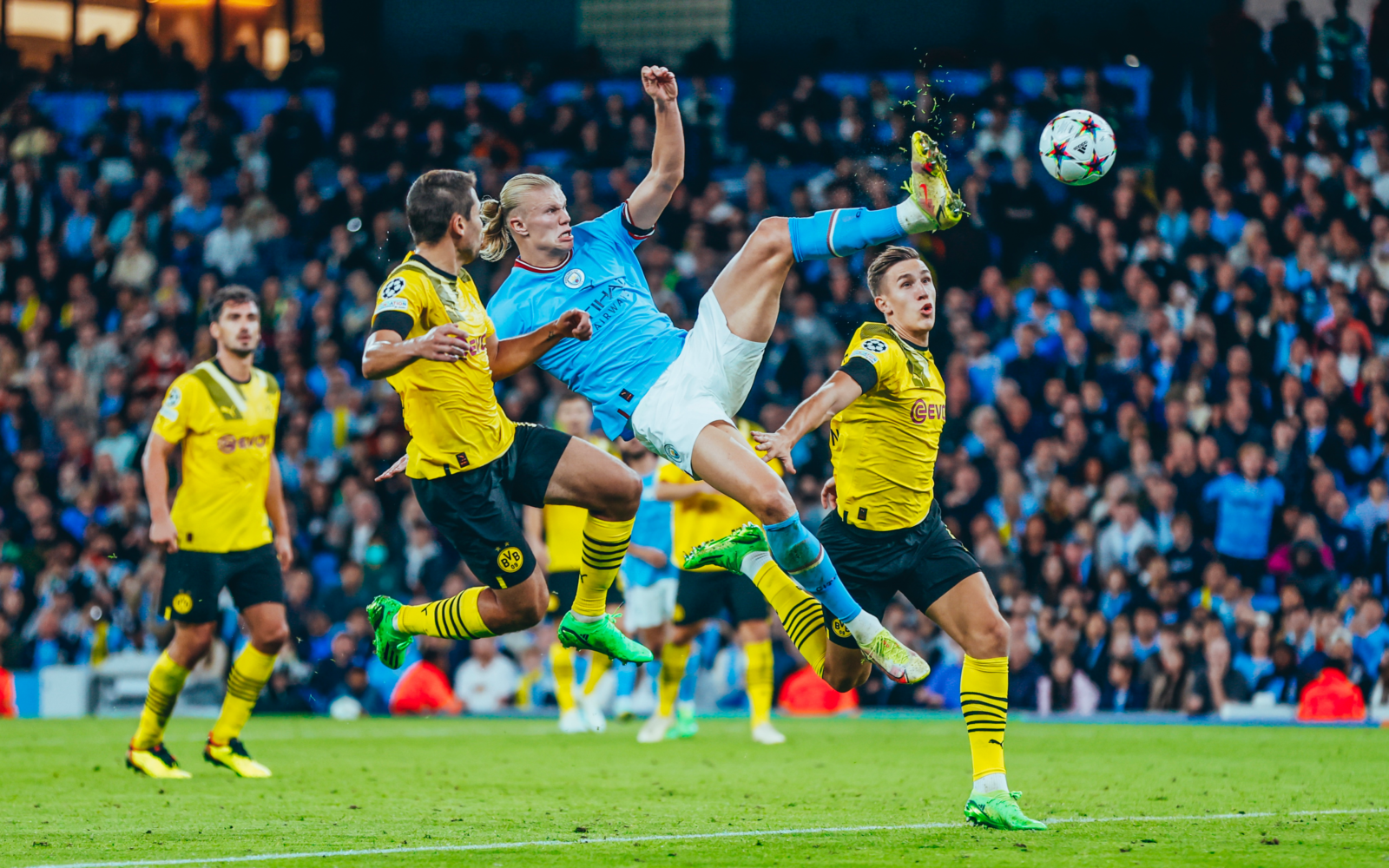 In case you hadn't noticed, Erling Haaland has virtually secured this year's golden boot in just six matches wearing sky blue and barring an unexpected injury, he shows no signs of slowing down.
The 22-year-old Norwegian has already bagged 10 goals and an assist in the league and a baker's dozen in all competitions for Manchester City this season.
And we're only in September.
Every type of goal – and plenty of them
So far, his highlights include scoring a game-winning brace against West Ham, as well as back-to-back hattricks against Palace and Forest. The latter was both a traditional perfect hattrick (left foot, right, header) and a 'German perfect hattrick' – all three goals scored uninterrupted by any other player.
Oh, and he also scored each of them in consecutive halves across the two games if there's a word for that – he essentially managed the most perfect pair of trios you'll probably see for some time.
Even when doesn't manage multiple goals, he produces moments of match-winning brilliance like this:
He's going to score a lot of those finishes by the way.
Most others would find it hard to even reach that ball and even if they could, very few are clinical, composed and creative enough to convert it into a goal.
The stats speak for themselves
With that in mind, if he's already this prolific so early on in the season and he's able to add even more improvised goals like this to his tally when most others wouldn't even attempt, it's fair to say that he's going to pull even further ahead of his goalscoring rivals than he already is quite quickly.
To put things into perspective, even with an xG (expected goals) rating of 1.19 goals per every 90 -minutes of football, he is already exceeding his own stats, averaging an xG of 1.86 per 90 according to FotMob.
Put even simpler, this means he's scoring a goal around 48.5 minutes – that's just in the Premier League alone.
If you extrapolate his numbers to take into account the three Champions League goals he's already scored and presuming City make it to the final of the FA and Carabao Cup this year – and it looks very well they might – then the projected figures are verging on scary.
How many could Haaland theoretically score?
Were he to continue at this rate for as many games possible, he could theoretically end the season on a grand total of 102 goals – with 63 of those goals coming in the Premier League. That's based on his average 80 or so minutes per game he's currently on the pitch for – and it's even more if he played the full 90 for the remaining 32 games.
Not only are these utterly unthinkable numbers that would see Mo Salah's record of 32 goals in a league campaign, but it would all smash Lionel Messi's incredible feat of 73 goals across all competitions.
Over 50 doesn't sound crazy now, does it?
Read more: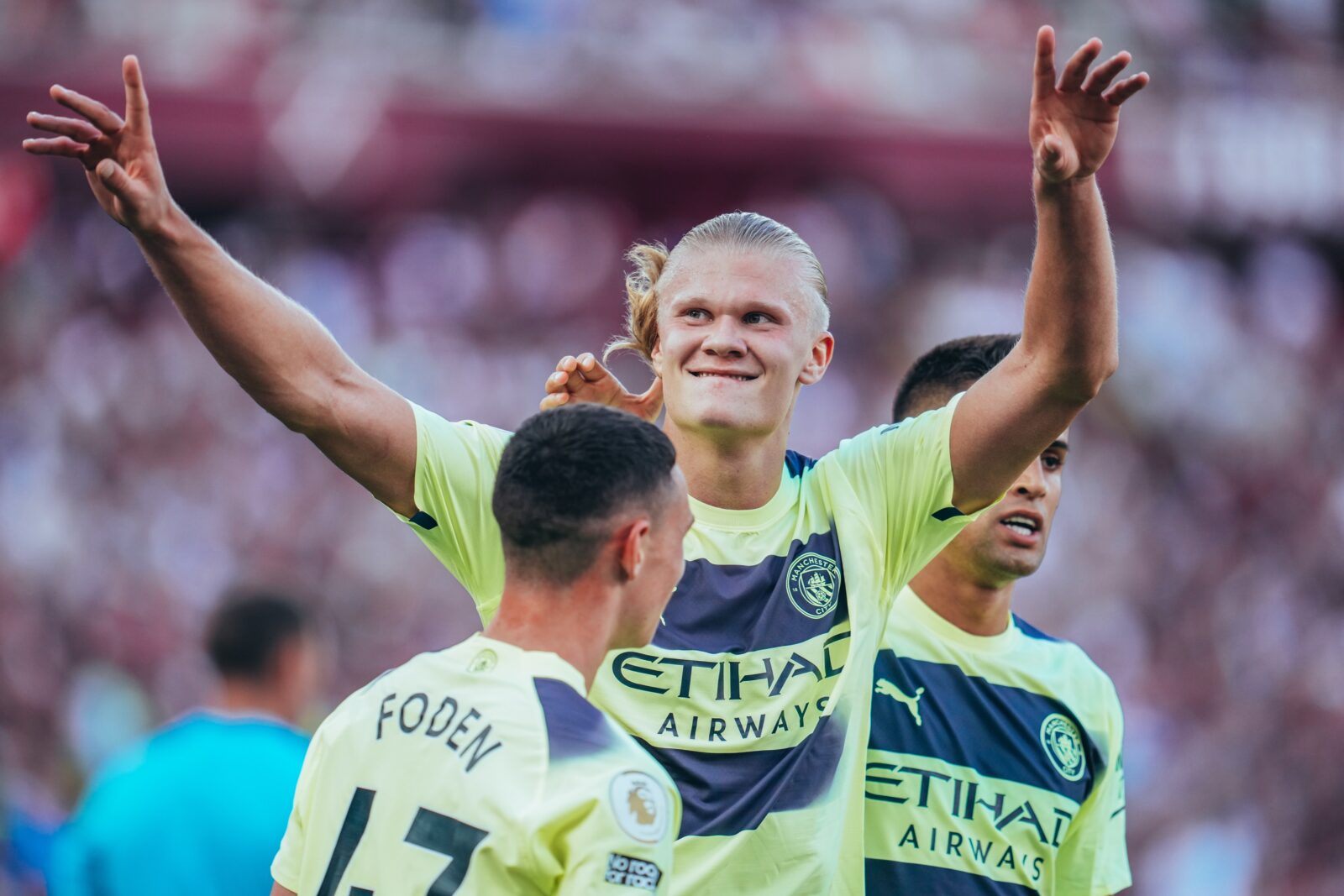 Now, chances are he is going to a few games without a goal at some point (well, you'd hope so, for everyone else's sake), but when you consider the sheer raft of talent and regular service from the rest of the City squad, it's entirely possible he could break all kinds of records.
Essentially, whatever number he ends up finishing on is going to come down to whether Pep decides to rest him or whether or not he stays injury free, as he has been known to suffer a knock or two.
If left entirely up to him, we can only imagine what magic he produces.
Either way, whether you're a City fan or not, it's going to be genuinely riveting to see just how many goals he'll score this season.
Featured Image – Man City (via Instagram)