Sport
Johnny Bairstow carries off Just Stop Oil protestor as activist group interrupts Ashes Test match
The environmental activist group continue to make a statement at the biggest events on the sporting calendar.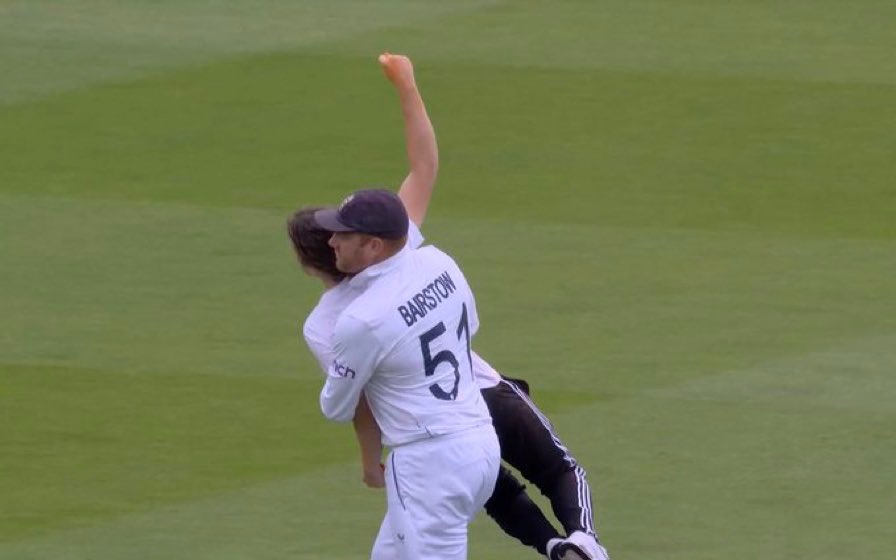 The second Ashes Test was temporarily suspended after Just Stop Oil interrupted play just minutes into day one, leading England's Johnny Bairstow to carry a protestor off the pitch.
A completely normal day at Lord's.
England had barely got their second Test against Australia underway on Wednesday, 28 June when two members of the environmental activism group, whose main mission is to stop the government licensing and producing fossil fuels, ran onto the pitch mid-game.
Throwing bags of orange powder now synonymous with Just Stop Oil in the air, one protestor was quickly tackled by security while another ended up being literally carried off by cricket Johnny Bairstow himself. Quite the scenes.
Read more:
Wicket-keeper and batsman Bairstow had to leave the field to change his shirt after it was covered in the orange powder but play in the capital resumed shortly after.
London Metropolitan Police have said that three people were arrested following the incident and taken into custody, one of whom was identified as Judit, a 69-year-old grandmother, who said: "I have to take action for my seven beautiful grandchildren.
"I can't bear to imagine the suffering that they will have to endure because of this Government continuing to licence new oil, coal and gas, against all better judgment and expert advice."
This isn't the first time the climate group have demonstrated in this way, of course, having most recently caused disruption at the likes of the F1 British Grand Prix in March, not mention the World Snooker Championships this past April, so this latest stunt sure won't be the last.
For all the latest news, events and goings on in Greater Manchester, subscribe to The Manc newsletter HERE.
Featured Image — Just Stop Oil/Sky Sports