Sport
Manchester Laces: the non-binary football club leading the charge on inclusivity in sport
In just over a year, the club has grown exponentially in size and is part of a much larger network striving for equality in sport.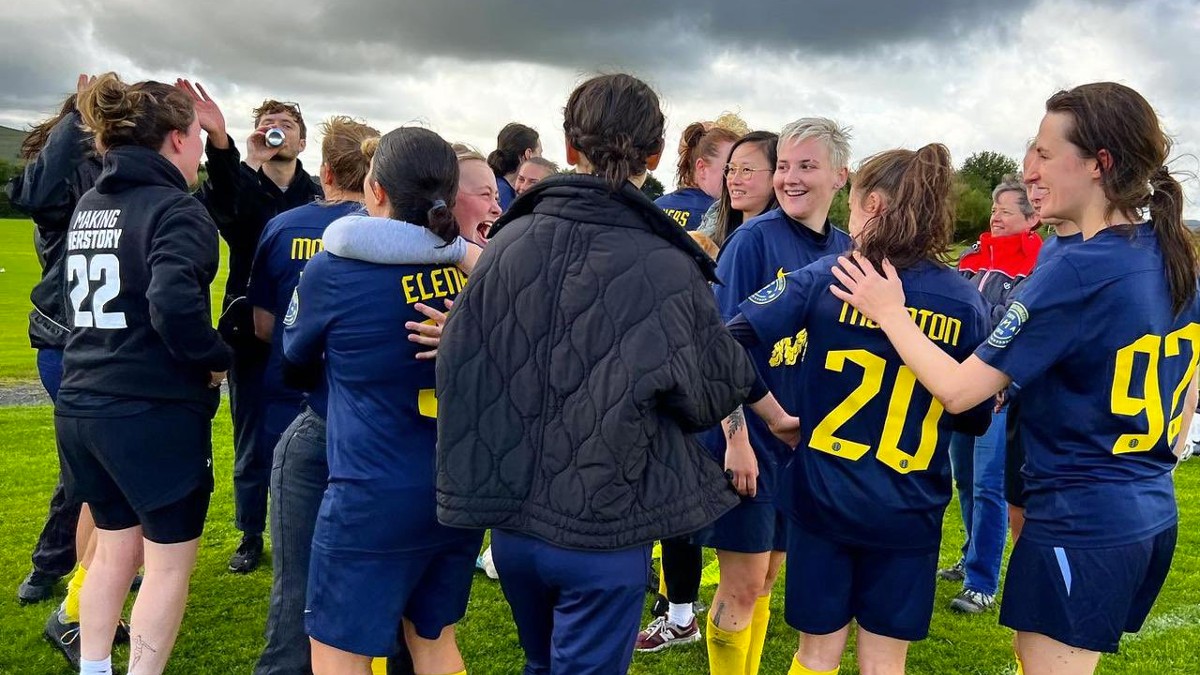 One of the best parts about Manchester is that it embraces people from all walks of life. It doesn't matter your race, colour, creed; sexuality or gender — as long as you're sound, you're welcome.
That being said, another big part of what makes this city so special is its rich sporting history and culture, something that continues to run throughout the fabric of communities across Greater Manchester to this day – football, in particular. We love kicking a ball around.
Now, thanks to Manchester Laces – founded in 2021 – people who identify as non-binary/gender-neutral have the perfect place to keep fit, make new friends and enjoy a kickabout.
Starting just over 18 months ago, Manchester Laces now boasts more than 500 participants, many of which are regular members of the five squads set up by the region's first-ever inclusive women's and non-binary football team. Quality.
Furthermore, the LGBTQ+ inclusive team set up their own AF (Alternative Football) League, based out of Whalley Range Sports Centre and Cheetwood Sports in Cheetham Hill and playing games all across 0161.
Set up by Manchester Laces founder Helen Hardy, 40-50-minute games are played at the two venues most Wednesdays from 6-9pm, with matches varying from five and six to seven and 11-a-side.
The team also competes in divisions two and three of the Greater Manchester Women's Football League, as well as offering pay-as-you-go sessions on Mondays, training at Platt Lane Sports Complex on Thursdays and various games throughout the week thanks to the FA's Flexi League.
The success of the club over the past year or so has been incredible, securing sponsors from the likes of the Stadio podcast and global scientific materials manufacturers Avery Dennison for this year.
They couldn't have topped their meteoric rise any better either, as they also recently went on to win the award for the 2022 National Grassroots Club of the Year. Fully deserved.
As well as appearing on billboards around the city and surrounding communities, their kits for this season are now on show in the National Football Museum, with the Manchester sporting institution recognising the club's immense dedication towards championing women in football and equality for all.
You can see visit the 'Crossing the Line' exhibition at the museum right now and see how they have recognised the inclusive, community-focused club's contribution to women's football and British sport as a whole.
There is also the South London Laces team, set up in 2016, with both delegations doing their bit to provide a safe, friendly and conducive community space for those looking to keep active and make friends through football.
In fact, the Laces Community Club is made up of four teams total: Limehouse, South London, Manchester and, of course, the Hackney Laces – the original club set up in 2011 by Canadian-born footy coach, Katee Hui, who kicked this whole thing off.
With Manchester the first Laces outfit to be established outside of the capital, the organisation now supports nearly 1,000 girls, women and non-binary individuals across the UK. You love to see it.
Moreover, in a year where the footballing narrative is already dominated by a controversial World Cup held in a country that persecutes the LGBTQ+ community and suppresses human rights in general, it's heartwarming to hear the positive stories of all kinds of people being made to feel welcome.
Taking in players of all ages and abilities, Manchester Laces and the wider Laces Community is about putting fun first and providing an outlet for people who, sadly, are often marginalised from certain groups and activities like sport, to build a stronger social network of like-minded peers.
Lastly, in a year where we celebrated the Lionesses lifting England's first trophy in over 50 years, their support for women in sport from amateur level all the way up to professional is admirable, and is no doubt helping garner further interest in female football and its already growing audience.
Read more:
If you're interested in giving Manchester Laces a try, you can find out more about how to get involved HERE and you can also help combat inequality by signing their petition for the FA to update their rules on transgender and mixed-gender players.
Louder for those at the back: football is for everyone.
For all the latest news, events and goings on in Greater Manchester, subscribe to The Manc newsletter HERE.
Featured Image — Manchester Laces