Sport
Manchester United fans are getting very excited by the 'seriously talented' Amad Diallo ahead of next season — and rightly so
At just 20-years-old, he's arguably been not just Sunderland's best player all season but one of the best in the Championship. Is he ready for the Premier League?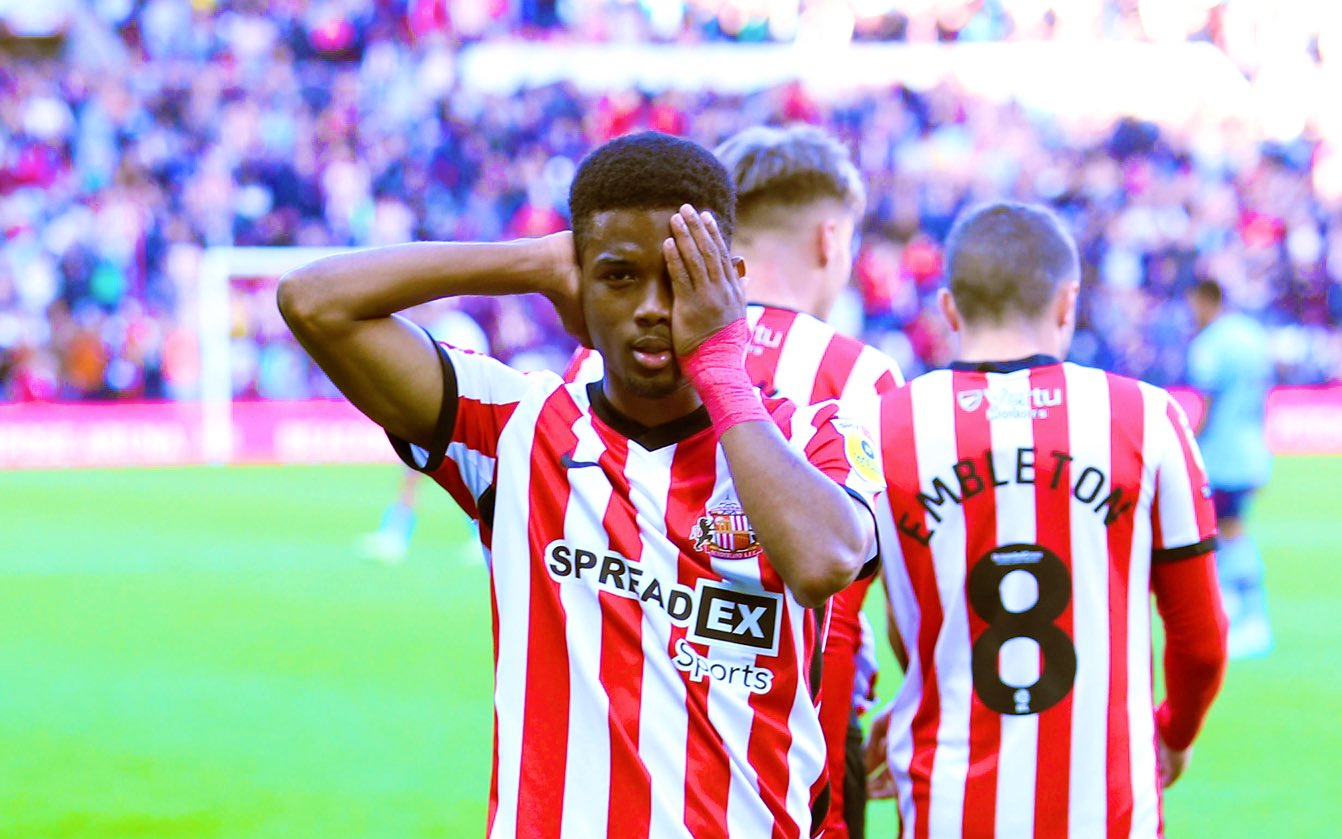 With the 2022/23 campaign now drawing to a close, Manchester United are on the verge of securing top-four and perhaps even an FA Cup, but most fans are already looking towards the next season and what aspects they can build on — the squad being the most obvious answer.
It only took a few injuries and suspensions to reveal that Erik ten Hag's options were much thinner than first thought, with several players in key positions suffering setbacks throughout the season, including Raphael Varane, Marcus Rashford, Casemiro, Marcel Sabitzer and, of course, Lisandro Martinez.
However, rather than dipping straight into the transfer market, fans are delighted to have received regular reminders throughout the season that there's already an existing Red who could be added into the mix come August: Amad Diallo.
The 20-year-old is on the books at United but has spent the year on loan at Sunderland, where he has enjoyed a seriously impressive campaign and has been dubbed by many as "one of the signings of the season". Here's one of his most recent from the Championship play-off semi-final on 13 May:
Ok, so the youngster can hit a naughty little free-kick which happened to come in a big game — not totally unheard of, but why exactly are people getting so excited by Amad's game on the whole?
Well, registering 14 goals in the league as well as a handful of assists in his first proper spell in England, all before turning 21 and in one of the most physical leagues in world football, isn't a bad start.
Not only does that happen to be more than any other Sunderland player but it also saw him win the EFL's Young Player of the Month for January and the club's Young Player of the Year award in April.
Moreover, he does have a tendency to score the odd banger. Just a few days before scoring the goal shown above, he netted this absolutely wonderful first-time strike in an equally important game which saw the Black Cats cement their spot in the playoff positions:
As you can see, United fans are understandably very excited by clips like these and for anyone that's actually sat down to watch him this year, you'll know that he's often looked like one of the best players on the pitch, even regardless of his limited experience.
Not only was he the club's top goalscorer this season, sitting in 11th overall in the league table when it comes to the number of goal contributions, but he's regularly the one driving the attacking impetus for Tony Mowbray's side week in, week out.
Speaking of his progress, the Sunderland boss recently said that Amad is an "amazing player" and often "finds the game too easy", adding that even if he doesn't play for United next season, he will go for "big, big money", having already pretty much accepted he's unlikely to return to the Stadium of Light.
Following his massive equaliser against Luton Town, even Gary Lineker felt he had to jump on Twitter to laud the Ivorian starlet, labelling him a "seriously talented" prospect.
His incisive passing, driving forward runs and fine finishing might not have been enough to see Sunderland all the way through to the playoff final, losing 3-2 on aggregate to Luton, but he's already done more than enough to prove he's one of Europe's brightest prospects.
Sharing an emotional and disappointed statement after the defeat, social media was awash with people praising him as "the best loan signing ever" and some even going so far as to call him the best player the club has had in years.
Erik ten Hag has already admitted that he hopes to have Amad feature in United's first-team squad from next season, insisting that "we loan such players to let them develop and make progress, to bring them back", and it is thought both he and fellow youngster Facundo Pellistri will be given a proper audition for regular football during the upcoming pre-season.
With testimonials like this, it's surely worth seeing how he fares.
Read more:
He went on the state that the club is "really strong on them in the matter of the way [they] mentor" and maintain regular "communication throughout the season… especially Darren Fletcher", adding that the former United midfielder turned coach and current technical director "invests a lot in such processes and the aim is to bring them back as a better player and with better experience."
As reported by Fabrizio Romano, United are already in talks to extend Pellistri's contract even after only a handful of appearance and it looks increasingly likely that they will do the same with Amad, with the journalist insisting that he "dreams more than anyone" of being given a chance in the first-team.
United might still be missing an out-and-out striker in their forward line but it's safe to say that their wide attacking options for next season look promising with Amad back at Old Trafford.
The question is would you have him going straight into the squad or should the club resist the urge to jump the gun and send him out on another loan?
For all the latest news, events and goings on in Greater Manchester, subscribe to The Manc newsletter HERE.
Featured Image — Sunderland (via Twitter)/Amad Diallo (via Instagram)