Sport
Pep Guardiola heaps praise on back-in-form Phil Foden following brace against Bristol
Injuries and frustration now behind him, Phil is firing again.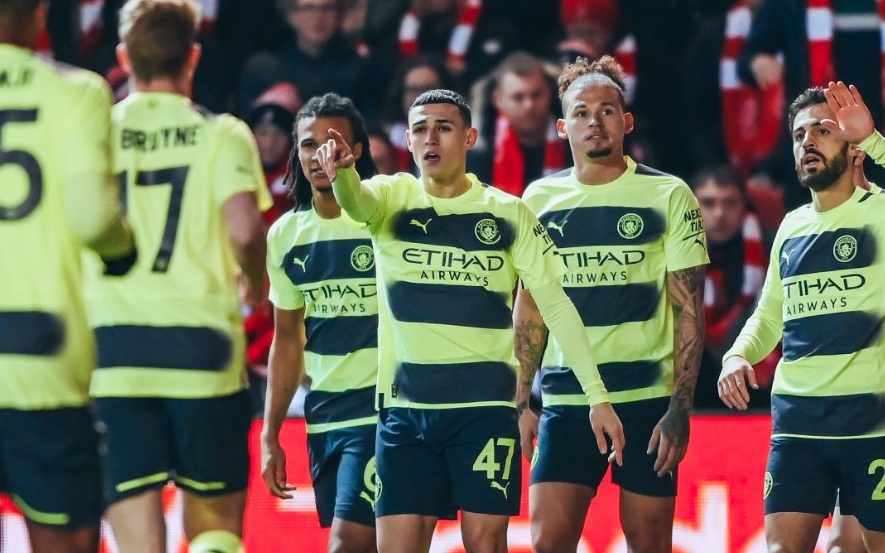 Pep Guardiola was full of praise for Phil Foden following last night's win against Bristol City, labelling the local lad's current run of form as "awesome".
City blew past Bristol with a comprehensive 3-0 win in the FA Cup on Tuesday night, Foden himself grabbing two goals against The Robins before Kevin de Bruyne slotted home the third.
The Stockport-born star hadn't been hitting the same heights as he had prior to the World Cup but now looks to have now turned a corner in his season and his manager certainly seems to think he's back to his best, stating he had "no doubts" Foden would return to form.
Speaking to media after the game, Pep insisted that the 22-year-old has "always had a high level" and regardless of somewhat of a dip post-Qatar 2022, "when you work like he works, football always pays off for you".
The Spaniard went on to admit that while the young winger had been struggling a bit with an injury, he never complained and continued to train and play despite his problems.
"His career was always up, up, up, getting better, getting better", said Pep, applauding his "dynami[sm], rhythm, work rate [and] quality" and declaring him "back for the best bit of the season."
The 52-year-old has made no secret of his affection for the academy product, having compared him to Lionel Messi on more than one occasion and adding that he has been "flabbergasted" by his impact since arriving.
As for Foden himself, he shed some light on his recent struggles with ITV's Gabriel Clarke in the post-match, revealing some details on a recurring ankle injury and describing the last few months as "one of the lowest parts of my career".
Read more:
Much the relief of Blues everywhere, Foden said he now feels "much better in [his] feet… 100% and comfortable", with his main goal being cementing his place back in the team.
The England forward simply explained, "I love to play football and when I don't I'm a bit frustrated, that's how it is", but that he now believes he and his teammates are really hitting their stride and are obviously looking to pick up even more silverware.
Foden's brace against Bristol now makes it 12 goals and five goals in all competitions
You can watch the highlights of Bristol City vs Manchester City down below:
For all the latest news, events and goings on in Greater Manchester, subscribe to The Manc newsletter HERE.
Featured Image — ITV/Manchester City/Sky Sports News (via Twitter)