Sport
Manchester City star Rodri pops into Rochdale pub and poses for a photo with a fan
We can neither confirm nor deny whether he had a pint or not. We're sure Pep has spies everywhere.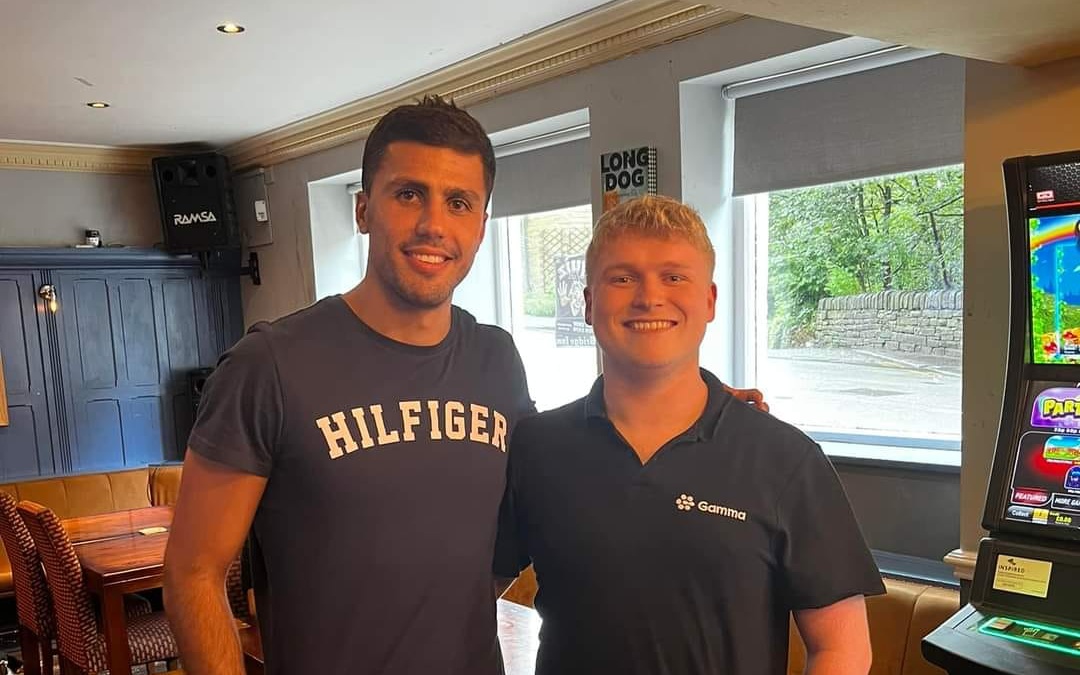 Manchester City star, Rodri, was randomly spotted enjoying some recreational time in a little pub over in Rochdale this week. Not exactly where you'd expect to bump into a treble winner.
That's right, the man who scored the winning goal and saw Man City lift their first-ever Champions League trophy, not to mention secure the coveted treble last season, just so happened to pop into a Rochdale pub called the Bridge Inn over in the village of Norden.
Posted on Monday, 31 July, the Bridge Inn shared a picture of the 27-year-old defensive midfielder posing for a photo with a City fan who was fortunate enough to be in there at the same time as the footballer, along with the caption: "Some footballer and a happy customer".
I mean, you would be pretty buzzing if you went down the boozer for a quick pint and a pack of crisps one evening and ended up bumping into one of your team's most beloved players.
Speaking to the MEN, the lucky City fan who got a picture with Rodri in the Rochdale pub, Jack Samuel, said that "he seemed a really nice bloke.
"He wasn't bothered at all that I'd asked for a photo and didn't hesitate to say yes, but I apologised for disturbing him nonetheless."
As for the pub's landlord, Simon Britton — a big Man United supporter and was out at the time — he admitted that he was still "gutted" to have caught the famous face coming into his pub and would have "got a photo of me in my United shirt with him".
Rodri apparently came in to order some food but was told they sadly weren't serving. Britton said, "I'm telling everyone he came to try our homemade onion rings but the kitchen was closed", adding, "If he comes in again I'll buy him a pint." A kind gesture but one he'd likely turn down as famously doesn't drink — unless, of course, it's the title parade after winning the treble.
Read more:
Another amusing detail, as spotted by someone in the comments, is that if you look closely you can see that he actually has his fly down. Why are you looking down there, Claire!?
A true man of the people, nonetheless.
Rodri has not long been back in Greater Manchester either, as the Blues have only just flown home from South Korea following the end of their pre-season on Sunday, where they lost against the Spaniard's former club Atlético de Madrid 2-1.
Pep Guardiola and his squad play their first real competitive game of the season this Sunday when they face Arsenal in the Community Shield ahead of their Premier League opener against Burnley on 11 August. Just make sure you tie your boots, Rodders.
For all the latest news, events and goings on in Greater Manchester, subscribe to The Manc newsletter HERE.
Featured Image — The Bridge Inn (Facebook)