Sport
Sale Sharks Academy raise over £17,000 for Royal Manchester Children's Hospital after completing Rob Burrow Leeds Marathon
Absolute legends.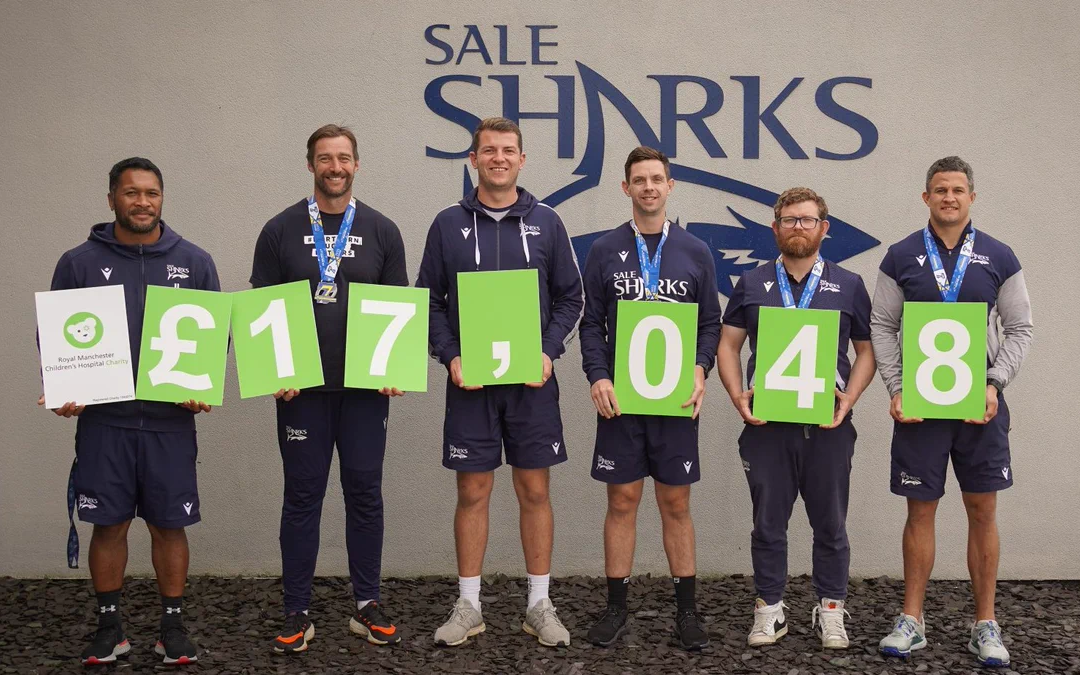 Sale Sharks' Academy team have managed to raise over £17,000 for the Royal Manchester Children's Hospital after completing the Rob Burrow Leeds Marathon earlier this year.
The inaugural Leeds Marathon, named after former rugby league icon and motor neurone disease campaigner Rob Burrow, took place back in May with more than 12,000 people taking part and over £4 million raised in charitable donations for various worthy causes. Immense.
While MND was obviously a key focus of the event after Burrow was diagnosed with the condition in December 2019, those joining in could choose to fundraise for any organisation and, in the instance of the Sale Sharks, they chose something close to home and their hearts.
Running the 26.2 miles in aid of the RMCH, the largest children's hospital in the UK, Sharks Academy manager Fergus Mulchrone and six members of his backroom staff raised a whopping total of £17,048.
With help from Peninsula, who committed to matching the amount raised by Mulchrone and his coaches, the team saw their total of £7,303 raised through their JustGiving page alone, along with further donations amassed in the build-up and after the event, doubled by the organisation.
Teaming up with the Royal Manchester Children's Hospital, Peninsula agreed to double the total donations figure provided the Sharks hit their target; that's exactly what they did and then some.
Following their impressive feat, the hospital tweeted: "Congratulations to Sale Sharks who ran the Leeds Marathon AND hit their £5,000 fundraising target. They're the first to raise the £5K eligible for match-funding by Peninsula in our 'Making a Difference…Together' scheme."
The initiative, which is set to run throughout the entirety of 2023, saw the HR, health and safety firm set aside £100,000 to encourage businesses to do their bit and help raise money for the hospital.
Read more:
Well done to Mulchrone and the rest of the runners, as well as everyone who donated to the deeply important charity and healthcare institution.
Elsewhere in rugby union, Fergus' brother Charlie also recently completed five back-to-back marathons in 24 hours, raising nearly £12k for a mental health charity and an organisation that helps home parents of those in hospice care.
It might be over in The Hoot's territory but we'll never forget watching Oldham's very own Kevin Sinfield carrying his mate Rob over the finish line — one of the most tear-jerking moments of 2023/in sporting history — and seeing the friendship celebrated over the past few years has warmed our hearts.
Their story has captured the nation and has already made sure that the now annual Rob Burrow Leeds Marathon will be even bigger and better next year.
For all the latest news, events and goings on in Greater Manchester, subscribe to The Manc newsletter HERE.
Featured Image — Sale Sharks (via Twitter)/MNDA (via Instagram)