Sport
Stockport County greenlit for brand new 'County Courtyard' fan zone
As the home of the Hatters continues to redevelop, the council has given the go ahead for a new dedicated fan zone.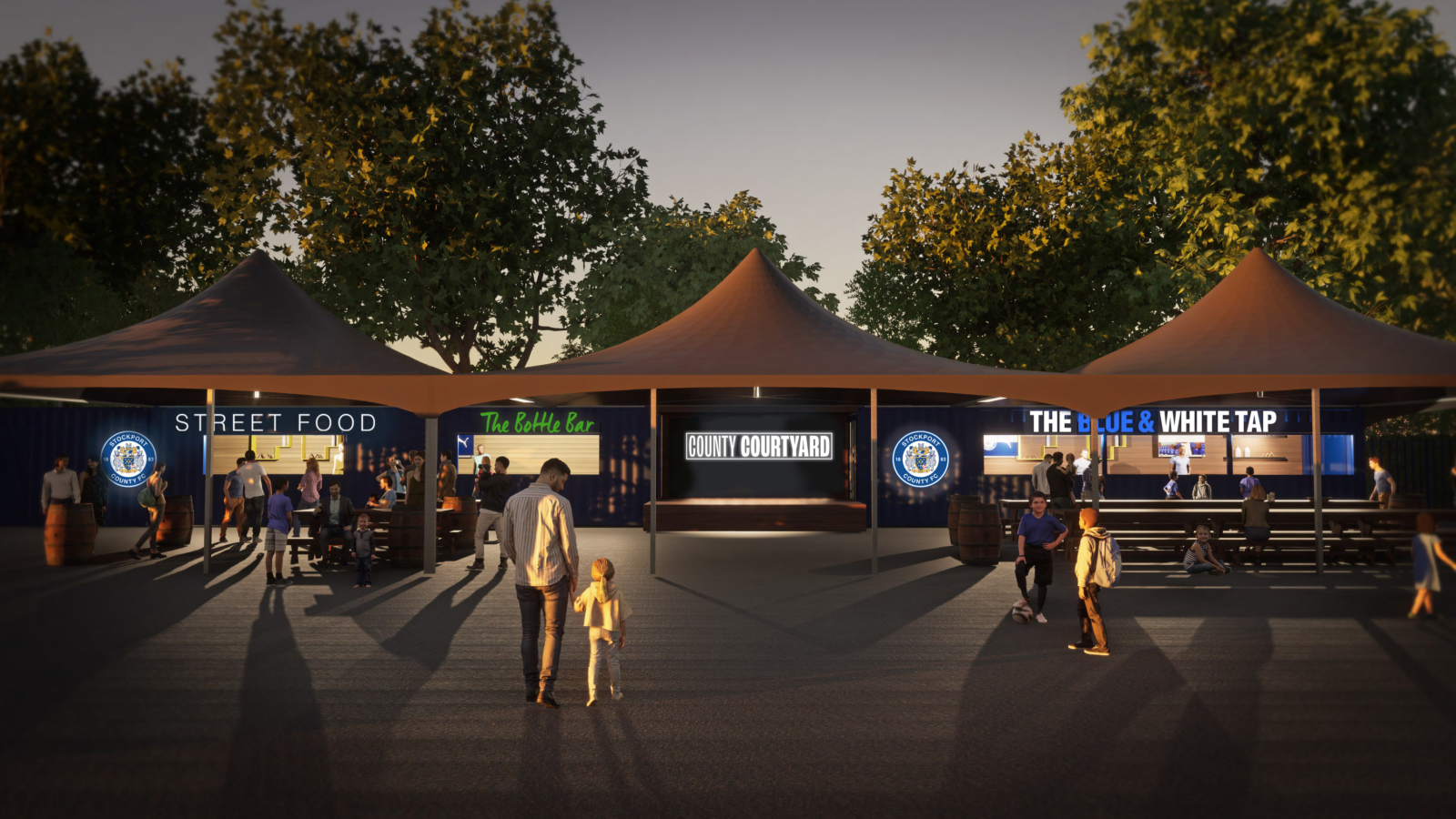 Stockport Council has greenlit Stockport County for a brand new fan zone as part of their redevelopment plans for Edgeley Park.
The council-approved plans were confirmed on Monday, 28 November, detailing the exciting new fan zone which aims to ease congestion around the stadium and surrounding areas in Edgeley as match attendance numbers continue to go from strength to strength.
County currently sit 14th in League Two after having returned football league this year following an 11-year-stint outside the EFL by lifting the National League trophy last season.
As a result, matchday ticket sales have been on the rise in the Greater Manchester borough, as have the number of away fans who travel to the games, meaning expansion only makes sense.
Now, the Hatters' dedicated new fan zone, dubbed the 'County Courtyard', will be able to cater for up to 1,500 fans thanks to three shipping containers and a large stretch tent providing cover to shelter supporters from the Northern weather.
As per the announcement, the club also say they'll be providing additional seating for fans to enjoy pre-match some grub and pints along and one of the containers will house additional accessible toilets and baby-changing facilities.
Dishing up a host of fan favourites' including craft beers, award-winning pies from the Great North Pie Co., as well as various street food from around the world, the new food court will create the perfect place to take in the pre and post-match atmosphere whilst reducing footfall around the ground at peak times.
Furthermore, the County Courtyard is projected to create at least 20 new jobs alone, with a host of vacancies available including bar staff, stewards and chefs. Who knows how many jobs the stadium redevelopment as a whole will generate?
The council has given the thumbs up to start work on the fan zone immediately, with the end product expected to be complete before the end of the year. You love to see it.
The club is urging anyone with interest in the various roles to apply via email ([email protected]).
Read more:
CEO Jonathan Vaughan said: "We're delighted Stockport Council has approved plans for the County Fan Zone, we know that creating a fantastic matchday experience goes beyond what happens on the pitch and we need to do everything we can to welcome fans into Edgeley Park and keep them coming back.
"This planning approval allows further investment into the ground which not only adds to the fan experience but brings new jobs and helps drive Stockport County's progress on the pitch."
Work on the rest of the Hatters' home starts next summer with the expansion of the Railway End.
For all the latest news, events and goings on in Greater Manchester, subscribe to The Manc newsletter HERE.
Featured Image — Stockport County