Sport
Return of the King: 'That World Cup Guy' spotted at Carabao Cup final
Guess who's back, back again...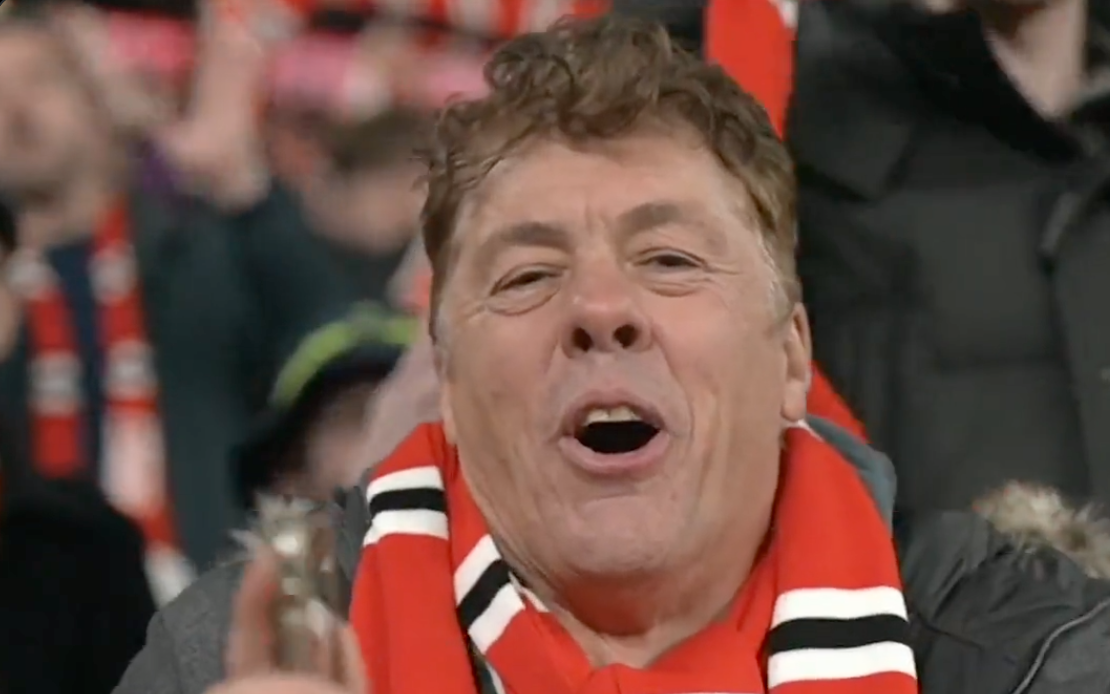 You'd be forgiven for thinking that the biggest sports story of yesterday was United lifting their first trophy since 2017, but you're wrong: it was the camera spotting 'that World Cup guy'.
You know the one.
As Manchester United were celebrating their first piece of silverware in six years, the cameras inside Wembley scanned across the thousands of travelling Reds singing in victory and while there were plenty of happy fans worth snapping, one, in particular, stood out from the rest.
Remember that very recognisable and somehow quintessentially British-looking England fan at the World Cup? Well, he also happened to be at the Carabao Cup final on Sunday and looked just as buzzing to be there as ever.
If (by some strange circumstance) you don't happen to know who this man is, he is the one and only Andy Milne: by our estimates, one of the most dedicated, well-travelled and now well-known football fans you'll ever come across.
During Qatar 2022, Andy went viral after his face was plastered all over social media and quickly became one of the most heartwarming memes of the year.
A retired teacher from Cheshire, the 59-year-old has been going to England games since he was 19, watching them at eight different World Cups, and whenever they go out he simply stays at the tournament and joins in with whichever group of fans he thinks is having the most fun. What a vibe.
Moreover, it turns out he is a United fan himself — hence why he popped up at the League Cup final. In fact, from what we can gather, it seems like there aren't many games he misses, as social media sleuths when to great lengths to trace his match-going career throughout history. It's truly wonderful:
Read more:
We're not joking when we say he really is one of the famous football fans about today. While the World Cup was still going on, he even went on to set up his own social media account where simply identified himself as 'that World Cup guy'.
Being a big Red and having already been spotted at Wembley the last time United were there, it's no surprise he managed to bag himself a ticket.
Always a pleasure to see you, Andy. If things keep going the way they are for ten Hag, we'll keep an eye out for you come the FA Cup final.
For all the latest news, events and goings on in Greater Manchester, subscribe to The Manc newsletter HERE.
Featured Image — Sky Sports (via Twitter)