Sport
Man United legend Lou Macari's grandson, Lewis, scores an absolute screamer on EFL debut for Notts County
An absolute thumper.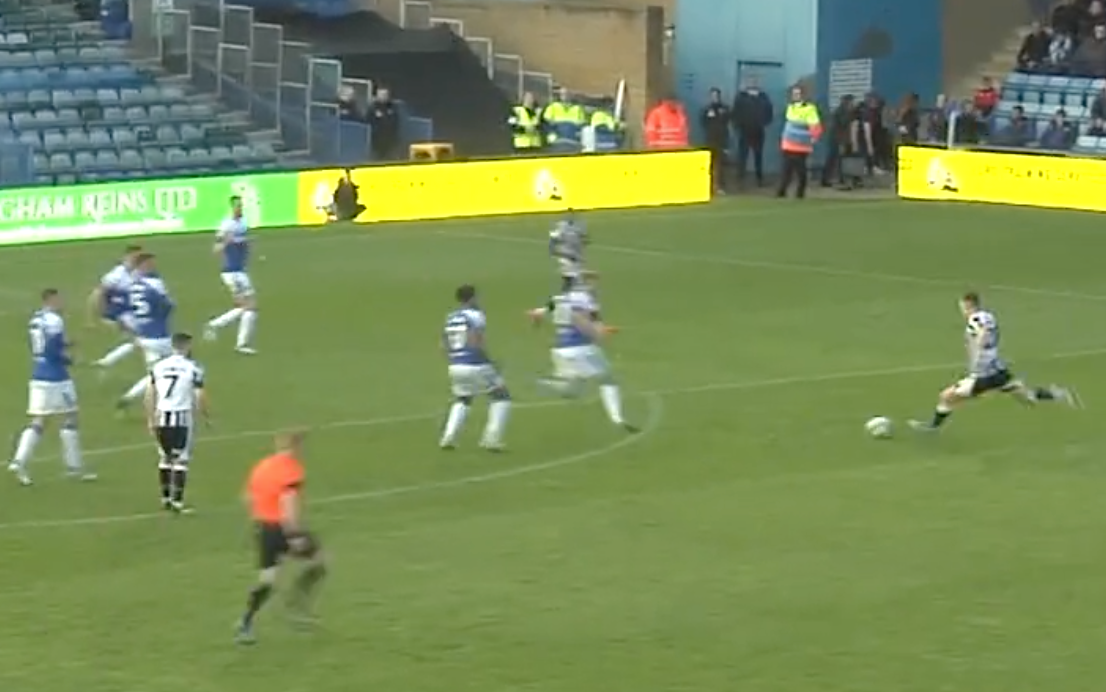 Lewis Macari, the grandson of Manchester United and Scotland legend, Lou Macari, scored his first-ever goal in English football on his EFL debut for Notts County this weekend and it was an absolute screamer.
His grandfather, who played for Man United over 400 times and was part of Celtic's iconic 'Quality Street Gang', still gives his name to one of the busiest matchday chippies outside Old Trafford and continues to work on behalf of the club to this day, but now his grandson is carrying the family on the pitch.
Lewis, still just 21, is on loan at the League Two side from parent club Stoke City, where Macari is also revered for his time as a manager across two spells and where his grandad still lives to this day helping the homeless community as he does here in Manchester.
Rifling home the edge-of-the-box rocket from centre-back no less, the youngster helped secure the three points in a 2-1 win against Gillingham in a moment he'll never forget.
As you can see, it was a finish that anyone would make anyone proud, and one more than worthy of his family name, with Macari's sons Michael and Lewis' dad Paul both having played professionally at Stoke in the 90s too.
The match-winner itself helped the Magpies stay within touching distance of Greater Manchester side and league leaders, Stockport County, with their promotion rivals now sat on just a two-point cushion at the top of the table.
While his grandad scored a nearly century of goals from midfield for United and many more during his career, as for Lewis, this was just his second-ever goal in professional football, having previously netted one whilst on loan at Dundalk in Ireland last year.
Speaking to media after the game, the youngster admitted that it was "all a blur" after he struck the ball, joking that he couldn't even remember how he celebrated.
Read more:
As mentioned, Macari Senior's legacy goes far beyond his sporting career and having his name on the front of a chip shop; Lou and his organisation have been helping care for homeless people in Manchester, Stoke and more for several years now, raising over £750,000 for related charities.
The Macari Foundation set up a homeless shelter, The Macari Centre, in central Stoke back in 2016, helping house countless rough sleepers and now providing a bed, four meals a deal and support to around 50 individuals a day.
Here in 0161, the ex-Red Devil has also played a key role in helping United establish their 'Big Sleepout' initiative, where members of the club and locals camped out inside the Munich Tunnel to raise money for vulnerable young people and homeless charities in the region for the first time last year.
The next sleepout, which is now set to be held in the stands of Old Trafford, takes place next month on 3 November. You can find out more information and how to get involved HERE.
For all the latest news, events and goings on in Greater Manchester, subscribe to The Manc newsletter HERE.
Featured Image — EFL League Two/Notts County (via Twitter)