Theatre
'Rowdy' audience members removed from musical in Manchester prompt theatre etiquette discussion
"It's not karaoke... respect the performers and fellow audience."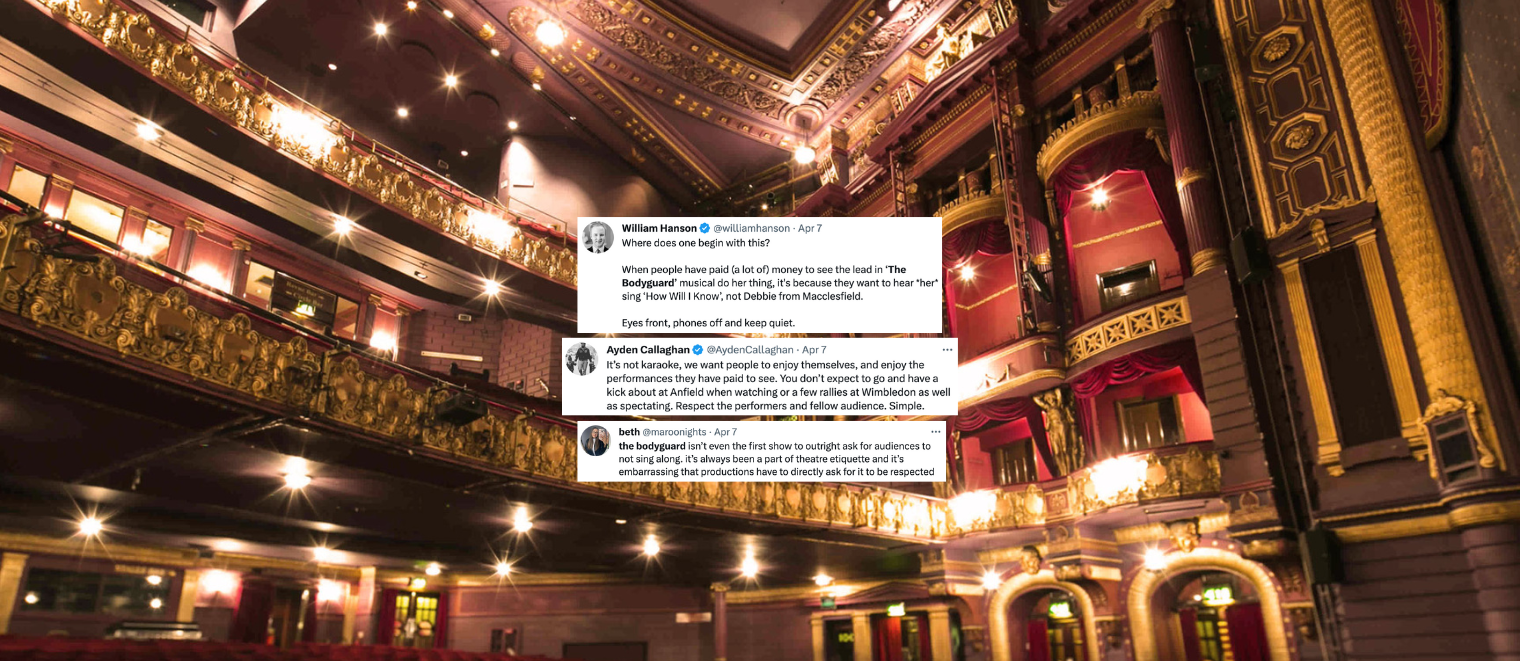 A viral video showing two audience members being removed from a musical in Manchester by security has prompted a wider discussion on theatre etiquette.
The Bodyguard is the latest musical to captivate and entertain audiences in Manchester.
Based on the beloved 1992 film of the same name starring Whitney Houston and Kevin Costner, the stage musical adaptation that's currently here at Manchester's Palace Theatre until Saturday 15 April is already an award-winning smash hit international production, and is lead by former Pussycat Doll Melody Thornton and soap actor Ayden Callaghan.
The show tells the story of Secret Service agent turned bodyguard, Frank Farmer, who is hired to protect superstar Rachel Marron from an unknown stalker.
Just like the film, the stage production is known for its music – with a score featuring some of Whitney Houston's most iconic songs, including 'One Moment in Time', 'I Wanna Dance with Somebody', and, of course, 'I Will Always Love You'.
But as the musical's massively talented cast attempt to do Houston's hits justice each night, they ask that the audience "please refrain from singing along" while they do so.
Two "rowdy" audience members in Manchester didn't appear to get the memo last week though.
After the duo were said to have been "singing over the lead during the final song" and were asked to stop by staff, Greater Manchester Police (GMP) were called to reports of a "disturbance" the Palace Theatre and removed the audience members from the venue.
A video showing the moment they were removed from the crowd by security has gone viral and has been widely-shared across social media over the last few days.
The Palace Theatre said in a statement after the incident that it was "disappointed" the show had to be halted and the last 10 minutes needed to be cancelled due to "disruptive customers refusing to stay seated and spoiling the performance for others".
The incident has prompted a widespread discussion on theatre etiquette – with the topic debated on ITV's This Morning and Good Morning Britain, and on BBC News.
Hundreds have also been sharing their takes on social media.
While reaction has been fairly mixed, with some having chosen to make light of the situation, and others saying they would be "devastated" at the thought of not being able to sing along with the hugely-popular hits that usually fill musicals' scores, others have shared their disappointment in the situation.
Some have also pointed out that The Bodyguard isn't unique in its request to ask that audiences "refrain from singing along", and that this has been common theatre knowledge for quite a while, with several other shows also asking the same.
Others who have either worked front of house or in theatre settings have also shared their experiences and opinions on the matter.
Famous names from the world of musical theatre and wider entertainment industry are also among those sending their support to The Bodyguard's cast and crew.
Acress Hayley Tamaddon said on Twitter: "I truly feel for the cast of The Bodyguard. Do you know how hard it is to sing songs like that 8 shows a week?! I don't understand how people can be so disrespectful. There are plenty of karaoke bars or "sing- a- long" shows. go there instead."
Etiquette consultant and society commentators William Hanson added on Twitter: "Where does one begin with this? When people have paid (a lot of) money to see the lead in 'The Bodyguard' musical do her thing, it's because they want to hear *her* sing 'How Will I Know', not Debbie from Macclesfield.
"Eyes front, phones off and keep quiet."
The Bodyguard's leads Melody Thornton and Ayden Callaghan both spoke out after the incident, thanking fans and audience members who "respect the people on stage who want to give you a beautiful show".
Thornton said in a video message shared to Twitter that it felt "awful" to have to cancel the last 10 minutes, and that she "fought really hard" to keep the show going, but that the situation was out of their hands.
"I thank everyone who was respectful of the performers, and am very very sorry for those who weren't," she added.
Prior to the incident in Manchester, Ayden Callaghan first gave his take in response to the topic being discussed on This Morning, explaining: "It's not karaoke, we want people to enjoy themselves, and enjoy the performances they have paid to see. You don't expect to go and have a kick about at Anfield when watching or a few rallies at Wimbledon as well as spectating.
"Respect the performers and fellow audience. Simple."
He then followed up on this following the Manchester show, adding: "Theatre pulled the show at the end tonight because of disgusting behaviour. We wanted to carry on but it had become a major incident. I'm really sorry to what was 99.9% a brilliant audience that a few badly behaved individuals ruined it."
A spokesperson for the Palace Theatre confirmed that future performances of The Bodyguard would "continue as planned" in Manchester right up until it closes this Saturday.
Read more:
But the theatre has asked that customers are "considerate" towards the cast, fellow audience members, and theatre team so that "everyone can enjoy the wonderful entertainment on stage".
Featured Image – ATG Tickets