Theatre
Theatre in our ears: Audio-walking theatre is on the rise
We tried out a new kind of post-pandemic theatre.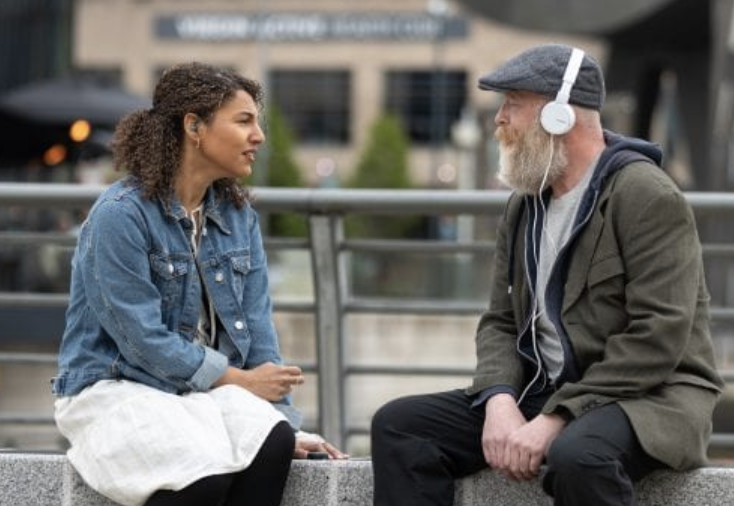 Lots of activities fall victim to Manchester's infamously wet weather. But theatre performances aren't usually one of them. Yet last week, I found myself in a stormy Salford Quays, being told by a soaking-wet stage manager that the play I was supposed to review was off because the actors' umbrellas kept threatening to break.
Unlike most plays, Contact is performed outdoors – and fair weather is an unusually important factor in the play's success. Thankfully, the second time I ventured over to Media City, the clouds had parted and the sun was shining: creating the perfect climate for outdoor, immersive theatre.
As I arrived, the group that became the play's audience were sprawled across the steps in front of the BBC building, sorting out the smartphone app essential to how Contact works. This tech provides the audio for the play, which is synced across each of the audience's and actors' phones. The actors never speak aloud – we hear their voices in our ears through a pre-recorded soundtrack.
Audio-walking theatre has been growing fast due to the pandemic, as theatres have been closed and social distancing measures enforced. It's something that Manchester has embraced, with two audio-theatrical offerings launched this year already.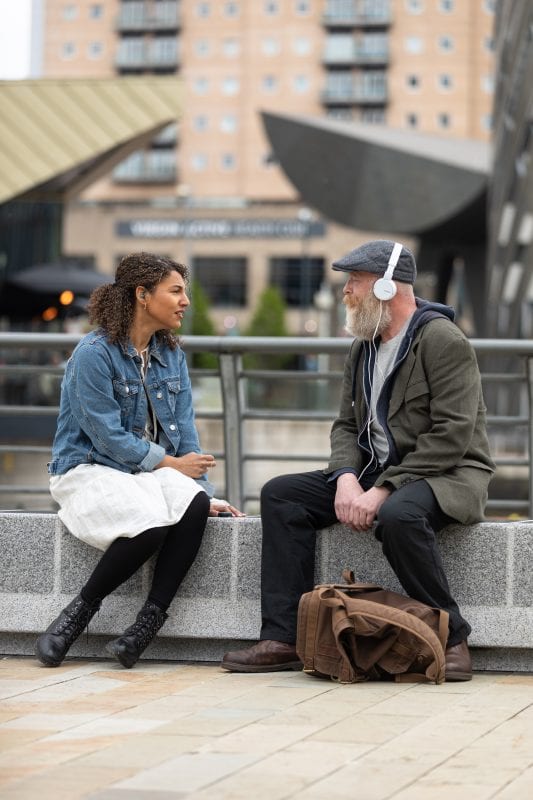 The elements that make up these plays – listening through headphones, being outdoors, walking around, engaging with passers-by, the weather – are all distinct and unusual things to bring to theatre under any circumstances. Combining them all into one performance seems ahead of its time.
The experience of being both watcher and watched, audience and performer, is very strange. It's the sort of thing that would fit brilliantly in the arty, edgy Edinburgh Fringe. However, participating in such immersive live theatre definitely requires a confidence (which I'm not sure I have).
Contact, originally a French play written in three weeks at the start of lockdown and now brought to Manchester, is about Sarah, who, when out on her daily walk, meets her guardian angel. Her deepest fears and anxieties then start to bubble to the surface. The audience follows Sarah as she sits, walks, and thinks. It's a strange experience, as the clearly demarcated lines between reality and fiction blur. Walking past people drinking and eating, the audience becomes part of the performance, and creates its own spectacle for passers-by.
Manchester-based theatre company ThickSkin have created an audio-walking play series called #WalkThisPlay, with the first episode 'Keep Going then Vanish' set in a big loop around central Manchester. The play physically drives you around the city as you search for something you've lost, that you keep forgetting, that you know you need to find. As you walk, your location triggers the next part of the story.
What's most exciting about these plays is the opportunity to experience theatre again after such a long time. #WalkThisPlay doesn't involve any live performance from professional actors, but as you walk around, listening to the evocative voices of Danielle Henry and Esme Bayley, you become the live element of the experience, immersing yourself in the world of the show. This is heightened in Contact by watching actors perform live in front of you: I couldn't help but shiver with anticipation as the play started. There is no substitute for live performance.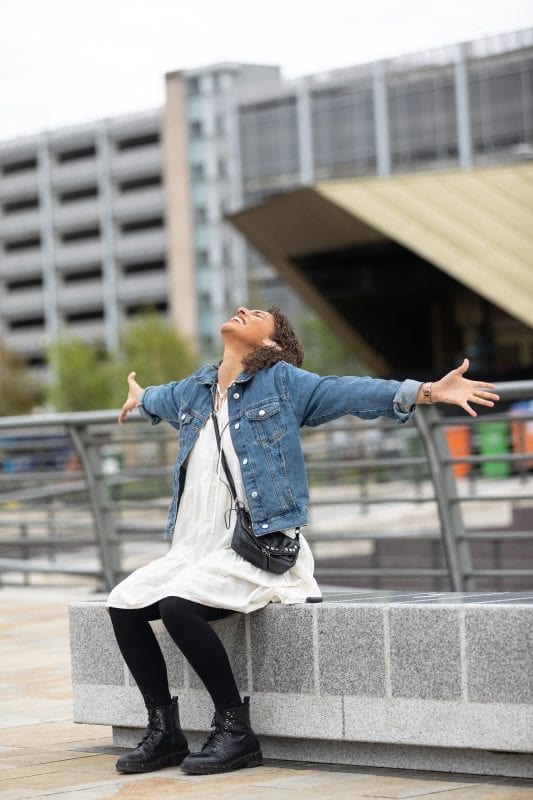 Aliveness becomes all-encompassing in outdoor theatre like this. Smells, the breeze on your face and in your hair, a spot or two of rain: all become noticeable. As you walk, directed through your ears, you take in your surroundings in a different way. 'Keep Going then Vanish' directs you through the "black and white alley" of St Ann's Passage, to stop in front of the old Theatre Royale, and to listen to the voices of those buried beneath St John's Gardens.
The technology surrounding the experience is both simple and complicated. The #WalkThisPlay series uses GPS tracking on your smartphone to map your movements, and when you reach a hotspot, the next part of the story plays. Contact relies heavily on very tight syncing of the audio in the audience's ears to the actors' performances. It's possible as well to listen to the show in a different language, but still exactly synced with the performance (just as foreign language films are dubbed into English and vice versa).
These plays are very different experiences. #WalkThisPlay, simply an audio play with technology enabling you to interact with the story, is more internal and more personal. You aren't sharing the experience with anyone (although it would be easy to do the walk with friends, each listening on their own phones). Contact, with its live performance, seems an elevation of #WalkThisPlay, pushing the concept further (perhaps than is comfortable).
They exist as a way to experience theatre in a year without it, but more than that, they're charting a path forward in what theatre could be in the future. This is what I'm excited for.
Contact featured images: Phil Tragen 2021
Contact is running until 27 June in Salford and central Manchester. For more information and tickets, head to the show's website.
#WalkThisPlay's first episode is available for free on the Echoes app. The second play, 'Monuments', will be available from 30 May. Click here for more details.