Travel & Tourism
I spent 24 hours inside a Tesla in Greater Manchester
And I could've done longer...
I hate cars. Well, hate is a strong word. I'm very uninterested in cars. As long as they get me from A to B without blowing up, I'm happy.
So when Tesla got in touch to see if I would be interested in trying one out, I was a little apprehensive. Surely it's just a bit of a gimmick? The tech isn't quite there yet? It's just a car, who cares? I was wrong. After about four seconds, I cared.
Arriving at the Tesla showroom on Wellington Road in Stockport was like stepping into the future. Everything was sleek and clean with free coffee from one of those fancy pod machines where they're all a different colour and you don't really know what you're getting but it's free so who cares?! I did feel slightly out of place with all the fancy cars – how did this lad who grew up in Hazel Grove end up in here?
But the keys (well… a credit card-shaped key, because Tesla LOVES fancy tech) to my shiny blue Tesla Model Y in my hand, I was off to explore the north west and test it out.
The newest Teslas come with so many features, from built-in 'Camp Mode' to Netflix, that I thought I may as well just not leave the car for a day – bar bathroom breaks and other essential errands.
With so many features to try, my first stop was Leeds to visit the team at The Hoot for some car-eoke. The drive there was super smooth and I even let the car's autopilot do most of the work for me. It was scary to begin but once you're used to it it makes motorway driving a dream. The car-eoke feature is a great opportunity to blast out some ballads and keep everyone entertained.
Then it was back across the M62 to pick up a couple of Manc mates, heading off to Chaiiwala's new drive-thru in Bolton.
Read more: The Indian drive-thru that knocks McDonald's out of the park with price AND quality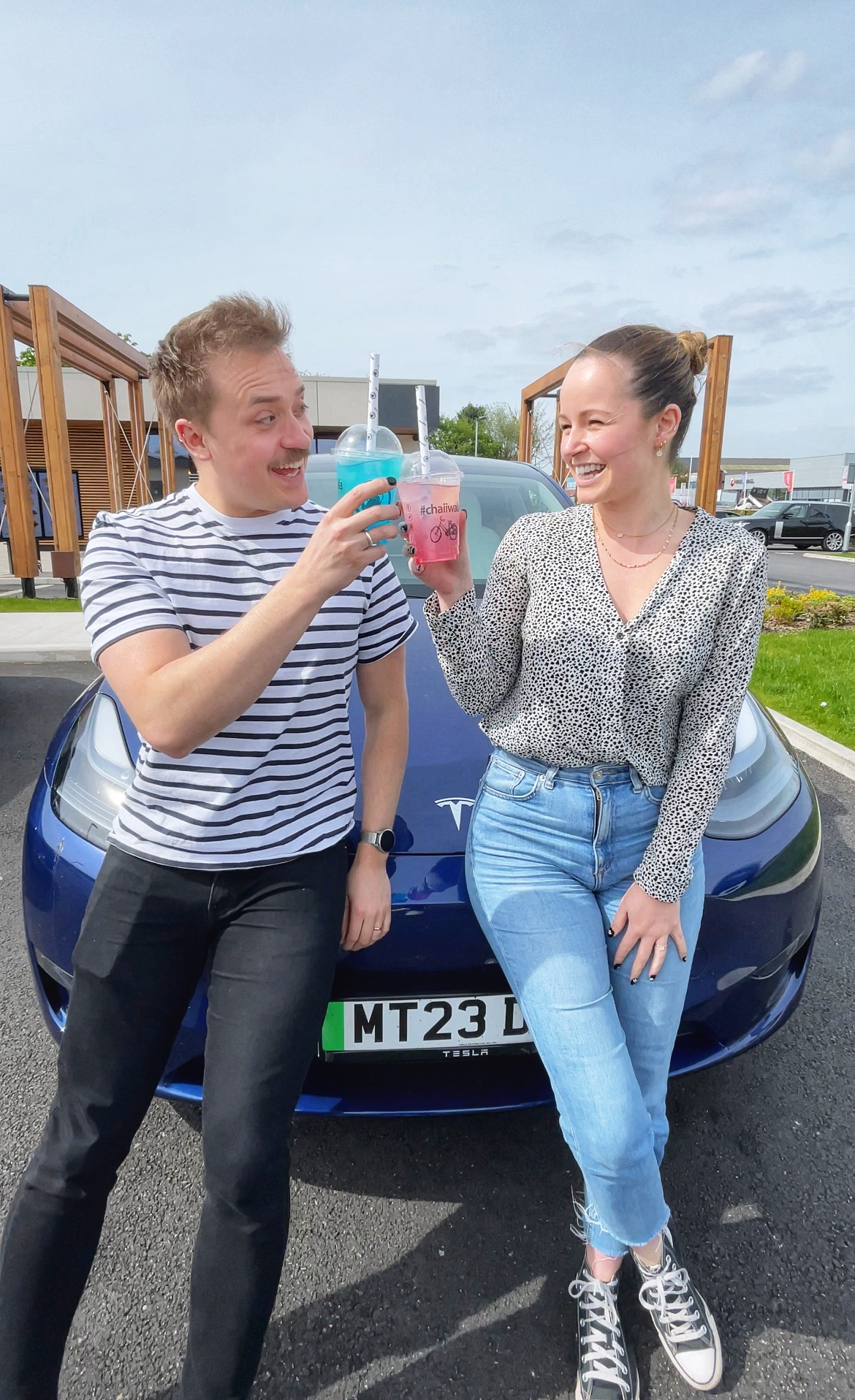 Let me tell you, there is nothing more entertaining then unexpectedly flooring it and seeing your co-workers' shocked faces as they're soaked with colourful iced tea. Fuelled with delicious Indian street food, we sat and played around with the settings, finding it hilarious (because we are overgrown children) that you can set everything from the indicators to the horn to make fart noises. Less hilarious when I forgot to undo the settings and turned up to a client meeting with the car farting everywhere…
The Model Y is big enough to sleep in, with mattresses available from Tescamp on Amazon. My husband and I took it to a field in Rochdale to sleep under the stars – which you can see through the Tesla's expansive sun roof. The Tesla has camping mode, which keeps the car cool and comfortable throughout the night.
With all the driving around and camping overnight, the Tesla needed a charge. Handily, the built in Google Maps could direct me to my closest Tesla supercharger, which can be found at the Trafford Centre. The perfect opportunity to get a bit of shopping in and catch an episode of something on Netflix IN THE CAR while it charged, which only took about 40 minutes.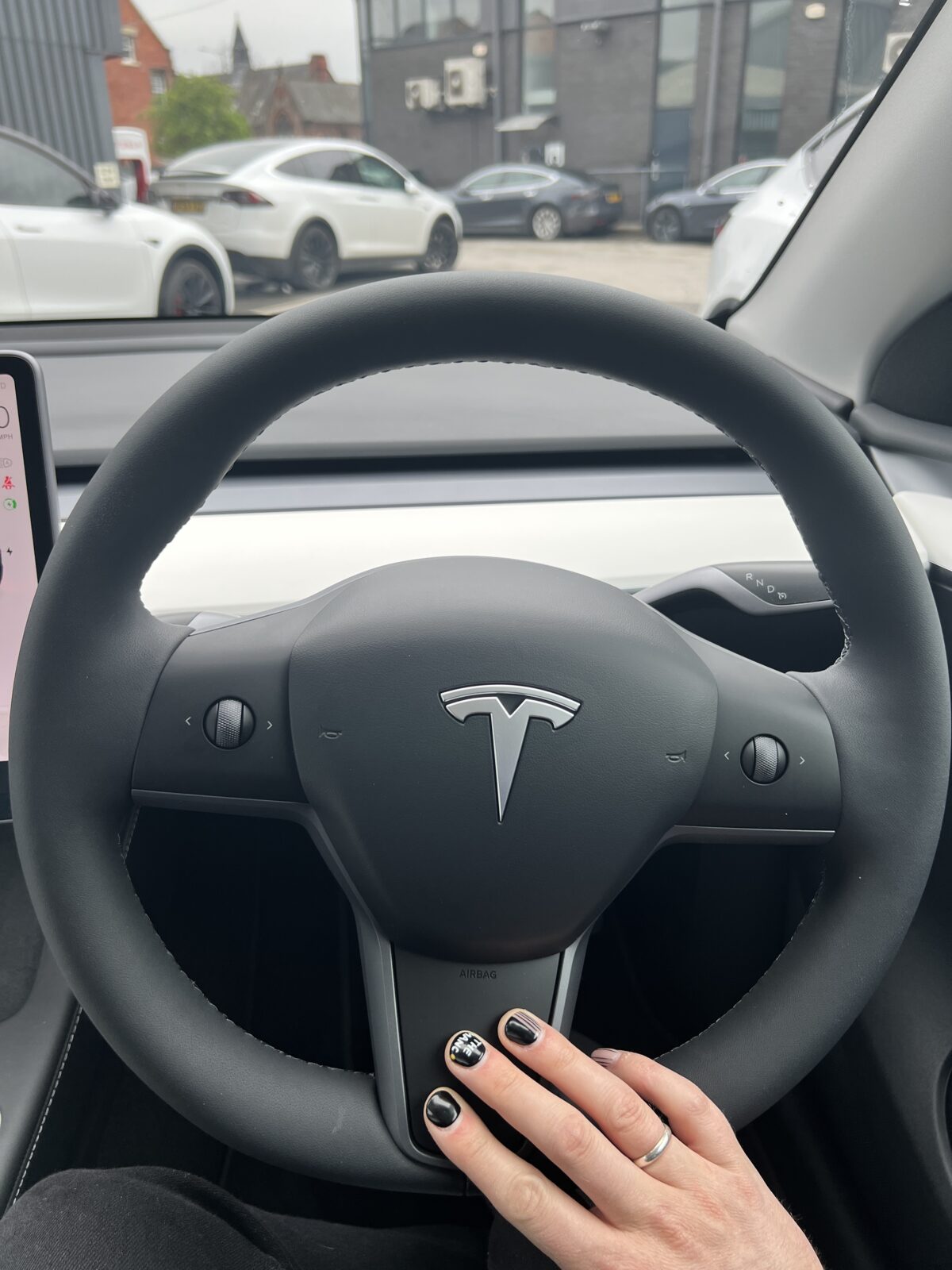 Car charged, it was time to recharge my own batteries, driving on over to Oldham to try out the incredible cakes at Wonderlust Bistro & Bakery – a true hidden gem that everyone should check out.
Surprisingly, we were still hungry after that and luckily for us the Tesla has an 'I'm hungry' button (which I would like to have by my side at all times), so we let the car decide. It chose the delectable Lily's Vegetarian in Ashton, where we could barely make a dent in the huge menu of Indian dishes.
I ended up having the car for around two weeks and I was genuinely heartbroken to give it back. It drives so well, has so many cool features and you feel special driving it. Everyone looks at you with awe when you're in it too… even if you then startle with them with a very loud fart noise.
About the car
The Model Y is their fully electric, small crossover SUV
It can drive up to 330 miles on a full charge
It can do 0-60 in as little at 3.5 seconds
Has surround HD cameras – perfect for manoeuvring and showing your blind spots when changing lanes
Build in HD screen with access to Netflix, Disney+ and games
Autopilot for self-driving fun
5 star rating for safety
Huge boot capacity with storage in the bonnet too
Individually collapsible seats in the rear
Pet mode to keep your pets cool and comfortable if they have to be left in the car
Camping mode – so you can take the Tesla anywhere and sleep in it
Off Roading capability with superior traction control
Dual motors independently controlling the torque for the front and rear wheels
Superfast charging – charge up to 150 miles in just 15 mins
Tesla vision – detects nearby cars to help prevent collisions
Expansive glass roof
15 inch touchscreen display
Over air software updates
Fully customisable to each driver – it remembers your seat position and everything!
You can find out more at www.tesla.com/modely.
Featured image: The Manc Group