Travel & Tourism
How to spend a perfect weekend in Leeds, according to the experts
Our neighbours are beautiful.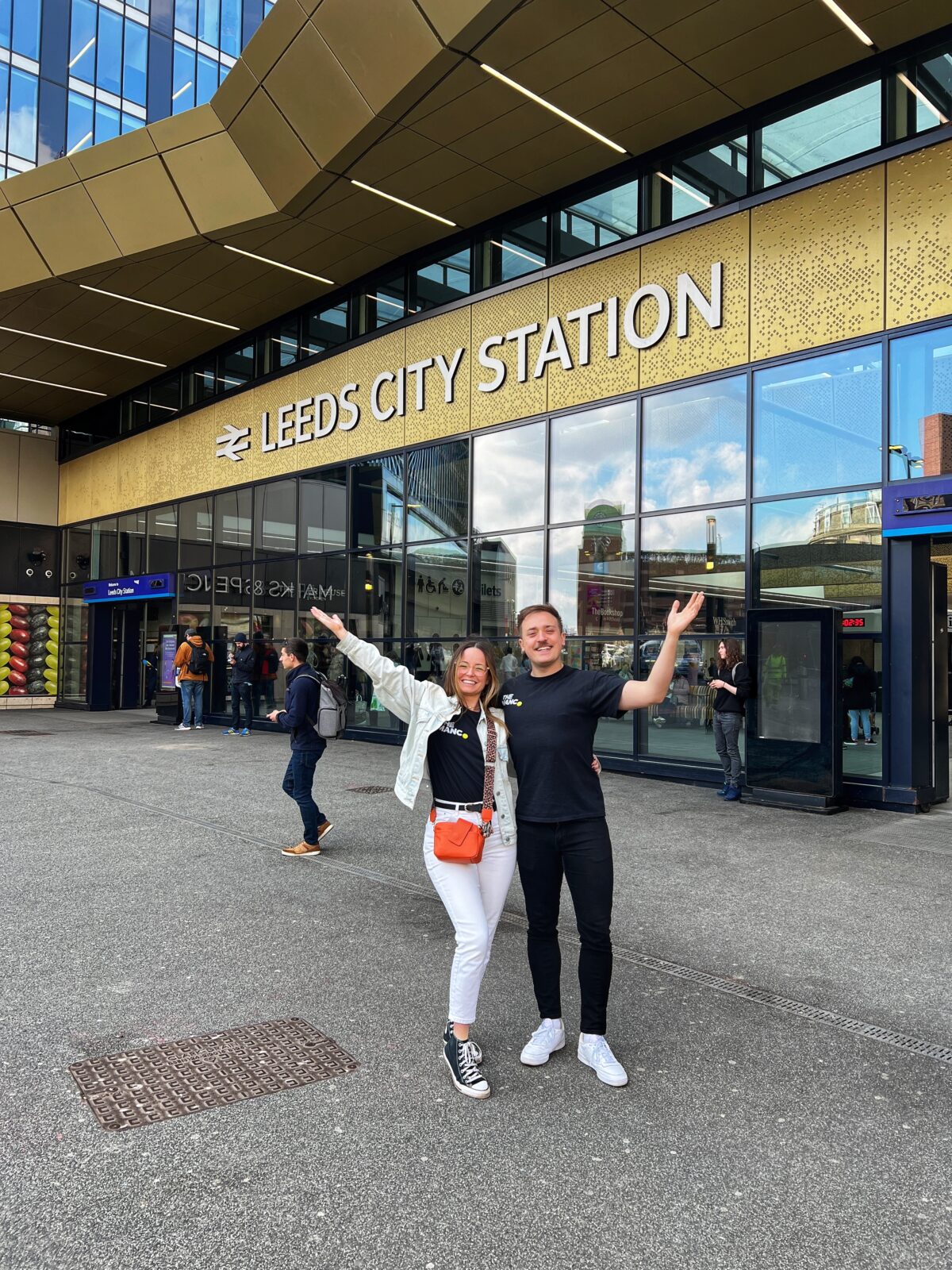 We are very, very blessed up north to have a huddle of properly brilliant cities all sitting side-by-side.
There is, of course, our gorgeous home of Greater Manchester – but from here, within an hour, you could be soaking in the culture and beauty of Leeds, Sheffield or Liverpool, not to mention all the towns and villages in between.
The quick trip across to Leeds in West Yorkshire makes for a stress-free weekend break without having to travel halfway across the globe for a change of scenery.
So we asked the experts over in Leeds to plan us the perfect weekend in their beautiful city (the experts being our friends at The Hoot, along with Visit Leeds) – and boy did they deliver.
So here is the ultimate guide to how to spend a weekend in Leeds.
Breakfast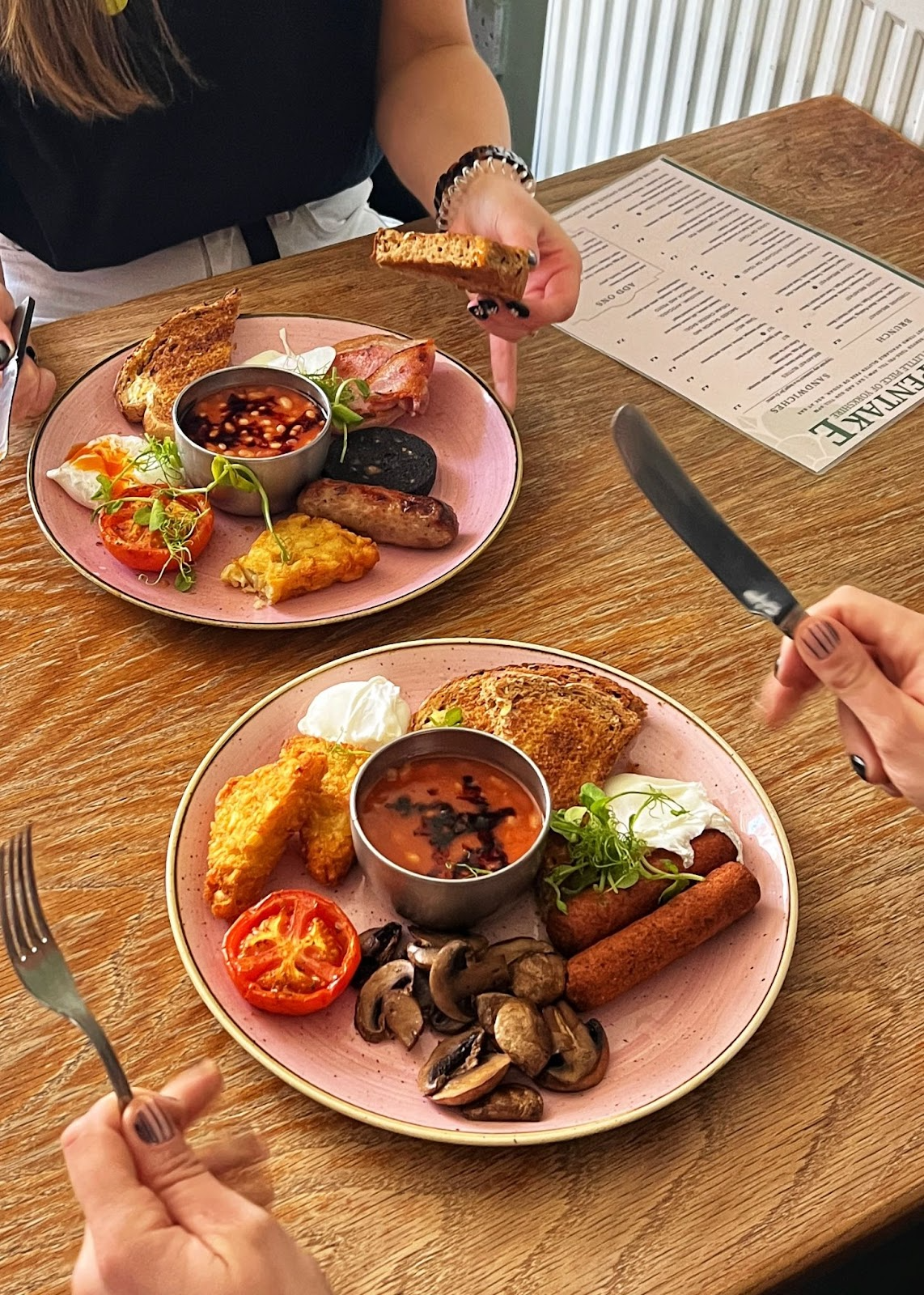 As literally everyone's mum says, breakfast is the most important meal of the day – and the fact you can order your brekkie inside a Yorkshire pudding makes this the most important breakfast in the north.
Wapentake is as proudly Yorkshire as it comes, a higgledy-piggledy cafe and bar on Kirkgate.
If the full baked-eggs-in-a-Yorkshire-pudding isn't for you, they also whip up an excellent full English – with Hendo's baked beans, black pudding and crispy hash browns.
There's also a secret sun trap out the back, complete with two seats on the balcony that have got to be some of the most sought-after in Leeds.
Culture
Now you're fuelled up a bit, it's time to soak in some of the culture in Leeds, with loads to do within walking distance of Wapentake.
That's another one of the beautiful things about Leeds – there's a lot of vibrancy jammed in to its relatively small city centre, so you'll always find something to do within a 10 minute wander.
You'll be just a short stroll from Kirkgate Market, where you can visit the very first Marks and Spencer store (it started life as a Penny Bazaar), plastered with historical memorabilia.
Then nip across the road to marvel at the impressive Corn Exchange, where independent shops and brands are packed in beneath the beautiful domed ceiling.
Whether you like a bit of retail therapy or not, the arcades around the city centre are a must-visit – they're just stunning.
And then of course there's Leeds Library, a cosy spot that just so happens to be one of the oldest buildings in the city, dating back to 1768.
Lunch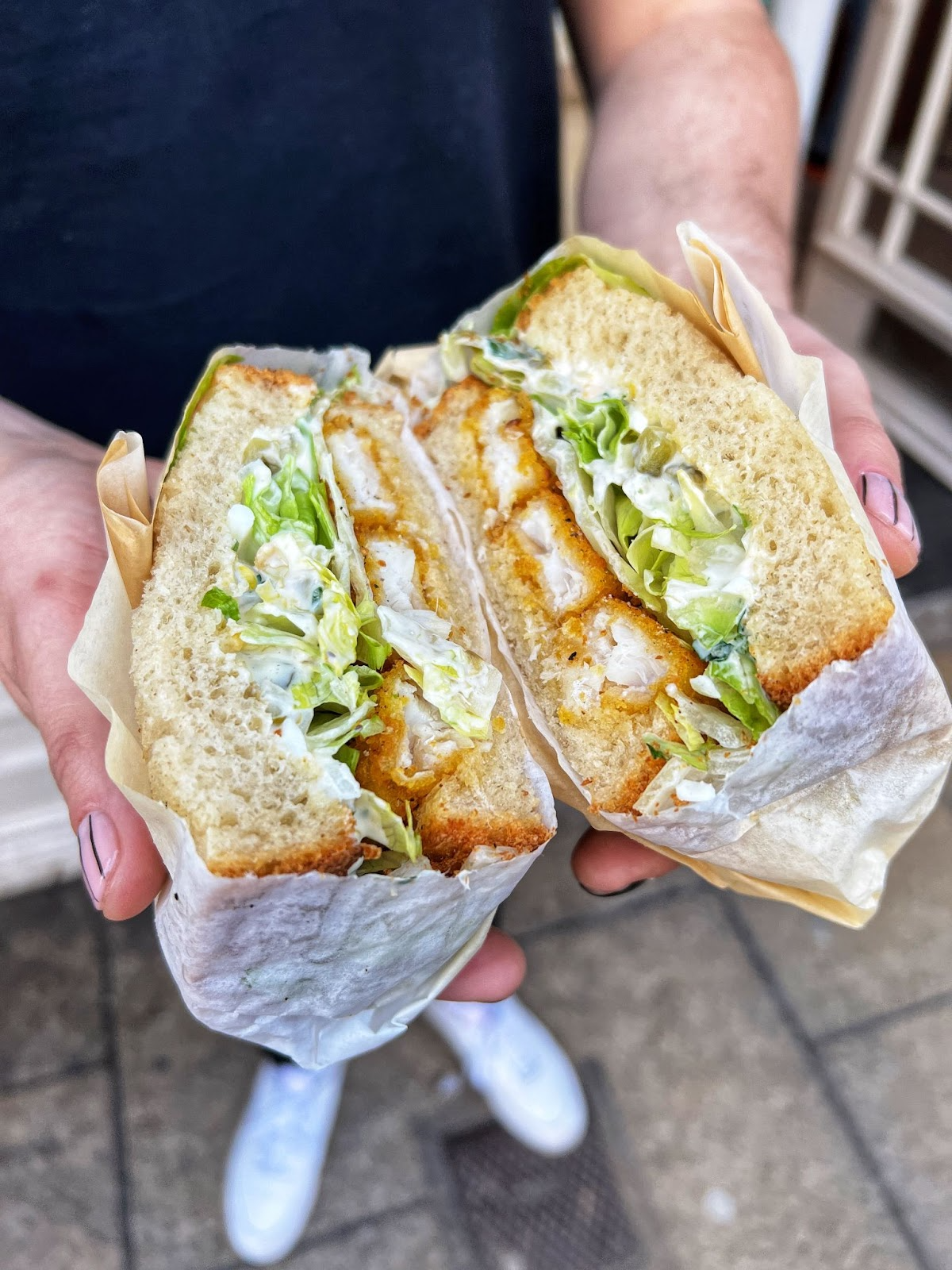 Now it's time for the sandwiches worth travelling for. Trust us.
Things in Bread is a tiny little lunch spot which sells… well… things in bread. When they launched this year, demand was so high they kept running out of bread before lunch.
The fish finger butty, laden with tartare sauce, is a must.
Snacks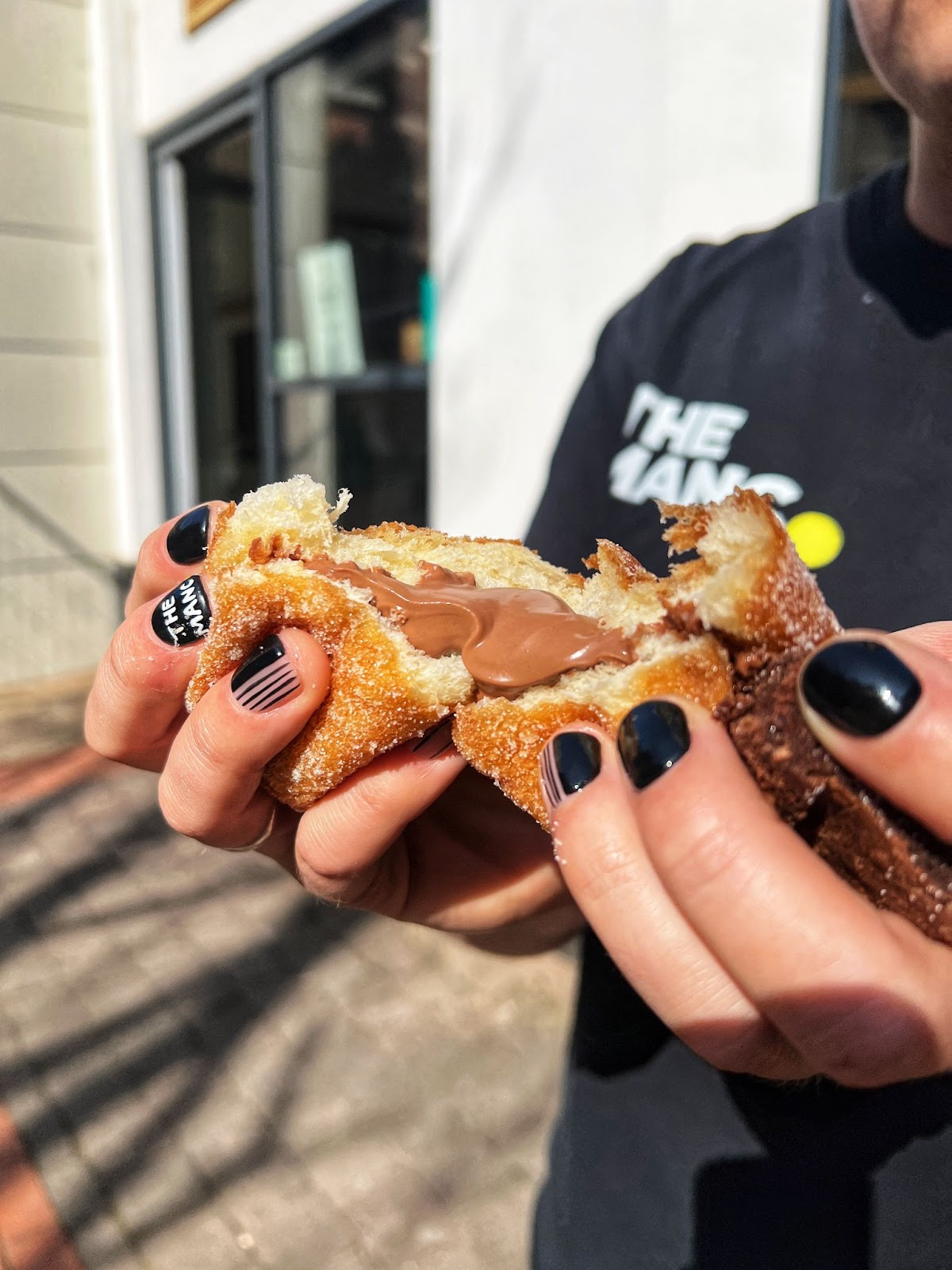 Anyone who comes to Leeds and bypasses a trip to Doh Hut needs to take a long hard look in the mirror.
These fluffy, pillowy doughnuts are the best around, with new specials luring in customers every week.
Their staples include classic jam fillings, vanilla creme patisserie, and chocolate ganache, but the special on our visit was packed with a Caramac custard, complete with a perfect golden blondie jammed on top.
Check in
By now it's mid-afternoon and time to get checked in to a pad for the night.
There are loads of brilliant hotels around Leeds, like the first-of-its-kind (and affordable) Art Hostel, where each room has been designed by a different artist.
Then there's the ever-reliable The Marriott, which is in a perfect spot for exploring.
It's got big bouncy beds, great views, and gorgeous interiors, so you can take a breather and chill out ready for an evening of fun.
The Marriott is also home to a brand new restaurant from Gino D'Acampo himself, which leads us neatly onto our next activity…
Pre-dinner drinks
Gino's new restaurant in Leeds has a stunning bar attached, with cocktails poking fun at the man himself with names like 'If My Grandmother Had Wheels'.
You could sit here and sip on the show-stopper 'Main Character Energy', a blend of gin, Aperol, elderflower, pink grapefruit and lime, which is served with a huge bubble on top that releases a cloud of rosemary when it pops.
Or you could bid farewell to your hotel for a few hours and have a pit-stop at Headrow House, which has a truly phenomenal rooftop space that Manchester should be very jealous of.
Drinks done, and we're now just a short walk from dinner…
Dinner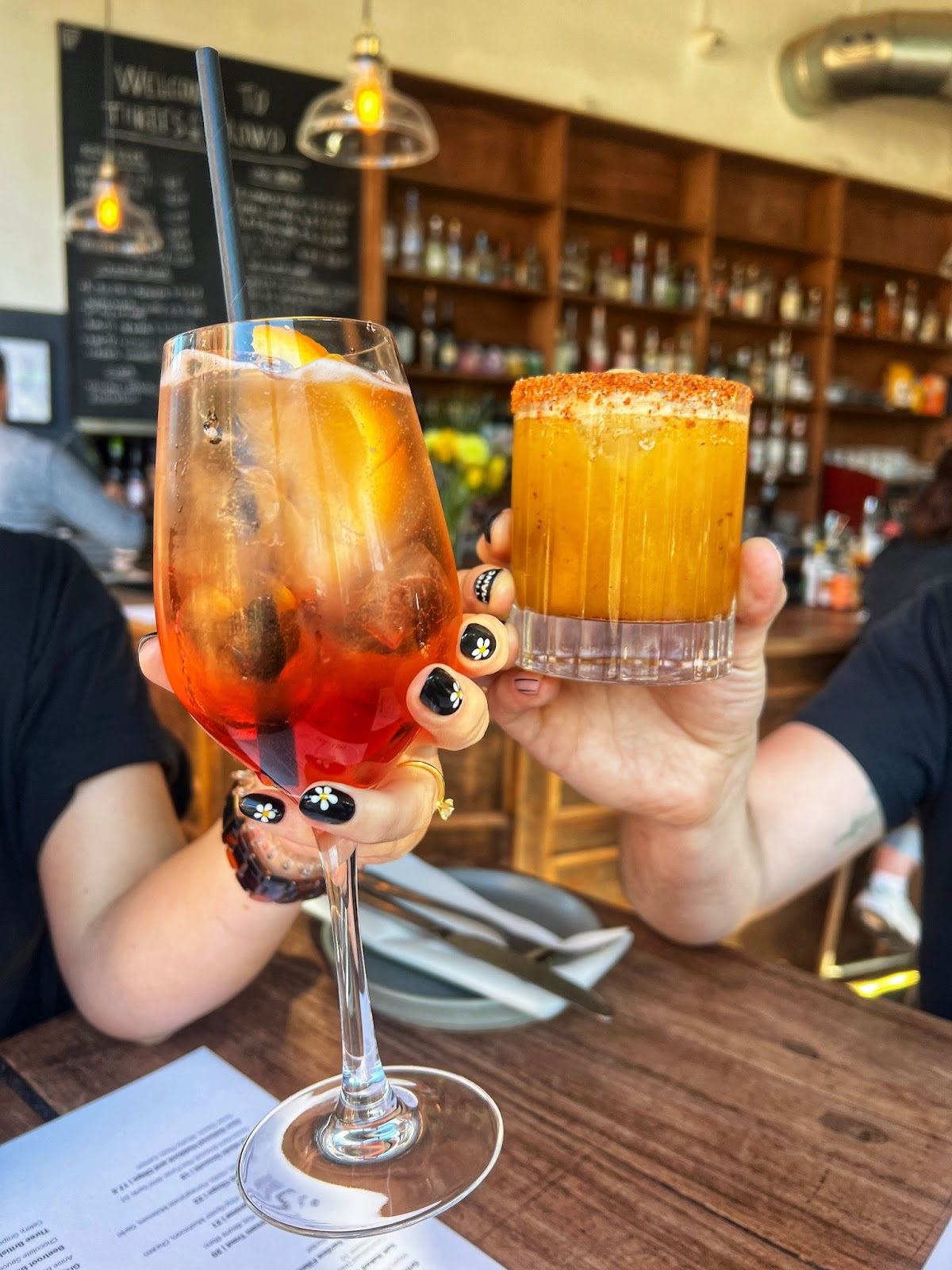 For dinner, you'll be spoiled for choice, but the newly-opened Three's A Crowd is causing quite a stir in Leeds.
They serve modern British dishes with a sophisticated twist, from sharing small plates to bigger plates (the homemade gnocchi with wild garlic and pea puree is a must).
We devoured a table full of vibrant, fresh plates, like hummus with za'atar flatbread, grilled asparagus with green tahini sauce, and salt baked celeriac with caramelised onion and Old Winchester.
All with huge windows that are great for people-watching, and served alongside a decent wine and cocktail list.
After-dinner drinks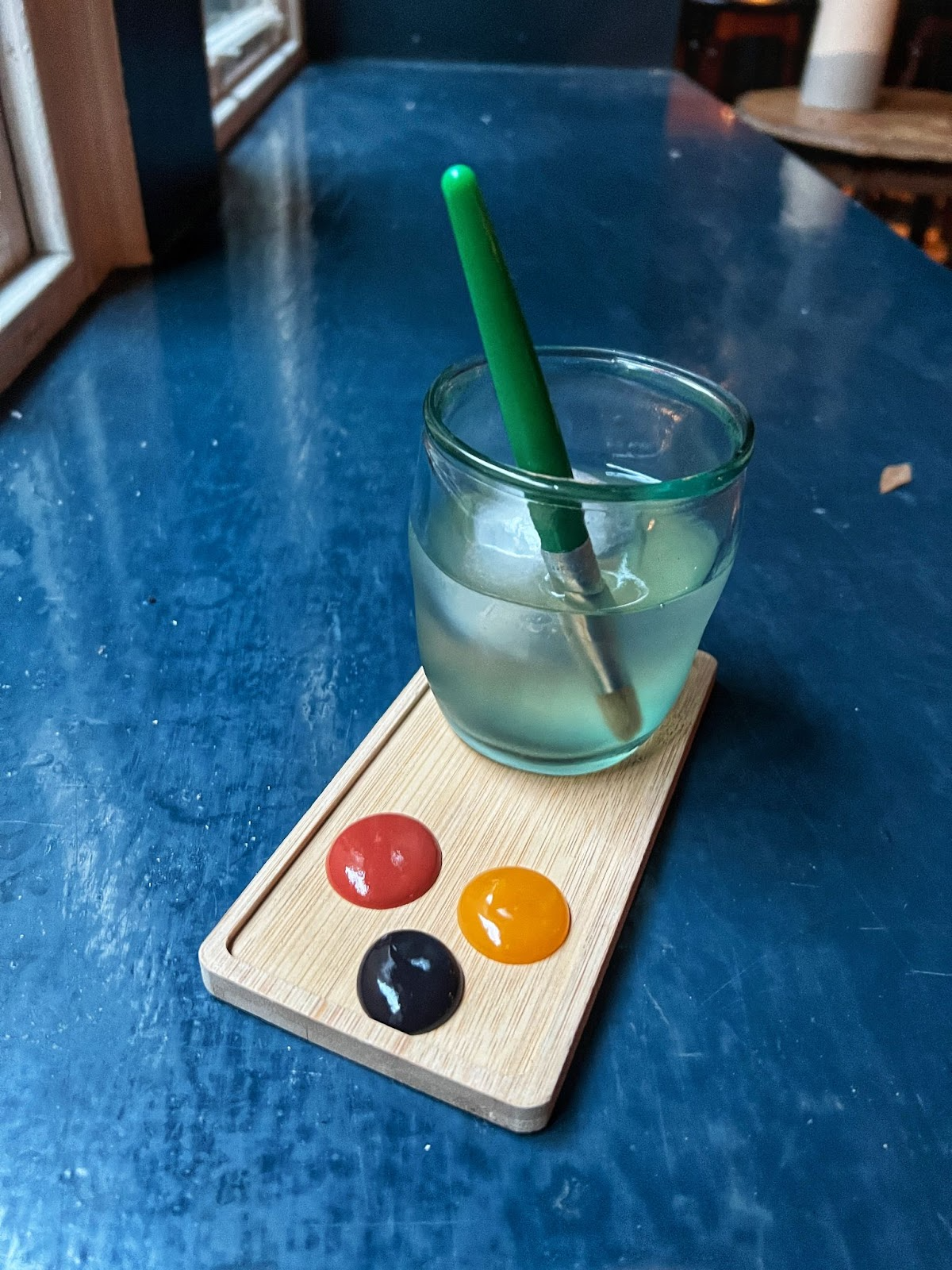 If you're after a truly special drinks experience, you need to seek out Below Stairs, a hidden gem of a cocktail bar beneath South Parade.
Their menu is full of interactive drinks, like The Individualist, a rum-and-gin-based cocktail served with edible paint – you can paint different flavours onto the rim of your glass to hone your perfect serve.
There's also Hope, a creamy apple-hued cocktail topped with a disc of white chocolate, which is lit by the bar staff to resemble a candle.
Moving on for another drink, and no trip to Leeds would be complete without a visit to Roland's.
We have it on good authority that Roland's serves the best espresso martini in the country – and it's pretty hard to argue.
Caffeine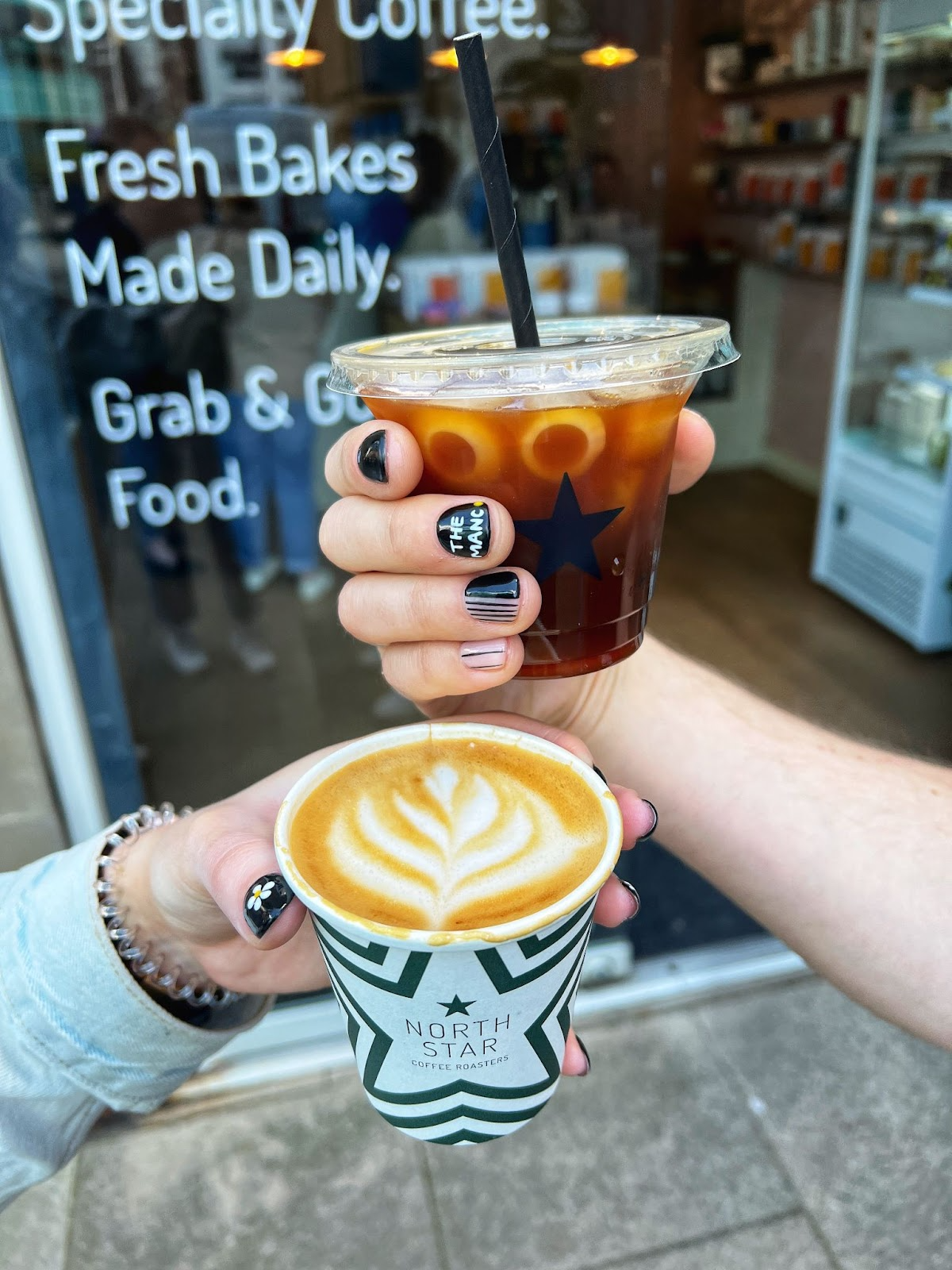 Alrighty, it's the next morning, and if you've nailed the after-dinner cocktails, you'll be wanting a pick-me-up.
North Star is a must-try, providing beans for a lot of the coffee shops around town as well as running a few of its own venues.
They prioritise people and planet before profit, and what's not to love about that?
We nipped into their Kiosk on Sovereign Street for a flat white, an iced latte and a pastry, then hit the road for another day of exploring Leeds.
Walks (or rides) along the water
The south side of Leeds city centre is built around the River Aire, which makes for a beautiful walk on a sunny day.
Or, if it's running, the Leeds Water Taxi is an absolute bargain and such a fun way to see a city centre from a new perspective.
The Water Taxi will whisk you down to Leeds Dock, where there's a floating book shop, Hold Fast, and where you can visit a pretty remarkable attraction…
Royal Armouries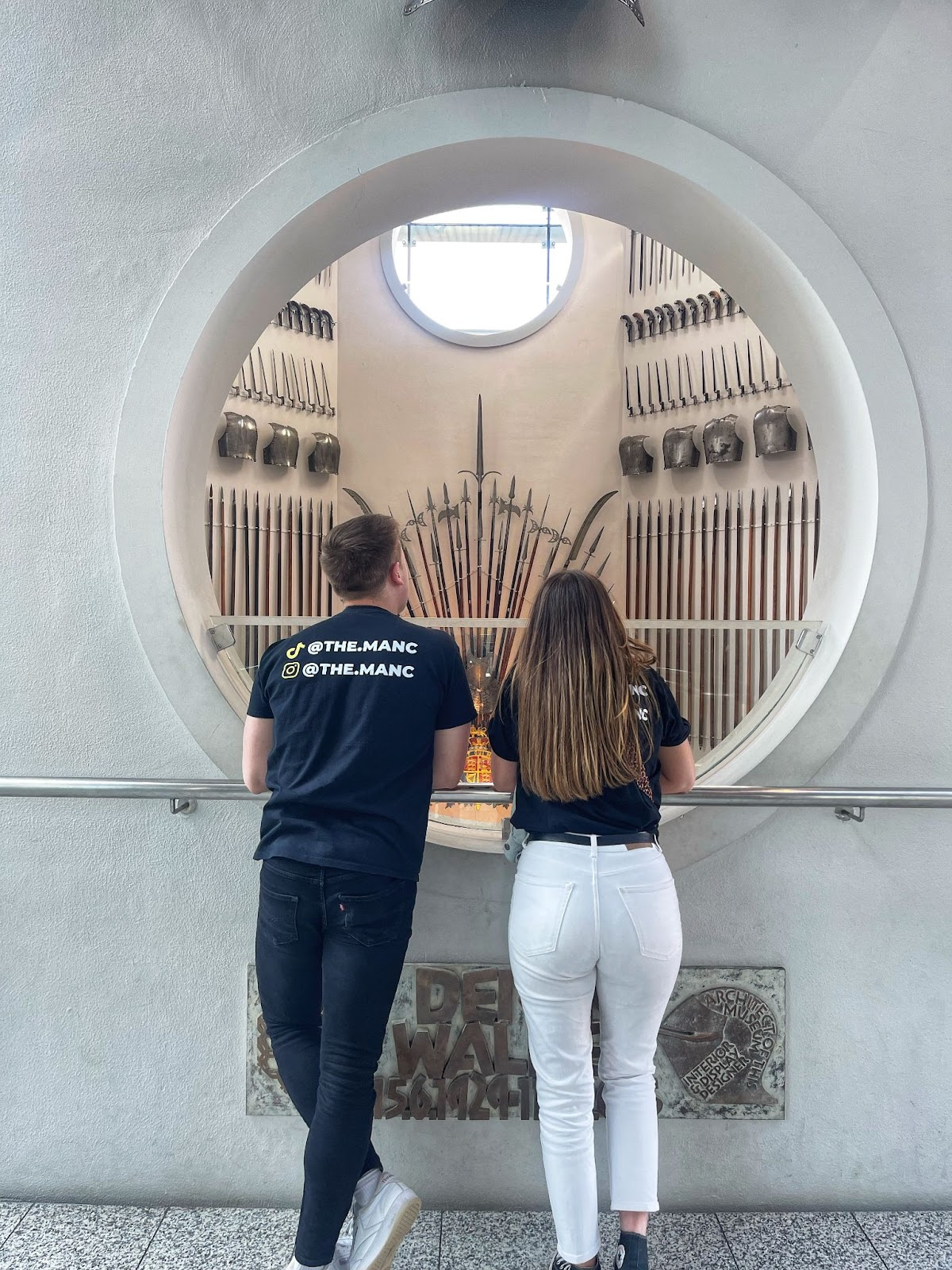 Spanning five floors and packed with more than 4,500 objects, this purpose-built museum shows off the UK's national collection of arms and armour.
There's a huge sweeping staircase where the walls are lined with swords, spears and armour, a display that features the 'pulse rifle' from the Aliens film, and all sorts of other fascinating items dating back hundreds of years.
Sunshine drinks and lunch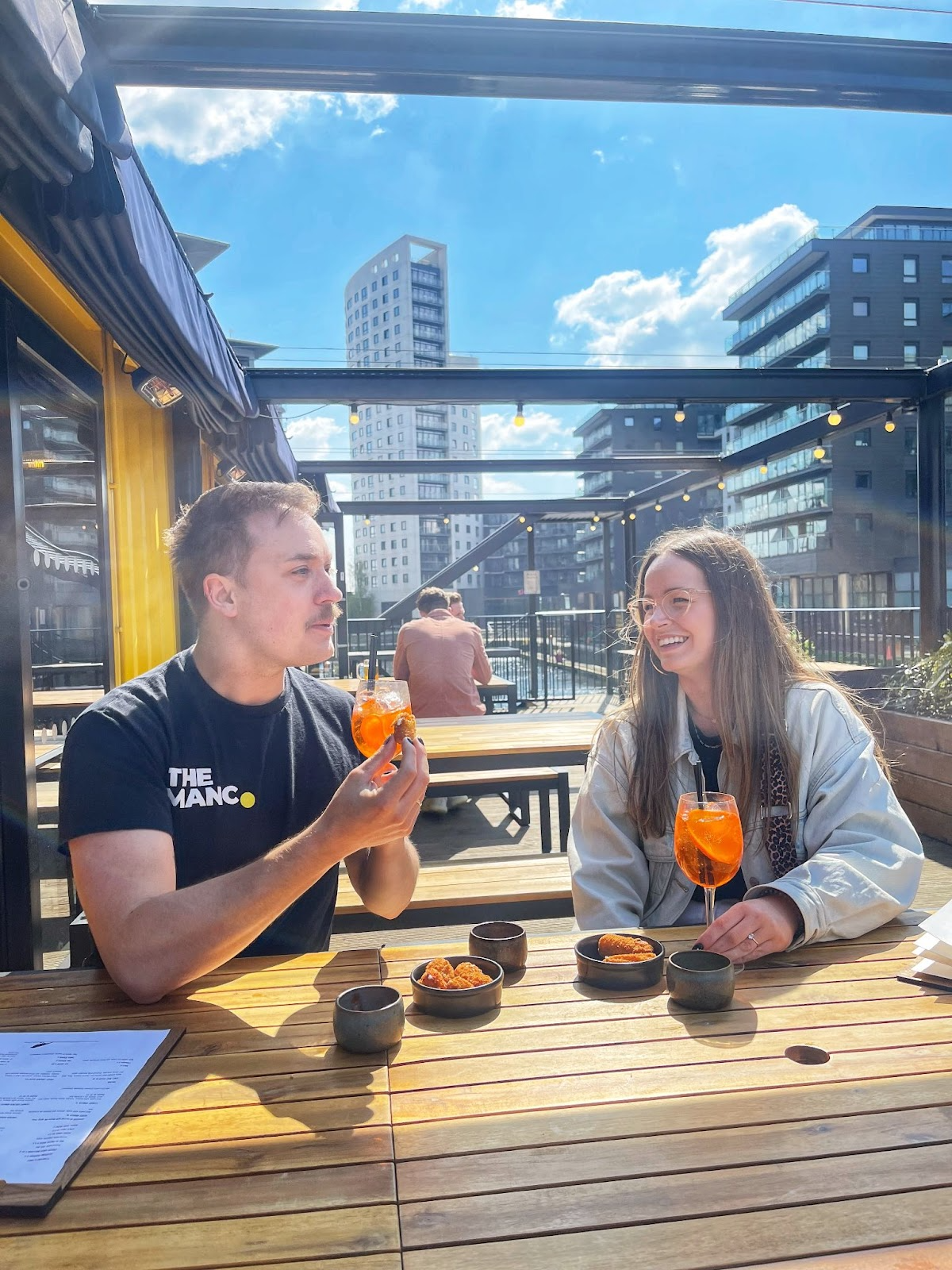 If the sun is still out (and you've got a much better chance of blue skies in Leeds than you do in Manchester), you'll be right beside Canary Bar.
This two-storey bright yellow shipping container has a rooftop terrace that looks right across the water, though you can duck inside if the weather turns.
But sipping on an Aperol Spritz on top of the container feels a bit like sitting on top of the world.
To find out more about everything going on in Leeds, visit www.visitleeds.co.uk
Featured image: The Manc Group