Trending
17-year-old lad caught illegally driving an Audi tries to make the police believe he's 43
Officers from GMP Traffic seized the vehicle from Stockport town centre earlier today.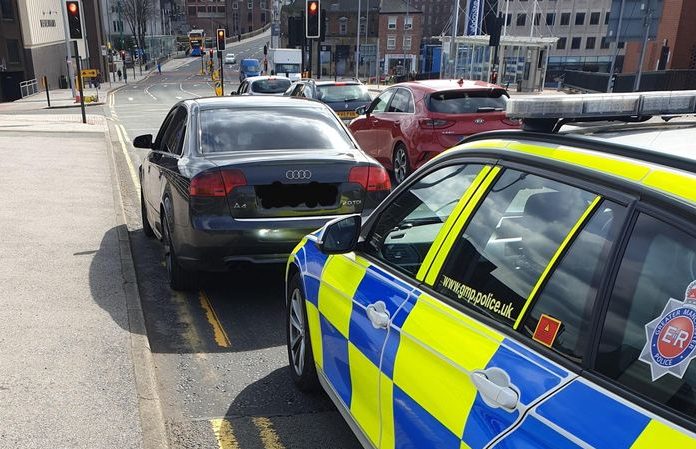 A 17-year-old lad who was seen illegally driving an Audi around Stockport has been caught in the act by police.
Officers from Greater Manchester Police's traffic division took to Twitter earlier today to reveal details of the vehicle seize and explain how they pulled the Audi A4 car over in the town centre to find that a 17-year-old was behind the wheel.
But here's the catch – he tried to convince them he was 43.
No, we're not kidding here.
A 17-year-old lad did his very best to make the officers believe he was a whopping 26 years older than he actually is.
In the post to Twitter, GMP Traffic said: "Stopped above the M60 motorway in Stockport".
"Driver, who was 17, tried to claim he was actually 43 years old".
Despite the lad's best intentions, GMP Traffic bluntly and hilariously claimed that they're "not falling for that one", which it's pretty easy to expect that they wouldn't.
They then confirmed that the lad's "true details were passed" and that "he will be reported".
The tweet has already been amusing members of the public in just a few short hours since posting this afternoon, with one Twitter user commenting that it "made [them] chuckle" and another admitting: "Sorry, but that's funny".
"I do that all the time. I'm 52 but claim to be 17. Doesn't work for me either. You cops are too good." another quipped.
Another couldn't help but link it to this scene from the 2007 cult-classic comedy film Hot Fuzz.
While we can all agree that growing teenage lads can often appear to look older than they actually are, 43 is definitely a push.
Just like GMP Traffic, we're not falling for that one either.
Featured Image Credit – Twitter (@GMPTraffic)