Trending
BBC North West accidentally mistakes Eurovision fan for Finland's act in live TV interview
Viewers called the blunder "absolutely sensational" on social media.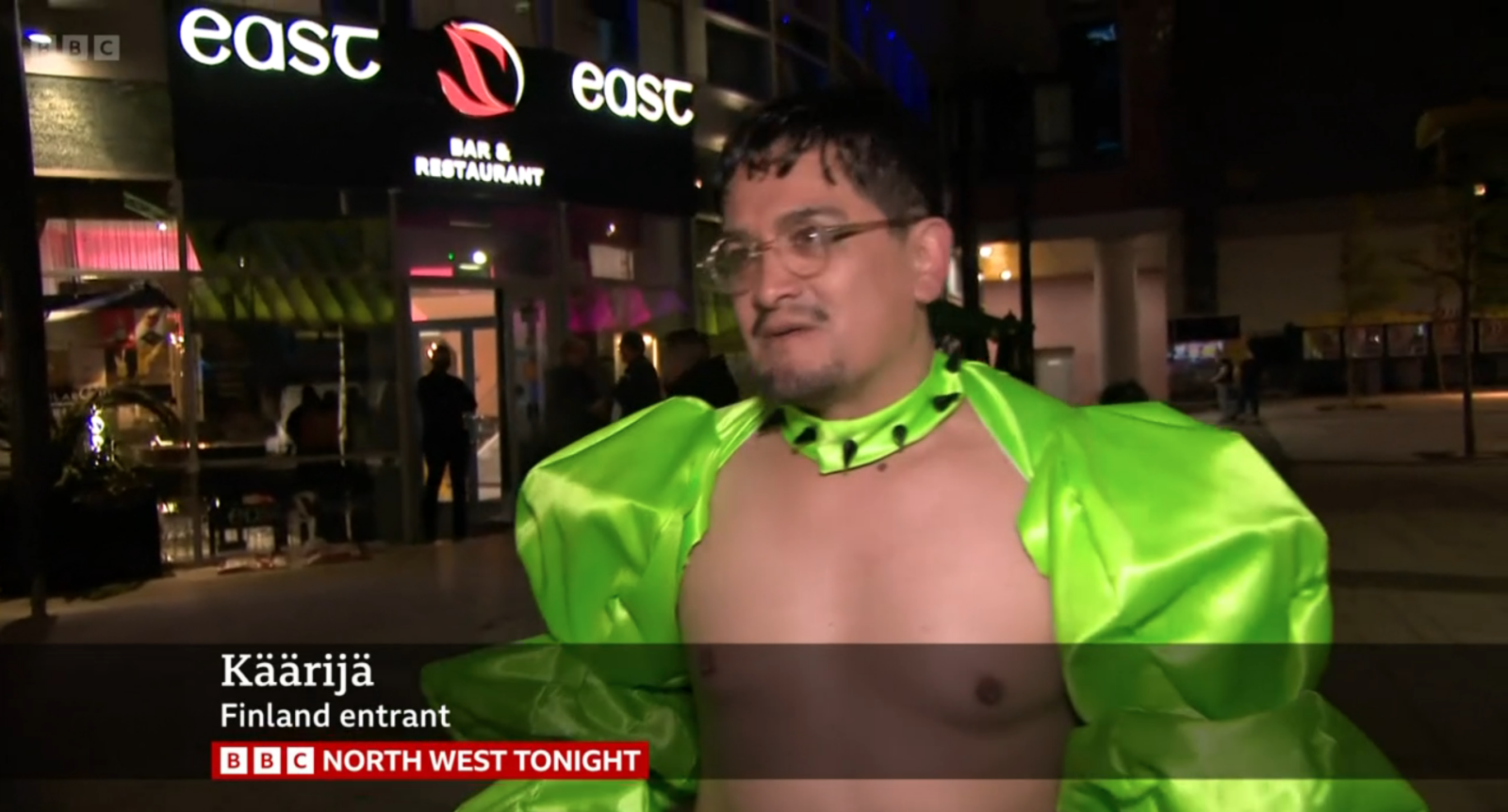 In what was an awkward moment of live TV, BBC North West interviewed a Eurovision fan dressed as Finland's act thinking it actually was him.
In case it's not really on your radar, this week is officially Eurovision week, and fans of the world's biggest song contest from all across the globe have descended on Liverpool as the North West city hosts the 2023 edition for the UK on behalf of last year's winners Ukraine.
A total of 37 countries from all across the continent have submitted songs for consideration in this year's contest, but only six countries automatically qualify for the Grand Final this Saturday (13 May), which are reigning champions Ukraine, and the 'Big Five' – UK, France, Italy, Spain, and Germany – while the rest all need to battle it out for their spot.
Last night was the first Semi Final live show – with 15 countries competing for a place in the Grand Final on Saturday, but only 10 qualifying.
And Finland was one of those countries competing, and successfully qualifying.
Finland's act this year is a pretty unique and memorable entry, to say the least, as singer Käärijä took to the M&S Bank Arena stage in Liverpool last night dressed in an eye-catching bright green outfit to perform his song 'Cha Cha Cha', which is described as being an "intoxicating blend of industrial metal and hyperpop".
Currently second in the bookies' odds behind Sweden's returning superstar Loreen, Käärijä could've been considered a bit of a wildcard, but the Finnish rapper has ended up becoming both a critics and fan favourite – with thousands across the world now familiar with who he is and what he looks like.
With Käärijä on his way to stardom, BBC North West Tonight managed to secure a live TV interview with him after booking his place in the Grand Final last night.
Except it wasn't actually him at all, it was just an enthusiastic Eurovision fan dressed up like him.
The awkward mix-up was part of a wider news segment where BBC North West Tonight reporters headed out onto the streets of Liverpool to interview fans about the show and their experience in the city so far.
The presenter asked the Käärijä superfan: "How do you think Liverpool has done out there?", to which they responded: "Incredible. In comparison with the countries that I've been [to] this is better organised, everything is walking distance and it's so friendly. Everything is just so easy around here, it's incredible."
As the fan spoke, a title card appeared underneath reading "Käärijä – Finland entrant", and viewers took to social media to react and point out the error.
Read more:
The second Semi Final will air tomorrow at 8pm on BBC One and BBC iPlayer, before the Grand Final hit screens from 8pm on Saturday 13 May.
Featured Image – BBC North West Tonight