Shopping
B&M is selling a hanging egg chair for cats – and it's only £55
The 'Rattan Effect Pet Egg Chair' will be in B&M stores soon.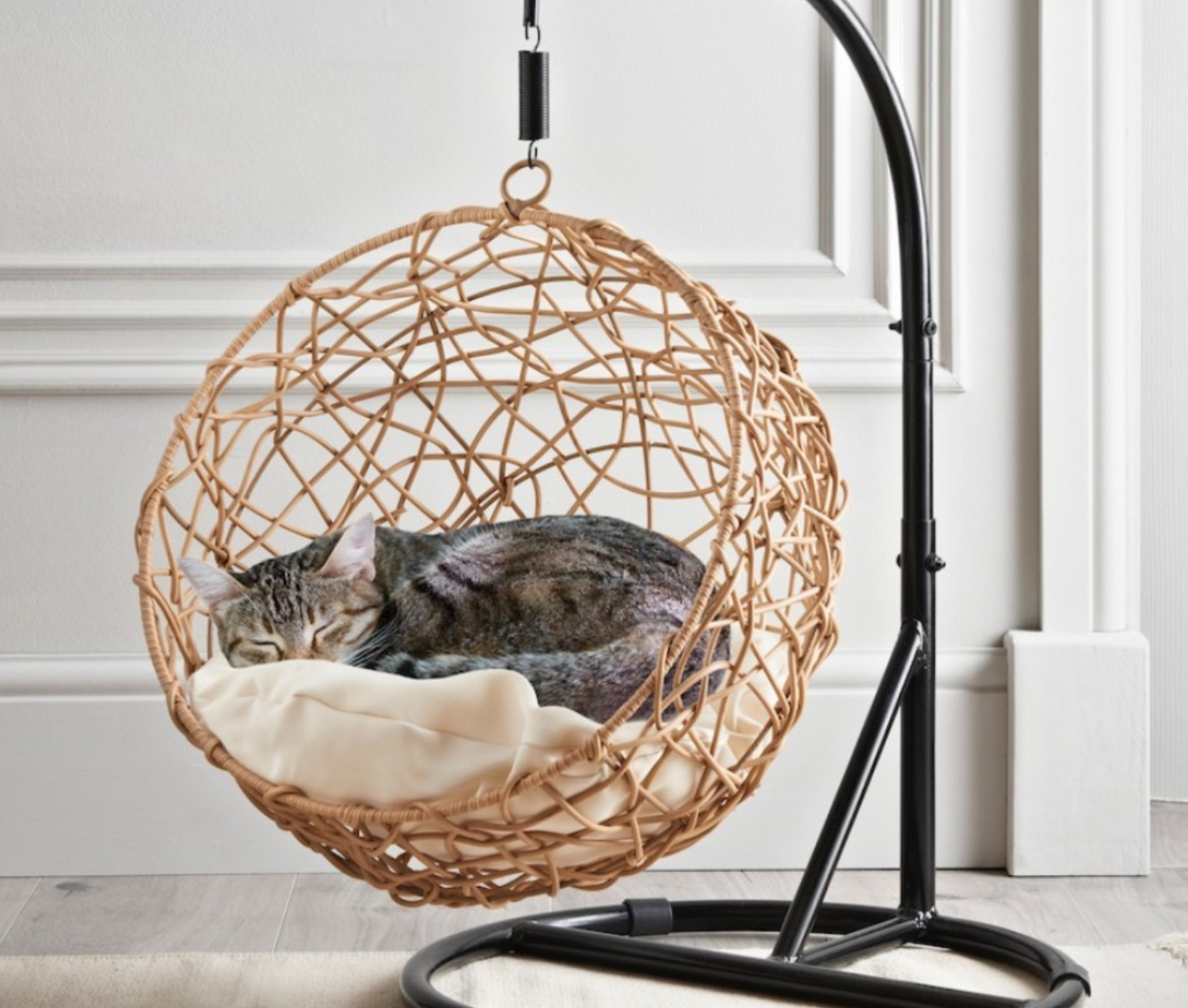 It's not really an exaggeration to say that people go mad for hanging egg chairs.
As many shoppers and interiors enthusiasts will know, whether it be Aldi's Rattan Hanging Egg Chair – which has been seen in the homes of cleaning influencer Mrs Hinch and Stacey Solomon, and is no doubt one of the budget supermarket chain's best-selling items – or in this case, B&M's equally-popular version Siena Hanging Egg Chair, these unique chairs are near impossible to get your hands on and often end up selling out, both online and in store.
When they do come back in stock, they usually get snapped up within minutes too, which is proven by the fact that the Siena Hanging Egg Chair is out-of-stock on the B&M website.
But if you've not had much luck in securing the best seat in the house for yourself before, at least now your cat can, as B&M as has today announced that it's launching a Rattan Effect Pet Egg Chair.
Teasing the launch of the new feline egg chair in a post of its social media accounts this morning, B&M said: "You're all fans of our sell-out egg chair, so now we've launched a new version…. for cats.
"This rattan effect egg chair is in stores soon (some lucky people have already picked one up) so don't miss out."
The chair is already proving popular with budget shoppers online, having racked up thousands of interactions and comments in only a few hours after being shared on social media, so it looks like plenty of people are looking to treat their feline friends this Christmas.
The Rattan Effect Pet Egg Chair will only set you back £55.
B&M's cat egg chair comes after also Aldi released a feline version of its viral egg chair all the way back in May.
Read more: Aldi is bringing back its viral hanging egg chair, but this time it's for cats
The chair doesn't currently appear to be listed on B&M's website as of yet, and according to the retailer, hasn't actually launched in store either even though some people have already got their hands on it, so you'll need to keep your eyes peeled.
Don't forget to be on the look-out on the B&M website, in your local branch, and also keep an eye on social media for more updates.
Featured Image – Instagram (@bm_stores)