Trending
New conspiracy theory claims Gail Platt is Melania Trump's body double
From Weatherfield to the White House.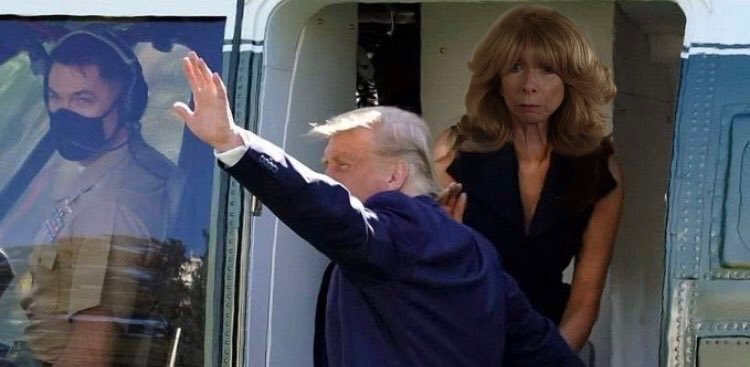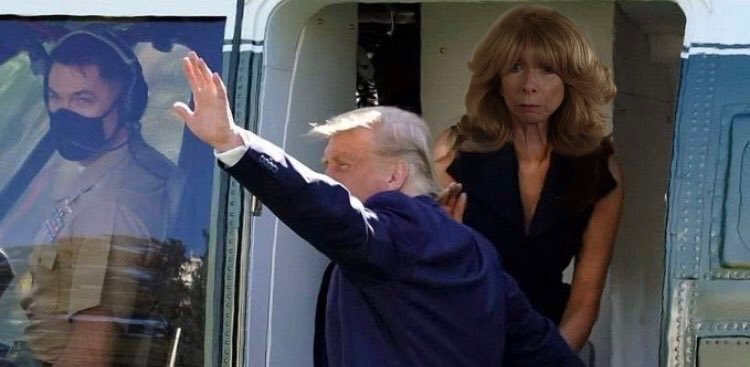 The bizarre conspiracy theory claiming that FLOTUS Melania Trump has been replaced with a body double has reared it's head again over this past weekend.
The 'Fake Melania' decoy conspiracy theory is one that has been floating around for quite a few years now and has been highlighted after multiple public appearances made by the pair, but this time, it's concerning one specific picture of Donald Trump and Melania eagerly waving as they board the presidential chopper Marine One at the White House.
Except, some people on Twitter are just not convinced it actually is her.
And so, the hashtag #FakeMelania – which is usually used to point out differences in her appearance, for example that she doesn't always seem to smile the same way – was used by many while scrutinising the image in the search for answers over the weekend, and was even seen trending on the platform for a good few hours on Sunday too.
But maybe not for the reason you'd initially think.
Of course, as you'd come to expect in this day and age, the Marine One boarding picture has become the subject of a popular meme aimed at poking fun at those who believe Melania has been replaced with a decoy.
The President took to Twitter last year to address the conspiracy theory, branding it "deranged" and blaming the media for perpetuating it. He tweeted: "The Fake News photoshopped pictures of Melania, then propelled conspiracy theories that it's actually not her by my side in Alabama and other places.
"They are only getting more deranged with time!"
But among all the jokes of which 'body double' is the best, and the references to Aerosmith's Steven Tyler, North Korea's leader Kim Jong Un, and Brexit Party Leader Nigel Farage, somehow, in a turn no one could have seen coming, Gail Platt has even been dragged into all the madness.
This is after Twitter user @Cadmarch photoshopped a classic concerned picture of everyone's favourite Coronation Street star behind the President on the chopper saying "this is not Melania".
And people loved it.
The tweet went on to amass well over 15,000 interactions and comments in just a few hours after posting.
To be honest, the popularity of Gail's photoshopped appearance was probably only second in line to that of the fact that some people were convinced the man flying the helicopter was actor John Barrowman, due to his uncanny resemblance.
Honestly though, who really knows what's going on across the pond any more, but seeing Gail Platt manage to get herself involved with it all is no doubt welcome entertainment.