Trending
Heartwarming moment autistic Sainsbury's worker is surprised by colleagues after he was mugged
Tommy's autism means he has difficulty expressing his emotions, but was said to be "buzzing".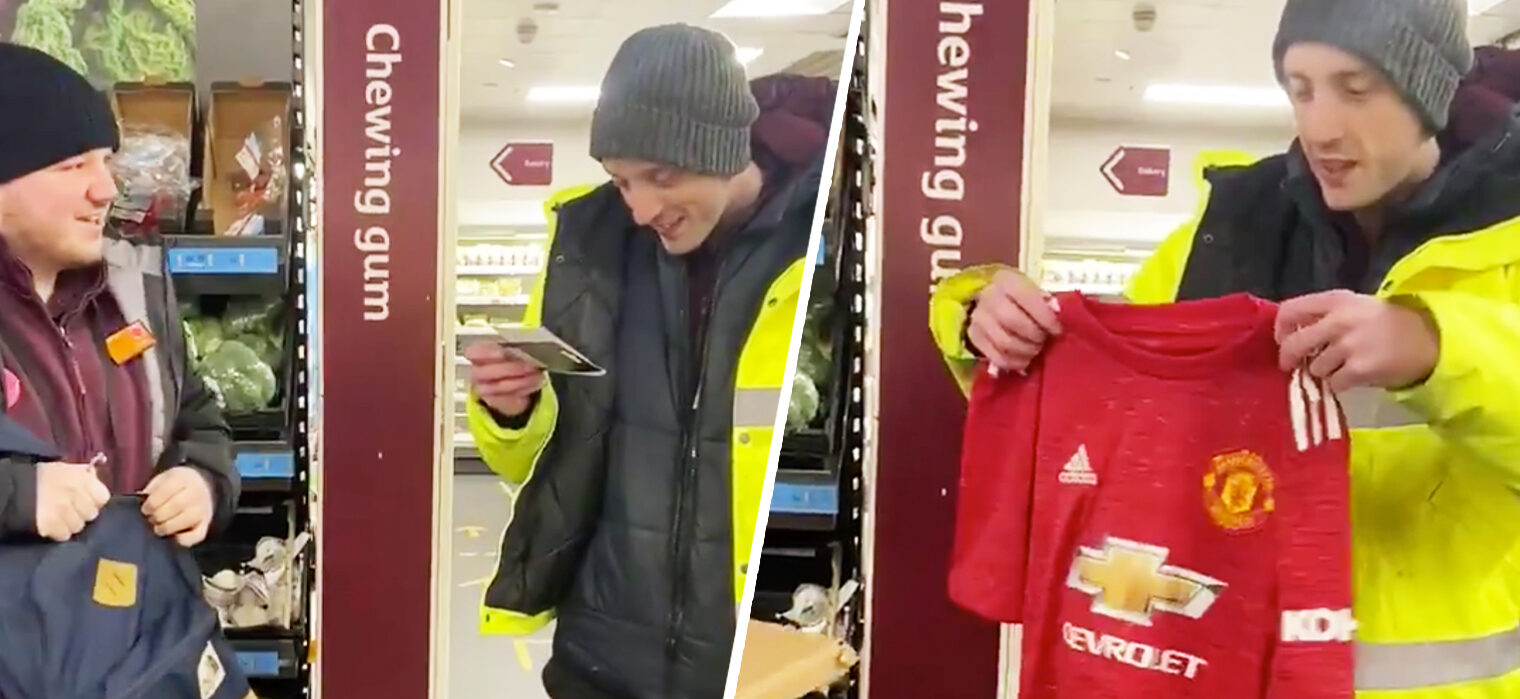 A heartwarming video of a Sainsbury's staff member surprising his autistic colleague with £400 in gifts to lift his spirits after he was mugged earlier in the week has gone viral on social media.
After an attack left Tommy struggling to eat and with injuries to his face, Liam Mason was determined to cheer up his friend and colleague by organising a whip-round via a Crowdfund on Twitter, which saw him manage to raise over £400 in total.
The funds raised meant that Liam and his fellow colleagues at a Manchester-based Sainsbury's branch could treat Tommy to a £350 gift card and a Manchester United shirt.
Sharing the video to Twitter yesterday, Liam said: "As some of you on here already know, a lad I work with who has autism was mugged on Monday. We managed to get a whip-round on the go and raised over £400 [so] thank you to everybody who donated and passed on their best on here.
"He doesn't show his emotions very well, but he's buzzing."
The video has since been viewed more than 1.2 million times, and has amassed over 70K interactions and comments from both famous faces and members of the public praising Liam and the wider team for their generosity and kind-hearted actions.
Following the overwhelmingly positive response to the video, Liam has since said in a follow-up tweet that Tommy "started tearing up".
He said: "It's genuinely made his day/month/year [and] I can't thank everybody who got involved enough. Social media gets a lot of negativity thrown about and a bad name so it's good to use the platform for something nice and genuine for once – fair play guys."
He continued: "I'm absolutely buzzing with how much positivity this has spread.
"[Twitter] is mad at times [but] if this has made you smile today, then I'm over the moon for you too. The future is uncertain but that doesn't mean we can't be nice to each other.
"Absolutely belting."
While most of the public response received has remained positive, Liam did choose to clear a few things up regarding COVID-safety protocols, as well address a couple of negative comments about why they chose to film the surprise.
Ultimately, he was looking to "spread positivity in a really bleak time" by sharing the video with the world.
Liam has also expressed his gratitude for the public kindness expressed towards himself, but insisted it was a team effort.
"I just wanted to say thanks a lot for all the support and kind words directed at me." he said.
"It's hard to get through all the messages, but just wanted to say I couldn't do this by myself and everybody who donated deserves a portion of credit too.
"I'm just happy we put a smile on his face".