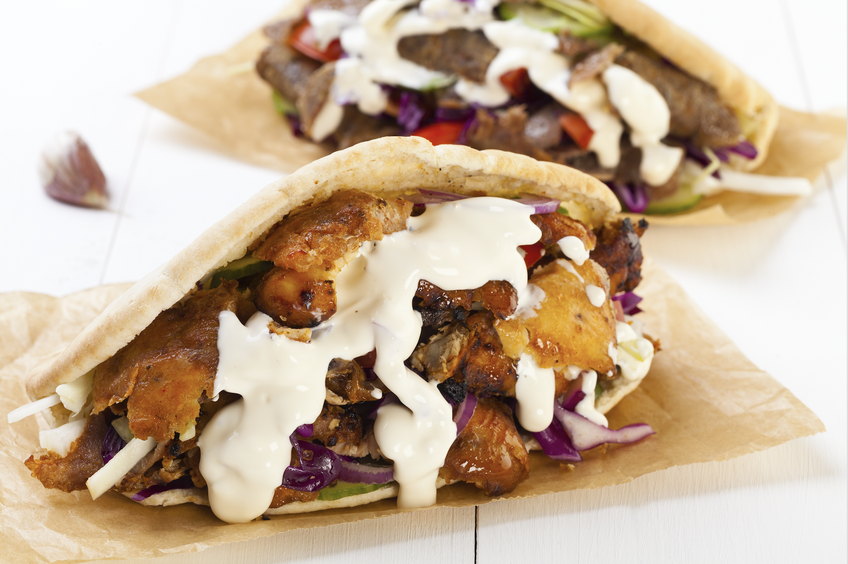 Takeaway delivery experts have predicted that there could be a potential nationwide kebab shortage today on what is being branded the "busiest takeaway day" of the year.
As the UK enjoys the last bank holiday of the summer, the iconic takeaway kebab seems to be at the forefront of people's minds.
Bank Holiday Monday is particularly known to see Doner-mad Brits flock to get their favourite takeaway meals, with a huge upsurge in kebab sales on this day every year, and according to data from food delivery experts Foodhub, Doner Kebabs are one of the most ordered takeaway foods on this day.
This has thus lead the takeaway food app and online takeaway delivery platform to predict a nationwide shortage of kebabs.
Last year kebab sales doubled on Bank Holiday and, if that pattern is followed this year, many takeaway restaurants may run out of Doner meat well before the day is over.
It seems that kebabs aren't the only popular takeaway food over the bank holiday though. While Fish 'n' Chips orders are always a hugely popular option, it appears that the traditional British dish has been taken over on Bank Holiday Monday by the humble curry, with Foodhub sales data revealing that alongside kebabs, Indian takeaways double in demand during bank holiday and make up a staggering 14% of all overall orders placed.
However, it looks like customers don't have as much of a sweet tooth when feasting on the national holiday, as dessert orders see a dip in demand with people favouring savoury dishes as their bank holiday treat.
Wil Chung – spokesperson for Foodhub – said: "Bank Holiday Monday is always a busy time for the takeaway sector, as people sit back and relax after a busy weekend. It's interesting to see the sales figures and see what dishes our customers turn to on this national day.
"As summer is drawing to a close and the nights turn darker, it's no surprise that people are choosing to indulge in a kebab – the original takeaway food."

When it's not a Bank Holiday, Pizza has become the nation's favourite food, taking the top spot alongside fish & chips and fried chicken.
Top 10 Food Items Ordered over the Bank Holiday
Doner Kebab
Pizza
Chicken Wings
Fish & Chips
Chicken Burger
Sausage & Chips
Chips
Chicken Tikka Masala
Battered sausage
Chilli chips