Trending
Watch the moment random locals are surprised by a live band in a Stockport Maccies
Three French hens, two turtle-doves and a live band in a Maaaccies.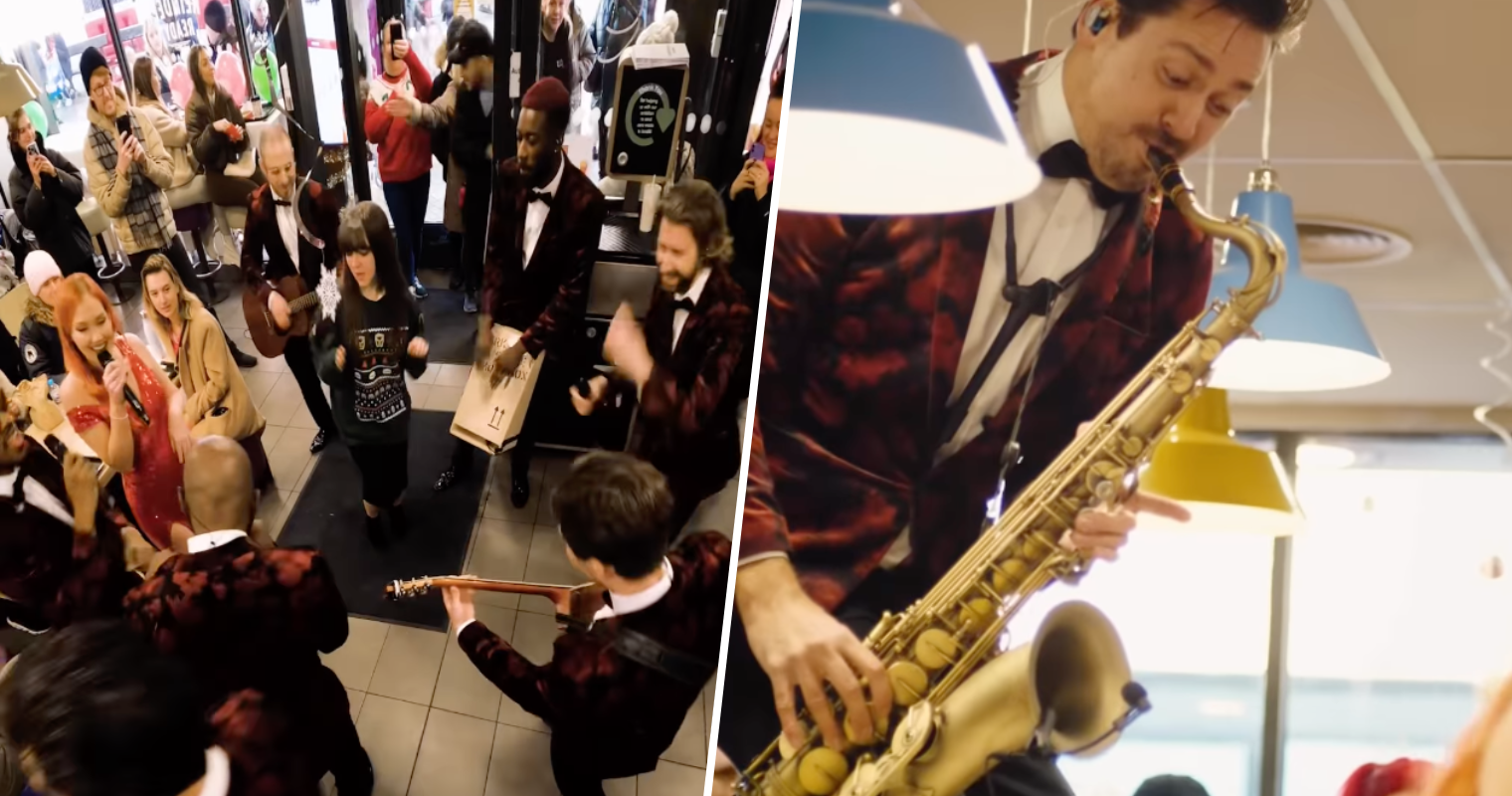 There are a lot of bizarre scenes taking place in almost every McDonald's across Britain on any given day, but seeing a live band in a Stockport Maccies in the middle of the day is definitely up there.
SK locals were simply taking a break from their Christmas shopping when they were taken aback by The Function Band who are helping spread festive cheer at various golden arches and homes throughout the country.
McDonald's 'Reindeer Ready' campaign kicked off earlier this week and will be running throughout the rest of the holidays, with performers, Maccies employees and customers all getting involved.
Here's how hungry Stopfordians along Merseyway and at home reacted to the surprise performances:
We can't get over the random limbo challenge — not sure that would go down so smoothly on a random Friday night at the Grand Central one.
The best part about this campaign, for us, is that the fast food chain are also going around the UK and surprising even more unsuspecting families with Christmas carols on the doorstep and free McDelivery following a competition organised via the app.
Evie Edwards, a 17-year-old employee who was there on the day, said: "I couldn't believe it when the band started popping up all over the restaurant singing all the classics… It was so surreal and such a treat – I thought I was coming in for an extra shift and instead received an experience of a lifetime.
"As a singer myself I had entered a McDonald's crew competition, but never in a million years expected to win. Getting to stand up and sing with the band was a dream come true."
Read more:
The Christmas Carolling experience is the latest part of the brand's 'Alternative Christmas List', delivering six different experiences ahead of 25 December in the hopes of adding some festive fun to this busy and often stressful time of the year before the big day.
The final instalment will be shared on ReindeerReady.co.uk on Saturday 17 December, so keep your eyes peeled for whatever they have in store next.
The Function Band's Stockport Maccies set might not be their last this holiday season.
For all the latest news, events and goings on in Greater Manchester, subscribe to The Manc newsletter HERE.
Featured Image — Supplied