Trending
Mum praises electrician's payslip for her young son as the 'sweetest act of kindness'
Rather than getting frustrated at the lad "hounding" them with questions, the Hull-based electricians payed him for his time, effort and enthusiasm.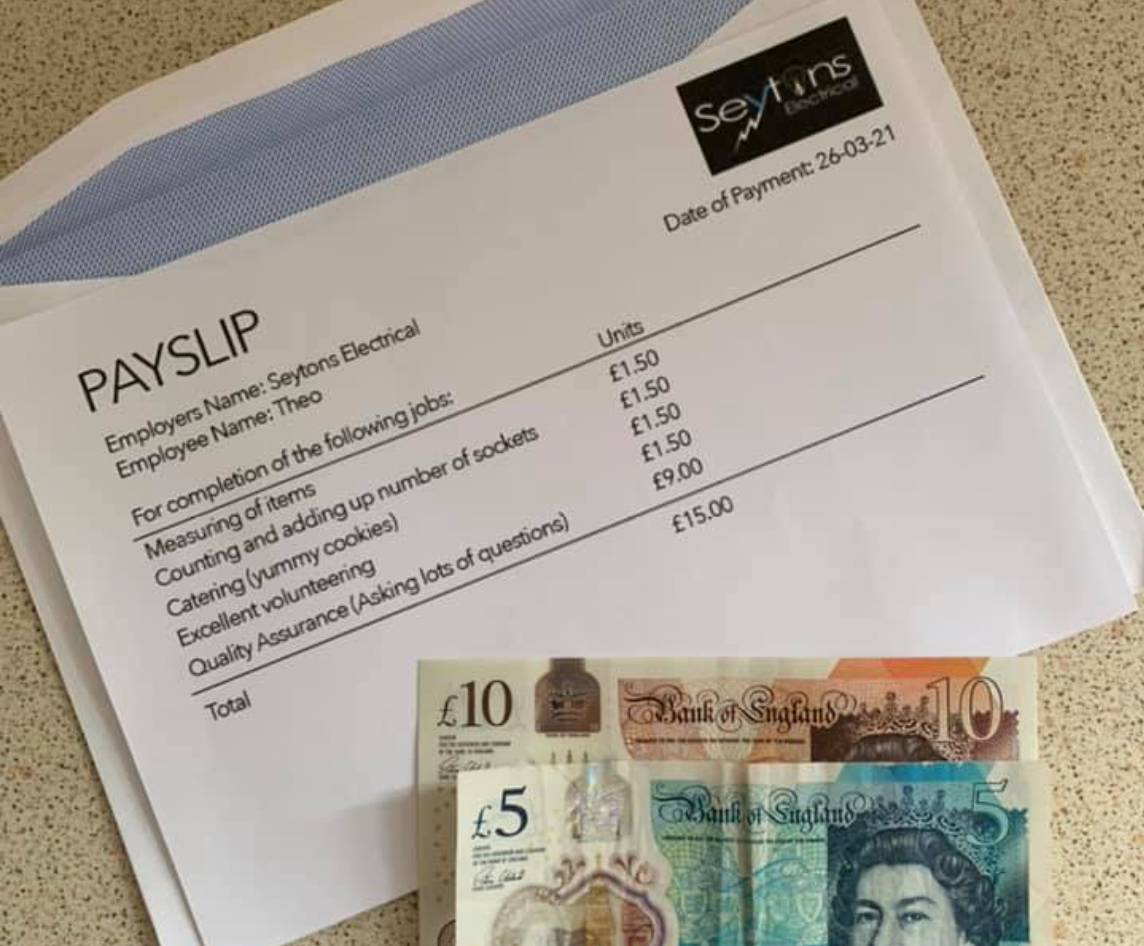 An electrical company has won the hearts of people around the world after delivering a 'payslip' to the inquisitive young son of a recent client.
It's fair to say that many tradespeople would probably get a bit frustrated if a child insisted on following them around and asking questions as they tried to get their job done – but not Seytons Electrical.
Rather than getting annoyed, the Hull-based electricians instead payed the lad for his time, effort and enthusiasm.
In a now-viral post on social media, Laura-Nicole Anderson explained that the company had been carrying out maintenance work at her home for the last six weeks, and during that time, her son Theo had taken a particular interest in what they were doing.
Laura said she presumed the electricians would be "sick of the sight of us" and "happy" when the work was finished after Theo "hounded them with questions".
It was quite the the opposite, though.
The firm delivered Theo his very-own branded payslip, along with his £15 wages, which were broken down into separate amounts for things such as measuring of items, counting and adding up number sockets, catering (yummy cookies), excellent volunteering and quality assurance (asking lots of questions).
Laura said it was "quite possibly the sweetest act of kindness I've ever seen".
"We have had the electricians in every other week for the past six weeks and Theo has been obsessed with them." Laura added.
"He has hounded them with questions, kindness and constant offers of help. I laughed that they would be the sick of the sight of us and happy when the work was finished [but] one of them popped over today to finish something quickly and surprised Theo with this.
"[It's] his first ever job".
She heaped praise on the company and said they have "made Theo's day".
Laura's post sharing the sweet story has now gone viral on social media, and has been tugging on the heartstrings of people all over the world after amassing over 51K interactions and 21K shares on Facebook, and over 100K interactions on Twitter.
"Aww this has actually restored my faith in human kind. That is so so lovely," one person wrote.
Another said: "I love how they paid most for quality assurance. Great way to teach a kid that asking questions and being curious is a good quality to have".
Featured Image Credit – Facebook / Laura-Nicole Anderson