Trending
People are calling for this woman to be Prime Minister after her hilarious resignation response
"Get her in Number 10 now."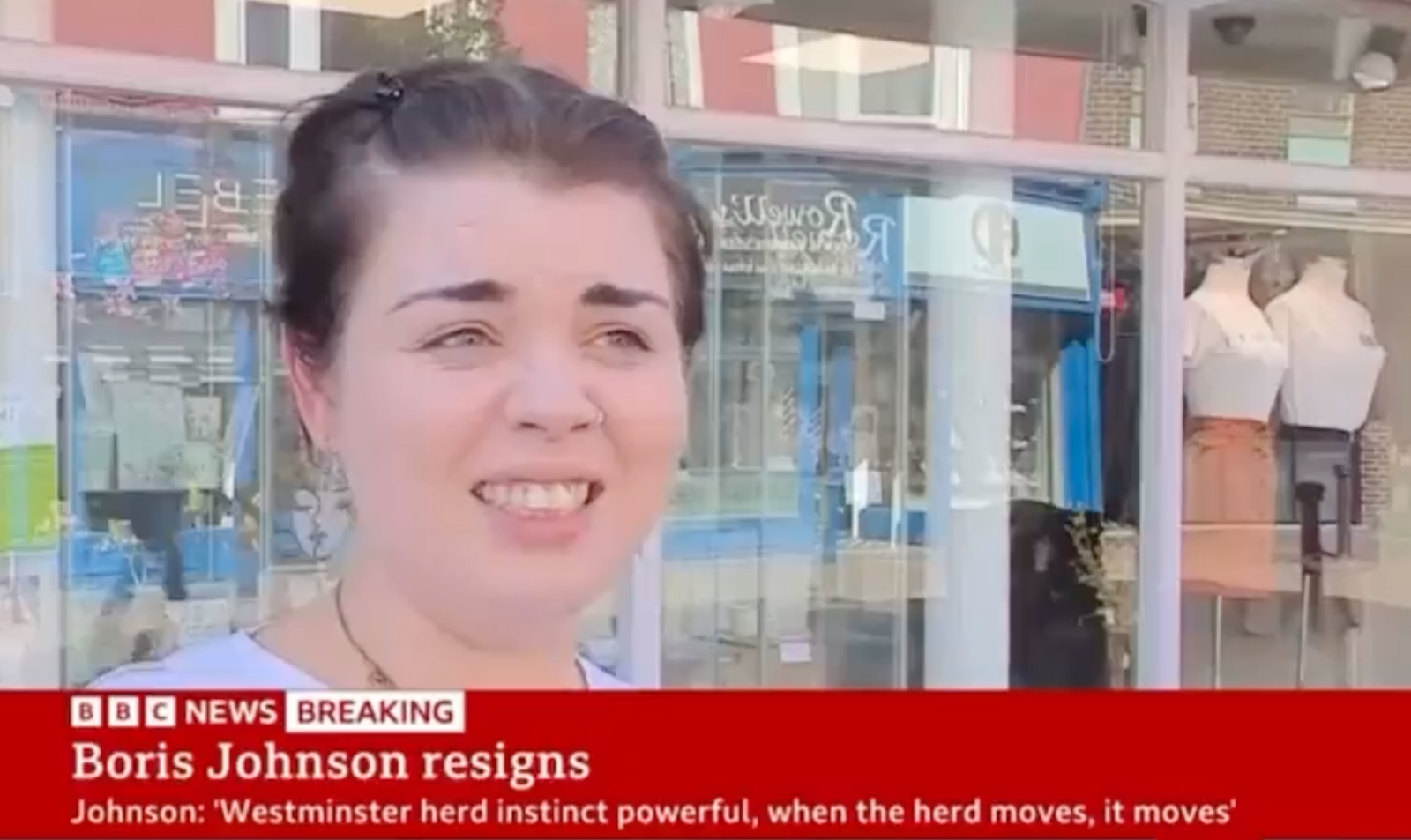 A woman's clueless but hilarious response to Boris Johnson's resignation yesterday has got people calling for her to become the new Prime Minister.
In case you somehow managed to miss it, Boris Johnson addressed the nation yesterday to formally resign as the leader of the Conservative party and agree to step down as Prime Minister following a tidal wave of 59 resignations by ministers, MPs, and other government officials – including Rishi Sunak and Sajid Javid.
Johnson had been increasing pressure to step down from his position in recent weeks amid several scandals, from Partygate to Pincher.
The Prime Minister said his resignation speech: "I want you to know how sad I am to be giving up the best job in the world – but them's the breaks."
He also assured people that "our future together is golden".
As is often the case in the aftermath of significant political bombshells such as this, news reporters grabbed their cameras and headed out onto the streets across the country to ask people for their take on what went down – and one woman's response in a now-viral video on social media has left some feeling that she should throw her hat into the ring to take over as the country's next leader.
Read more: Boris Johnson agrees to resign as Prime Minister
Speaking to the BBC in Darlington, the clueless woman said that she wasn't even aware Johnson had decided to step down from his, but she was pretty pleased about it.
"I didn't even know he's resigned," she exclaimed. "I've just finished work so, well that's a bit of good news, I suppose, isn't it?".
It wasn't a very long response, but it was all she needed to go viral.
Shortly after her interview was aired on television, the clip was shared to Twitter and it has since gone on to amass over three million views and counting, as well as tens of thousands of retweets, likes, and of course, comments from people hailing her as an "icon".
"Get her in Number 10 now," one Twitter user said.
Heaping praise on the unnamed woman, another Twitter user commented: "Iconic queen."
"New queen just dropped," wrote a third, with another adding: "She's an icon, she's a legend and she IS the moment."
Another commented: "Bless her heart. Protect her at all costs."
Presumably having got wind that she was going viral on social media, the woman in the video identified herself on Twitter as Erin Mae Denny with the brilliant and appropriate response of "look mum, I'm on TV".
Her Twitter response has also gone viral, with plenty of people calling her a 'legend", sending her praise, and describing it as: "Genuinely the greatest vox pop ever featured on national television"
"You can't get a more British reaction to a massive piece of news than this, absolutely perfect," another added.
"To any non brits here, this is what we call a masterclass in great British understatement."
"Icon! Star! Queen! Legend!," a fourth said.
Featured Image – BBC / Twitter (via @matteottismith)