Trending
Someone dressed as Spider-Man is cheering up kids in isolation in Stockport
[siteorigin_widget class="SiteOrigin_Widget_PanelImage_Widget"][/siteorigin_widget]
[siteorigin_widget class="SiteOrigin_Widget_PanelText_Widget"][/siteorigin_widget]
Trending
'Grow up' – Matty Healy urges Oasis to 'stop messing around' and reunite

Emily Sergeant
Matty Healy has urged Oasis to "stop messing around" and get back together in a new interview.
In a video that's already amassing tens of thousands of views online, the frontman of Manchester-based indie pop rock band, The 1975, has made his thoughts on the feuding Gallagher brothers known during an in-depth interview with on Q with Tom Power from Canadian broadcaster CBC this week.
During the interview, the 33-year-old singer touched on everything from the process of making the band's latest record, 2022's critically-acclaimed Being Funny in a Foreign Language, to his onstage antics, and why he's decided to embrace sincerity and being earnest – but that doesn't seem to be the main take-away of Manchester music fans.
It's his opinion of iconic Britpop band Oasis that's really got people talking.
In what he called a "public service announcement", Healy claimed Oasis are still "the coolest band in the world" but questioned what the Gallagher brothers are playing at by continuing to fight with each other after all these years.
Telling them to "grow up", Healy urged Liam and Noel to "get back together and stop messing around".
Healy told the interviewer: "What are Oasis doing? Can you imagine being in potentially, right now, still the coolest band in the world, and not doing it because you're in a mard with your brother? I can deal with them dressing like they're in their twenties but being in their fifties, but acting like they're in their twenties?
"They need to grow up."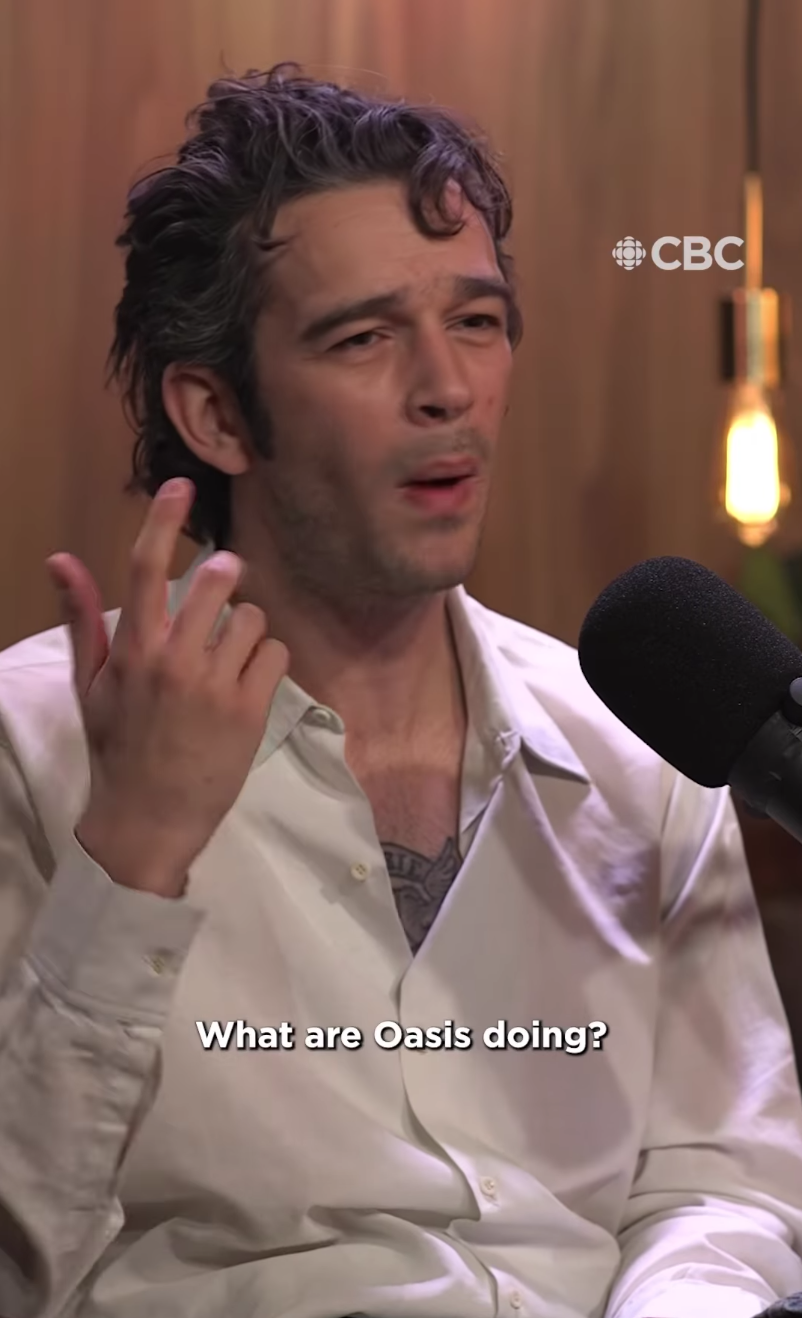 Healy continued: "Stop marding. They're men of the people, and they're sat around in, like, Little Venice and Highgate crying over an argument with their brother.
"Grow up. Headline Glastonbury. Have a good time. Have a laugh."
The Wilmslow lad also took a second to speak on the popularity of both the Gallagher brothers' post-Oasis solo projects and endeavours, and claimed fans aren't as interested in seeing Liam Gallagher or Noel Gallagher's High Flying Birds live as they would be going to an Oasis gig.
"There is not one person going to a High Flying Birds gig or a Liam Gallagher gig that would not rather be at an Oasis gig," Healy claimed.
"There is not one person.
"Not one person is there going, 'you know what? I loved Definitely Maybe, but my favourite thing is f***ing Noel Gallagher's High Flying Birds'."
Read more:
"Do me a favour – get back together, stop messing around. That's my public service announcement for today," he concluded.
You can catch Matty Healy's interview on Q with Tom Power in full on YouTube here.
Featured Image – CBC | Oasis (via Facebook)
Trending
'Sad news' – the world's only Vagina Museum has been forced to close

Daisy Jackson
There's a museum for just about everything these days (we all remember trips to the Stockport Hat Works museum) – but the world's only space dedicated to vaginas has been forced to close again.
The world-first Vagina Museum announced this week that it's had to vacate its premises and has once again been left 'homeless'.
The museum, which welcomed 40,000 visitors in the 10 months it was open, was founded to raise awareness of the gynaecological anatomy and health, erase stigma, and act as a forum for feminism.
Inside, visitors could browse everything from educational materials to art pieces inspired by vaginas and vulvas – including giant tampons decorated in red sequins.
The Vagina Museum said it was 'disappointed' that it has been asked to leave its space, adding that it will continue to operate digitally until it finds a new base.
They wrote in a heartfelt statement on social media that they were 'incredibly proud' of the museum's achievements.
Fans of the space queued down the street for its final few days in Bethnal Green, before its eventual closure on Wednesday 1 February.
Their statement said: "Sad news. We've received notice to vacate our premises at Bethnal Green by the end of this week. As a property guardianship, we've always been aware that we may be asked to leave with very short notice. We're disappointed that it has come so soon.
"@Enter_theVenue the creative hub with whom we share our space, have also been asked to leave. The Vagina Museum will continue to operate in the digital world as we search for a new home."
The message continued: "We're sad about this development, but incredibly proud of what we've accomplished in the ten months we've been at our Bethnal Green premises. We've welcomed more than 40,000 visitors through our doors, and received so much love and positive feedback.
"In our time at Bethnal Green, we've once again demonstrated just how much the world needs and wants a Vagina Museum.
Read more
"Times are, once again, uncertain for us, but we've been through this before and risen stronger than ever. With a community like you supporting us, we know we can get through this too.
"We're actively searching for a new home, and if you know of any vacant spaces (or have one yourself!) please don't hesitate to reach out. In our home in Bethnal Green, we and ENTER demonstrated that we can transform an empty, unused building into a thriving heart of a community.
"If you don't have a building, you can still help! Please consider making a donation; a donation of any size makes a huge difference and will help us to weather this storm, just as we've weathered storms before."
The Vagina Museum concluded its thread with: "We've made it through a pandemic and a period of temporary homelessness before. With you, together, we can make it through this too."
You can make a donation to The Vagina Museum here.
Featured image: The Vagina Museum / Angus Young