Trending
The Stockport Spider-Man raises over £14k by running three marathons in 24 hours
Local superhero Jason Baird is aiming to raise £100,000 for youth suicide prevention charity, PAPYRUS, in 2021.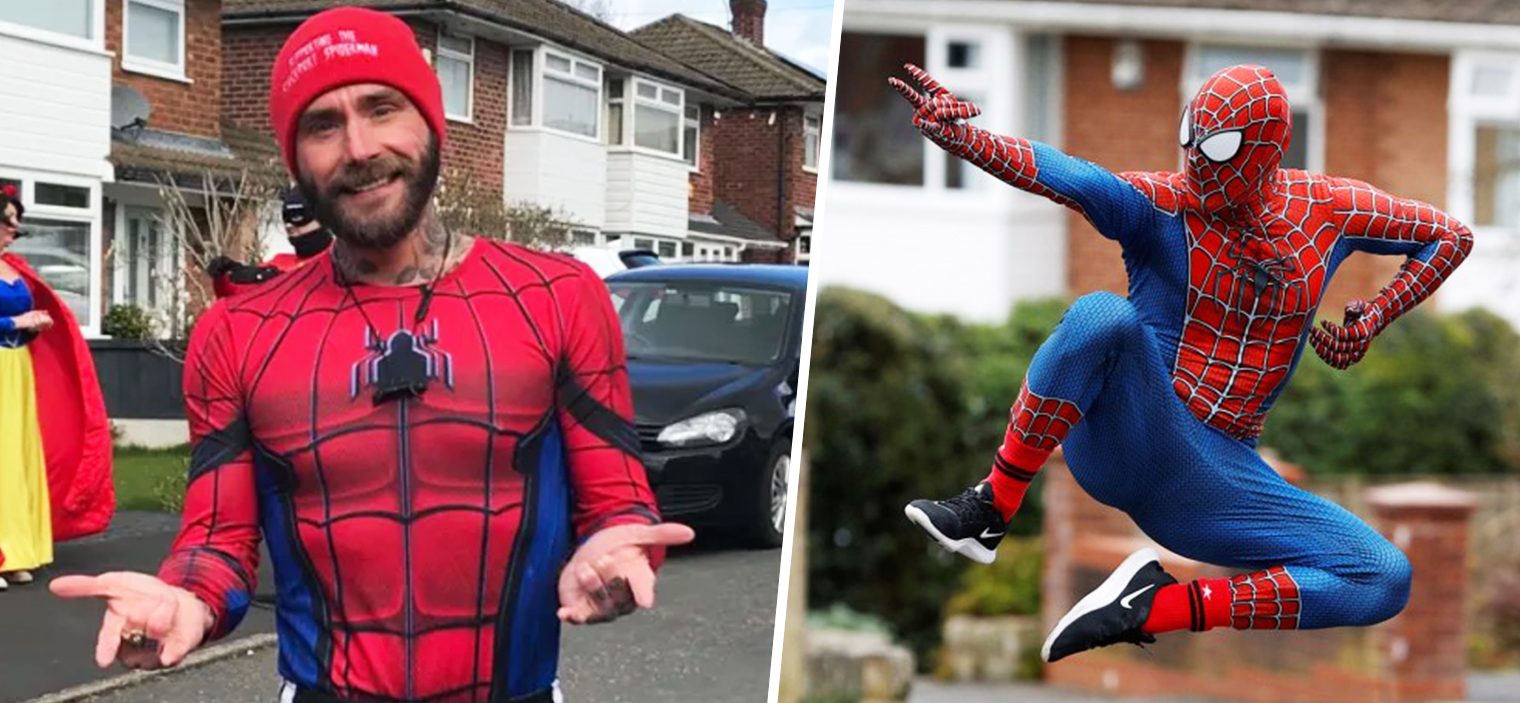 The Stockport Spider-Man has raised a whopping £14,000 and counting for suicide prevention charities after tackling three marathons in 24 hours this past weekend.
We mean it both figuratively and literally when we say that that Jason Baird has become somewhat of a local superhero since the coronavirus (COVID-19) pandemic first hit back in March of last year, as alongside his friend Andrew Baldock, he has proudly become one half of the now-famous Stockport Spider-Men and has been donning his spidey suit to weave a web of joy throughout the community while out on his daily jogs for the past 12 months.
The dad-of-two and martial arts instructor has backflipped his way through three lockdowns, and has earned himself international recognition and tens of thousands of fans in the process.
Spotting spidey on his travels has become a popular activity for the people of Stockport, with children making special 'stop here' signs for their front windows, dressing up in masks and spider suits themselves to join in on the fun, and just generally looking forward to his arrival.
While putting smiles on faces at a time when it's needed more than ever has ultimately been Jason's goal over this past year, the character's most-famous quote has remained firmly in his mind.
"With great power comes great responsibility".
It was these important words that inspired Jason to not just make a positive change through his actions, but to create a lasting legacy with them.
A lasting legacy that first saw him complete an ultramarathon – equivalent to 50 miles – by making his way across the entire Greater Manchester borough and raising over £8,000 in the process last month, before tackling his greatest mission yet over the weekend and attempting to complete four marathons / 105 miles in 24 hours.
And with a lot of training, a little help from his superhero friends along the way, and the support of the entire Stockport community behind him, Jason achieved what he set out to do.
While he ultimately made the decision to stop at just three marathons in the name of health and safety – after experiencing symptoms of exhaustion and dehydration – as well as adverse weather conditions, Jason still managed to complete an impressive 78 miles in the allotted time, and most-importantly, raise thousands of pounds for an extremely worthy cause.
This is all despite it admittedly being "the hardest thing [he's] ever done".
The organisation most-significantly benefitting from Jason's achievements this past weekend is youth suicide prevention charity PAPYRUS – a cause that is very close to his heart, especially after admitting that he has struggled with his own mental health in recent months, and has sadly lost a friend to suicide during the first lockdown.
The charity says that suicide is the biggest killer of under 35's in the UK, and it's believed that around 200 school-aged children take their own lives each year.
Jason's latest challenge has now seen his JustGiving fundraising page clock in at over £14,690 for PAPYRUS, and that's on top of the £75,000+ he's already raised for a collection of charities within the last 12 months alone.
The ultimate goal is to raise £100,000 for PAPYRUS – and Greater Manchester's with him every step of the way.
___
If you've been inspired by Jason's story and his outstanding achievements over this past year, you can show your support for an extremely worthy cause by contributing to the goal of raising £100,000 for PAPYRUS via his JustGiving page.
You can also follow along with the Stockport Spider-Men adventures here.
And don't forget to keep your eyes peeled and stay tuned for more Stockport Spider-Men missions coming in 2021 too.
More information about PAPYRUS can be found here.