Trending
The Weeknd's giant view-blocking moon balloon has upset his Manchester audience
'Stupid moon got in the way'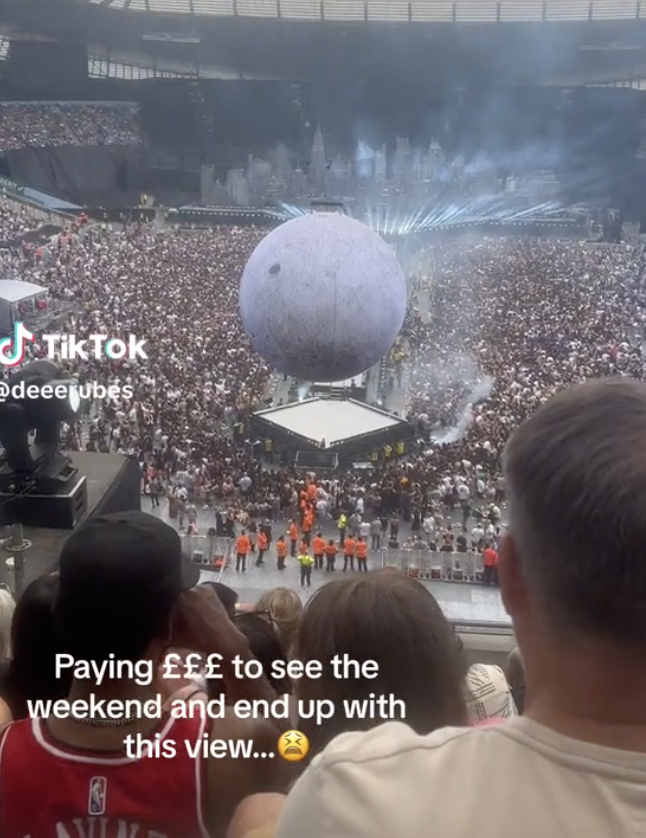 Part of The Weeknd's incredible stage design is a giant, glowing moon – but for some unlucky gig-goers in Manchester at the weekend, the spectacle was a proper nuisance.
The star has been showing off a huge production while touring his The After Hours Til Dawn tour, which was in Manchester on Saturday night.
It includes robots, fire, a huge stage and that awe-inspiring moon, which glows and hovers above the stage.
The impressive moon prop is actually a giant balloon that's inflated before The Weeknd, real name Abel Tesfaye, hits the stage.
And while it looks stunning from most angles, sections of The Weeknd's audience at The Etihad Stadium have slammed it as being 'stupid'.
It's been a recurring problem since the tour began, with gig-goers across the planet making jokes about the big view-blocking moon.
It seems to affect ticket-holders in the seating areas at the back of the stadium.
From Manchester, one person wrote: "When you think you've got amazing seats for the @theweeknd #AfterHoursTilDawn and then a big ass moon descends to ruin you view. Amazing performance but what was the set designer thinking!"
Another person tweeted: "No one is going to tell #TheWeeknd to get rid of the stupid moon??????? It steals visibility it shouldn't be permitted to sell tickets like this."
Someone else complained that they 'didn't come to see you on a screen'.
There have been similar complaints posted on TikTok, with one person writing: "Paying £££ to see The Weeknd and end up with this view…"
And another video said: "POV: the whole concert was blocked by this inflatable moon."
Yeah until this stupid blocking moon got in the way pic.twitter.com/y6o1YJSqZn

— charlotte hughes (@HughesDolphinz) June 10, 2023
Why the big moon blocking all our view 🥲 Didn't come to see you on a screen 😡 pic.twitter.com/8LxB79LY9q

— Natalie (@xNataliaxox) June 10, 2023
Set design and big moon aside, The Weeknd's concert has been hailed a huge success, with rave reviews from critics.
The Manc has approached representatives for The Weeknd for comment.
Featured image: TikTok, @deeerubes