Trending
Viral walrus Freya, who kept napping on boats, has been euthanised
People were repeatedly told to keep their distance from the walrus.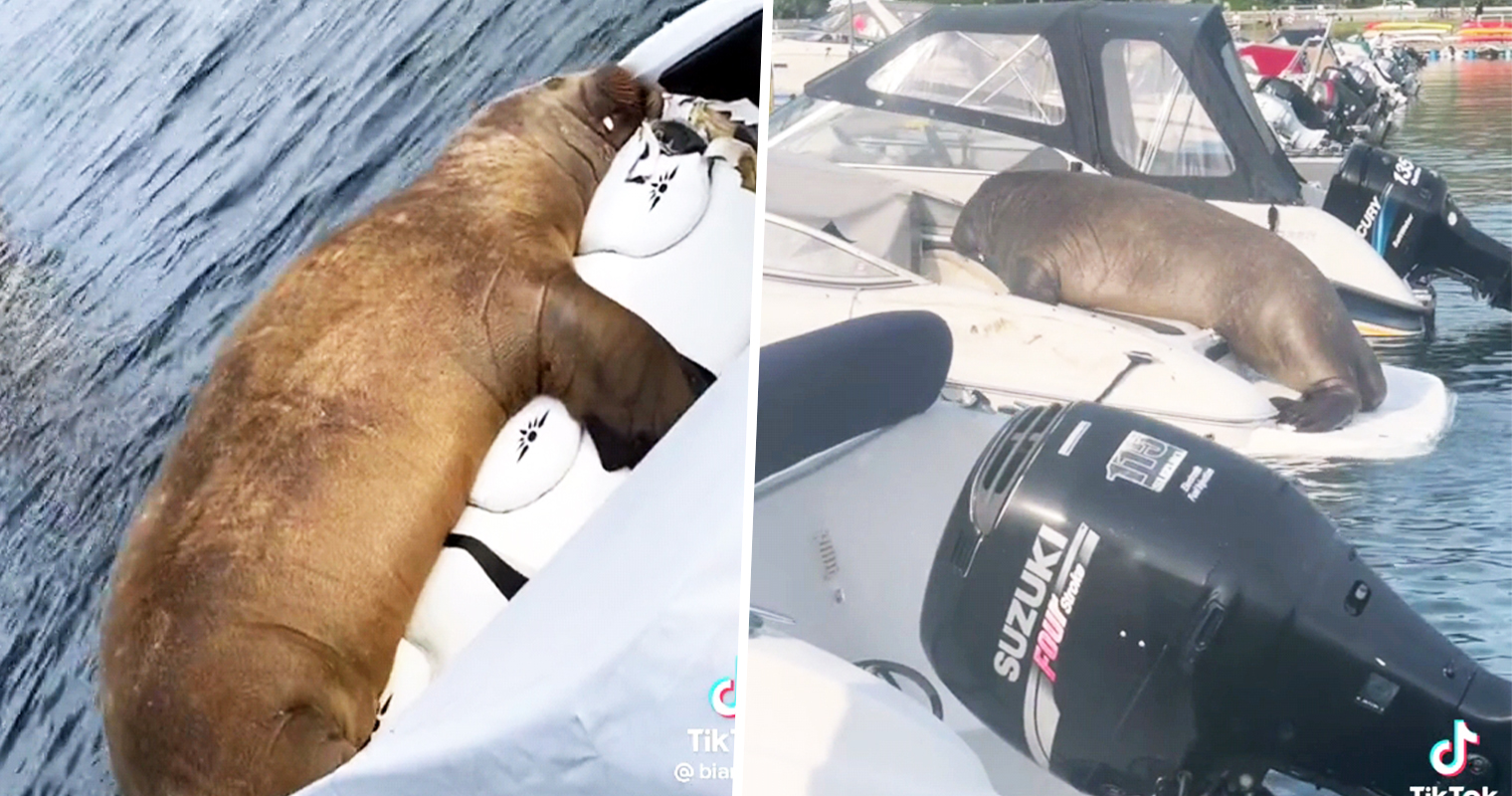 A walrus who had gained internet fame in recent weeks after repeatedly clambering onto boats for a nap has been euthanised.
The animal, who was named Freya, was put down due to a 'threat to human safety'.
She had been frequently photographed in recent weeks hauling her huge body onto dinghies around the Oslo Fjord in Norway, sometimes sinking them.
But despite warnings to keep a clear distance from Freya – who weighed around 600kg (or 1,300lb) – people have continued to crowd around to see her.
Local media reported that a bathing area even had to be closed after she chased a woman into the water.
It's led to the decision to have the walrus put down, as the 'potential harm to people was high'.
A statement from Director General of Fisheries, Mr. Frank Bakke-Jensen, confirmed that Freya was put down 'in a humane fashion' by highly skilled and trained personnel.
He said: "Through on-site observations the past week it was made clear that the public has disregarded the current recommendation to keep a clear distance to the walrus.
"Therefore, the Directorate has concluded, the possibility for potential harm to people was high and animal welfare was not being maintained."
Director general Bakke-Jensen added: "We have sympathies for the fact that the decision can cause reactions with the public, but I am firm that this was the right call. We have great regard for animal welfare, but human life and safety must take precedence."
People have said that those who continued to get close to the walrus despite the safety and welfare warnings 'should be ashamed of themselves'.
Read more: 10 takeaways in Oldham ordered to close after 'uncontrolled pest infestations'
One person said on Twitter: "They killed Freya the Walrus because 'people were getting to close to it' – literally just sums up the disgrace and audacity of humanity."
Another said: "Now they've killed Freya, the gentle walrus who meant no harm to anyone. It's indefensible. Wild animals increasingly have no safe place in this world. Every single person who ignored the warnings should be deeply ashamed. She had her whole life to live."
Someone else commented: "Killing Freya the walrus because "people were getting too close to her" is peak human entitlement. We think we alone own this planet."
Featured image: TikTok, @bee6inner / @bianchalj