Trending
What's the story of the iconic soldiers statue in front of Manchester Piccadilly station?
'Victory Over Blindness' is a poignant memorial to soldiers who suffered sight loss in battle.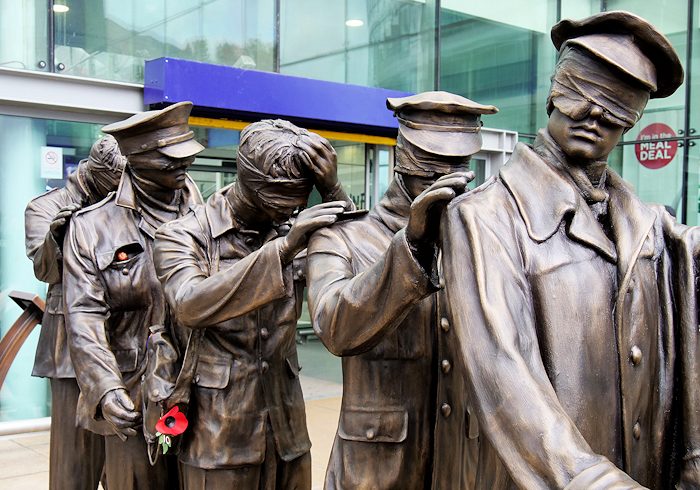 It's a sombre sight you're sure to have seen.
The bronze sculpture right outside the front of Manchester Piccadilly station depicting seven life-sized soldier figures wearing blindfolds and guiding one another has been well-received by many for its "moving" subject matter since it was first erected back in October 2018, and has been described as "striking" for its interaction with passers-by at eye level – but what exactly does it mean?
What's the message behind it? And why is it here in Manchester city centre?
This is the story of Victory Over Blindness.
Commissioned by national ex-service person sight loss charity, Blind Veterans UK, to mark the centenary year of the First World War in 2015 and realised by artist and sculptor Johanna Domke-Guyot, 'Victory Over Blindness' is a poignant memorial to soldiers who suffered loss of sight whilst fighting overseas.
The industrialised nature of the First World War – which lasted from 1914 to 1918 and saw the deaths of an estimated 886,000 British and Commonwealth military personnel, as well as countless more injured – made for unfathomable human suffering, with around 30,000 of the wounded discharged with damaged or defective eyesight and of these, 3,000 were left permanently blinded.
This came as a result of a number of circumstances, particularly the dreaded Mustard Gas attacks, as well as head injuries, shrapnel from artillery fire, stray bullets and fractures all contributing to the growing number of men returning from the war with sight loss.
And so, to serve as a stark reminder of these tragedies, the statue was commissioned.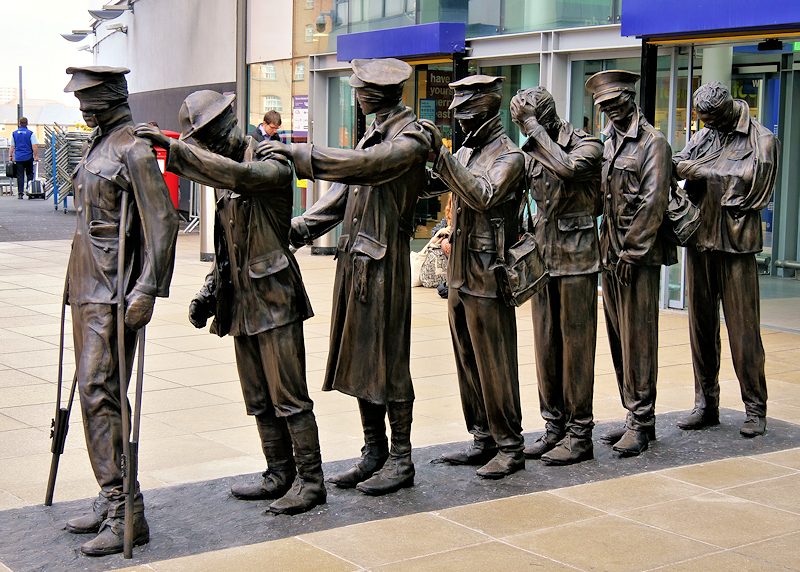 Unveiled in October 2018 to "commemorate the amazing achievements" of the blind veterans supported by Blind Veterans UK since the end of WWI, the 'Victory Over Blindness' statue depicts seven blinded soldiers leading one another away from the battlefield with their hand on the shoulder of the man in front.
The phrase 'victory over blindness' was first used by Blind Veterans UK founder, Sir Arthur Pearson, and is a motto that continues to guide the charity's principles today.
Inspired by a photograph the sculptor Johanna Domke-Guyot saw of WWI veterans, blinded in combat, leading one another from the front, what makes 'Victory Over Blindness' different from other statues or sculptures of lifelike individuals is that it was decided it should be situated on the ground and at eye level to engage passers-by, rather than on a plinth or platform.
This choice was primarily made to highlight the notion that the sacrifices of those on the frontline in WW1 should not be forgotten.
"People will be able to touch them, I want it to become a people's piece," Ms Domke-Guyot said.
Although Blind Veterans UK is a charity located in London and Brighton – and now in Llandudno too – Manchester was chosen as the site to host the memorial permanently as it was known as a disembarking point for many soldiers returning from the war with life changing inflictions.
"There is no more appropriate location for this statue." a statement on the Blind Veterans UK website reads.
"The convalescent camp at Heaton Park in Manchester treated and trained thousands of wounded First World War soldiers and sailors, including many with sight loss [and] we hope that it will continue to inspire the people of Manchester, and beyond, for many years to come".
The statue is an empowering testament to the ability to overcome physical afflictions and serves as a reminder of the crucial role that charities play in rehabilitating wounded soldiers.
Over two years on, 'Victory Over Blindness' continues to strike a chord with Mancunians.
Featured Image – Flickr