Sponsored
Everything you need to know ahead of the 2023 Great Manchester Run
It's nearly that time again and we can't wait.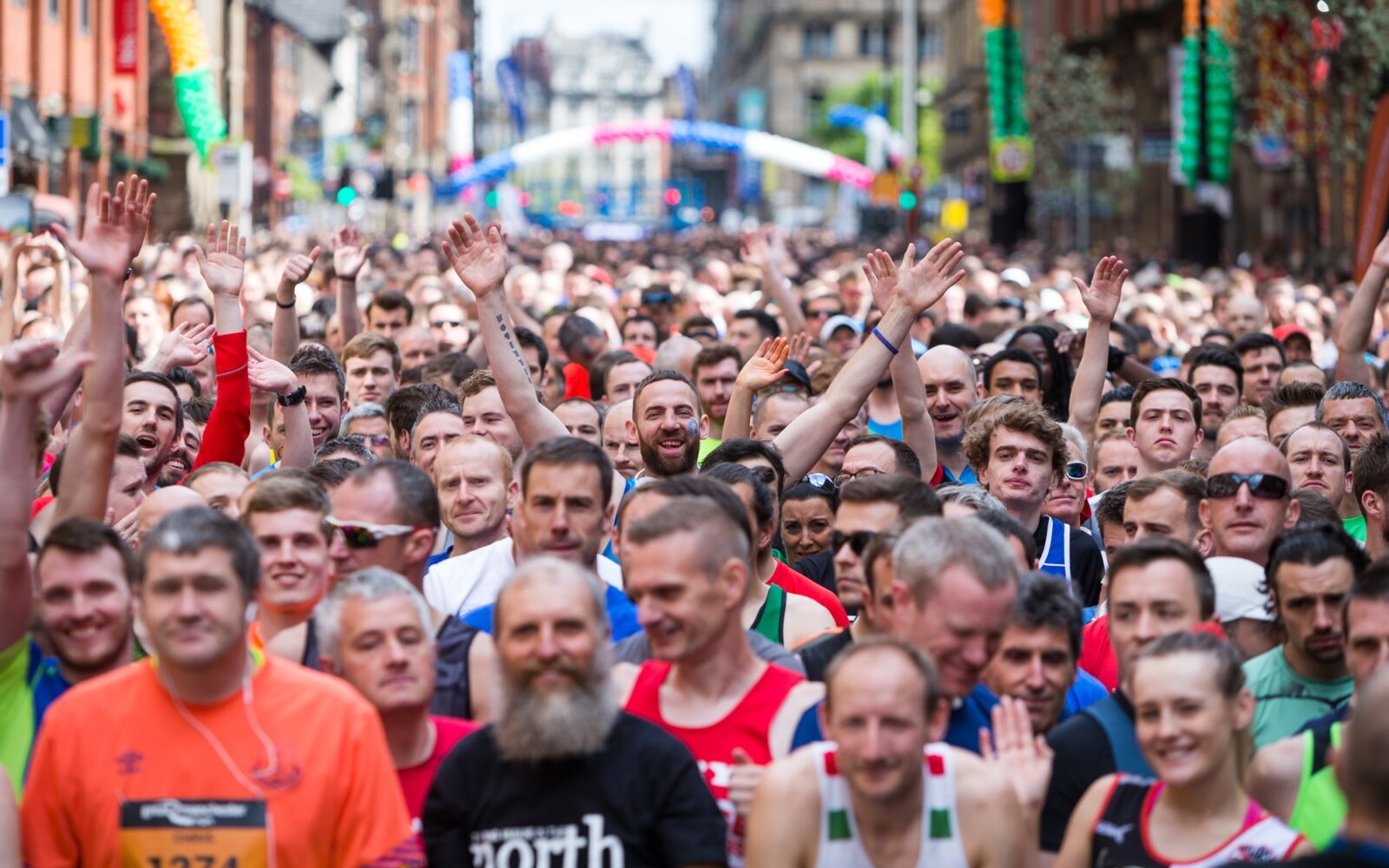 We're now just six weeks out from the 2023 Great Manchester Run and while tens of thousands have already signed up, countless more are set to join in for the event's 20th anniversary.
It doesn't matter whether you're an experienced runner or a complete newbie, the Great Manchester Run is a wonderful staple in the city centre's annual calendar, with enormous crowds gathering every year to cheer on those taking part. It really is one of those days you don't want to miss out on.
Luckily, there's still plenty of time to sign up and for anyone on the fence, we want to make sure you have everything you need to not only persuade you to get involved but to make sure you feel prepared.
That being said, here's how the day is going to look if you're getting involved:
Great Manchester Run route, baggage holds and starting location
Once you're all signed up and have found out what wave you're in, it's just a case of getting where you need to be and limbering up for your big moment. The half marathon, 10K orange wave and 10k pink wave access the assembly area via Princess Street. As for the HM red wave, 10k green and 10k purple, you can access the assembly point by Charlotte Street.
If you're looking for where to store your bags, there are two separate areas: one at Manchester Central foyer and then the baggage buses on Jackson Row.
Runners will then gather on the corner of Portland Street and Oxford Road — yes, the one right near the Maccies — and before you set off for what we hope is a personal best (I mean, it will be if this is your first!) — you'll take part in a big group warm-up.
And the best part is, you'll have a full team of instructors with megaphones to talk you through everything you need to do during the warm-ups. No more random and ill-executed stretches based off something you saw on the telly once. Here are the routes for the Great MCR 10k and Half Marathon: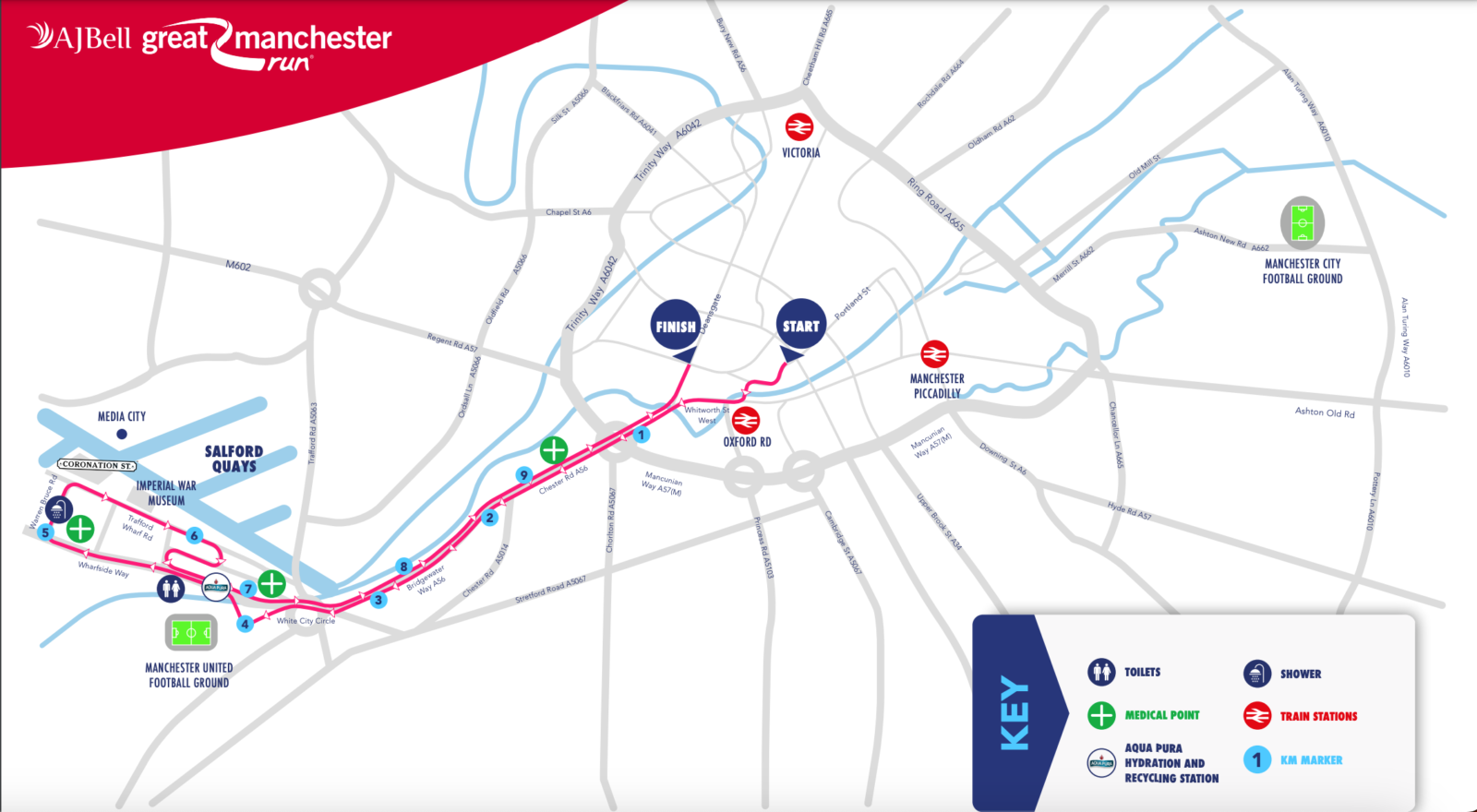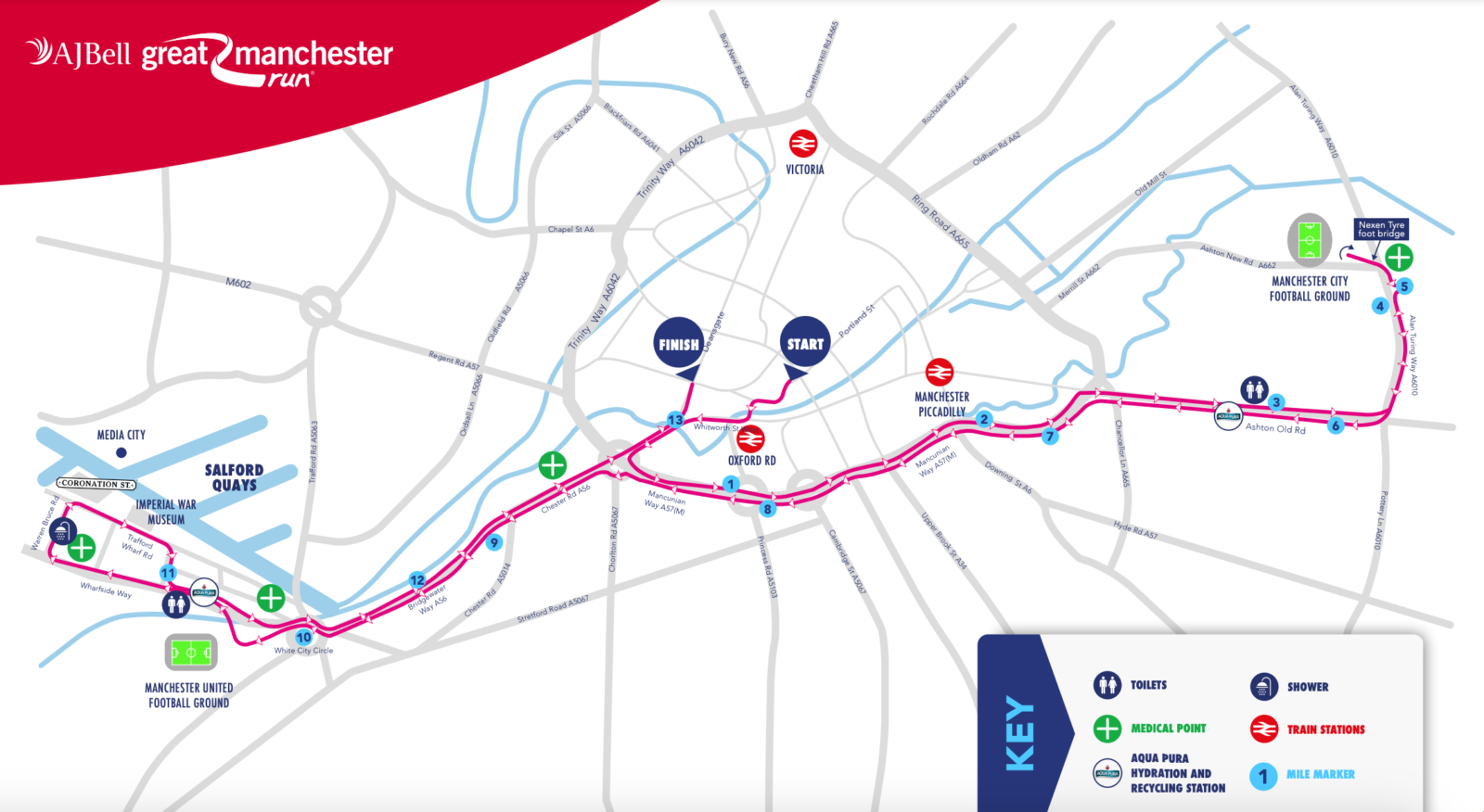 Great MCR Run timetable
Half marathon
07:30 – Event site open
08:20 – Warm-up
08:29 – VI Half marathon wave start
08:30 – Orange wave start
08:47 – Red wave start
10K
09:04 – Elite wheelchair (10k) race start
10:25 – Junior and mini-wave start
11:15 – Elite women start
11:18 – Orange, red and green wave warm-up
11:30 – Elite men and orange wave start
11:49 – Red wave start
11:53 – Green wave start
12:25 – Pink and purple wave warm-up
12:36 – Pink wave start
12:54 – Purple wave start
As for when it finishes, that's up to you, folks!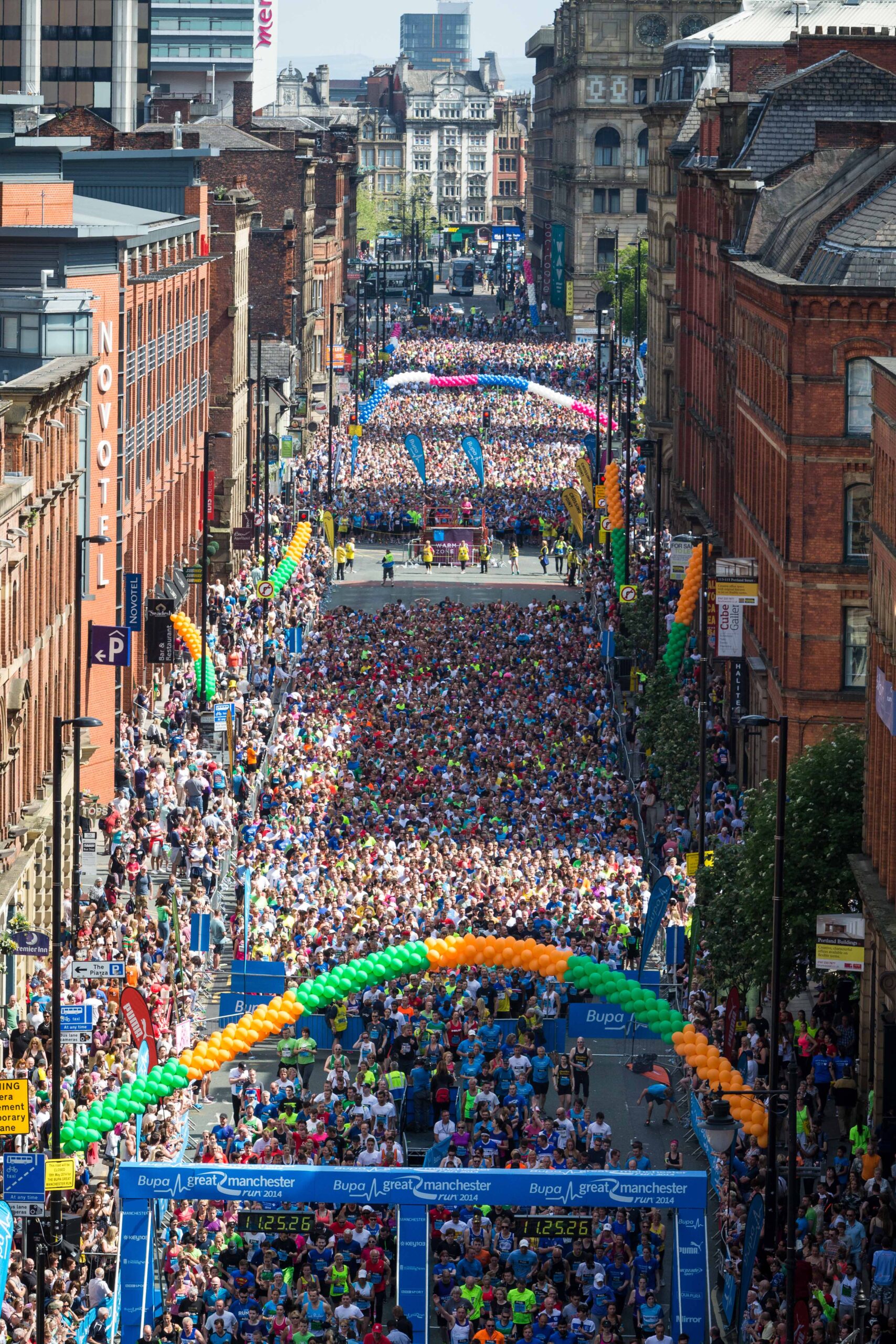 Training plans
As mentioned, you've still got plenty of time to get yourself ready to race on the 21 May and not only are the Great Run organisers allowing people to enter right up until the Friday before the event, but they've also put together bespoke training plans for each distance, all designed by the experts.
Don't worry if you feel like you might not be on track, the plans are broken down into different time periods and are merely a guideline to help you feel ready for the day — people from all ages and capabilities turn up for the Great MCR Run and adjust accordingly, you're going to smash it, we're sure.
In fact, they've even got Scottish long-distance runner Eilish McColgan who set the British 10k record just last week as their official ambassador this year, and you can even follow her training tips and advice hub for this year's event.
Post-race festivities + medal and shirt collection
Another thing we love about the Great Manchester Run is that it's always party from start to finish and this year promises to be bigger than ever.
With music zones, big speakers and live bands at virtually every turn, not to mention roaring charity cheering squads and the incredible local support lining streets to cheer you on, it's an experience like no other. The timed pacers will be even going further to spur you on this year by blasting out tunes all along the course too, meaning you'll never be short of motivation.
Once you've finished, all the runners, along with their families and friends, can kick back, relax and enjoy the post-race celebrations in the Après Run Zone, where there'll be food, drinks and a live DJ to make sure you're refreshed and the vibes are immaculate after it's all said and done.
Lastly, one of the best bits about taking part in a big run like this is getting the customary shirt and medals to prove it and, luckily for those taking part, this year's Great Manchester Run commemorative shirt and finisher's medal — inspired by the 20th anniversary of the event — are both belters.
Great Manchester Run road closures and travel advice
Now, if you're coming from out of town or simply wondering the best way to get about on the day, Transport for Greater Manchester (TfGM) are advising people to take public transport wherever possible due to the increased traffic and numerous roads being closed throughout the day.
Fortunately, as well as the likes of Piccadilly, Oxford Road, Deansgate and Victoria train stations, Manchester is famous for its Metrolink tram network, which has a total of 99 stops, many of which are right where you need to be for the run itself.
You might also be treated to a special announcement by Sir Mo Farah on your journey, as the Olympic legend intends to retire shortly after the 2023 Great Manchester Run.
The nearest stops to the start and finish lines are St Peter's Square and Deansgate-Castlefield, respectively — you simply just need to tap on and tap off to pay for your journey. When in doubt, you can always use the TfGM website to plan your journey and live updates will be available via their Twitter.
As for road closures, you can see a full interactive map down below to find out what's shutting from when and what time it'll be back open:
As for any last-minute queries — say if you haven't received your race number yet or need to pick up your pack in person — you can visit the AJ Bell branded marquee on Great Northern Square on Saturday and Sunday, which is open from 10am-4pm on Saturday and 7.30am-3pm on Sunday.
Read more:
As always, the whole thing will be televised on BBC from 11am until 1pm and there are plenty of places for family and friends to line the street and cheer you on.
With Mo Farah also set to push through his penultimate race before hanging up his racing shoes for good too, you'll be running alongside greatness, or rather he will be — this day is all about you lot.
Marking two decades of Mancs running their socks off for good causes, a sense of pride and simply to be part of this wonderful city-centre occasion, the 2023 Great Manchester Run is sure to be better than ever.
Here's why:
Sign up for the Great Manchester Run 10k or half marathon HERE.
For all the latest news, events and goings on in Greater Manchester, subscribe to The Manc newsletter HERE.
Featured Image – AJ Bell Great Manchester Run