What's On
A pop-up cinema is coming to Manchester's Victoria Baths this Valentine's Day
The Village Screen is returning to Manchester to transform the unique and historic venue into a "Cupid-approved" cinema.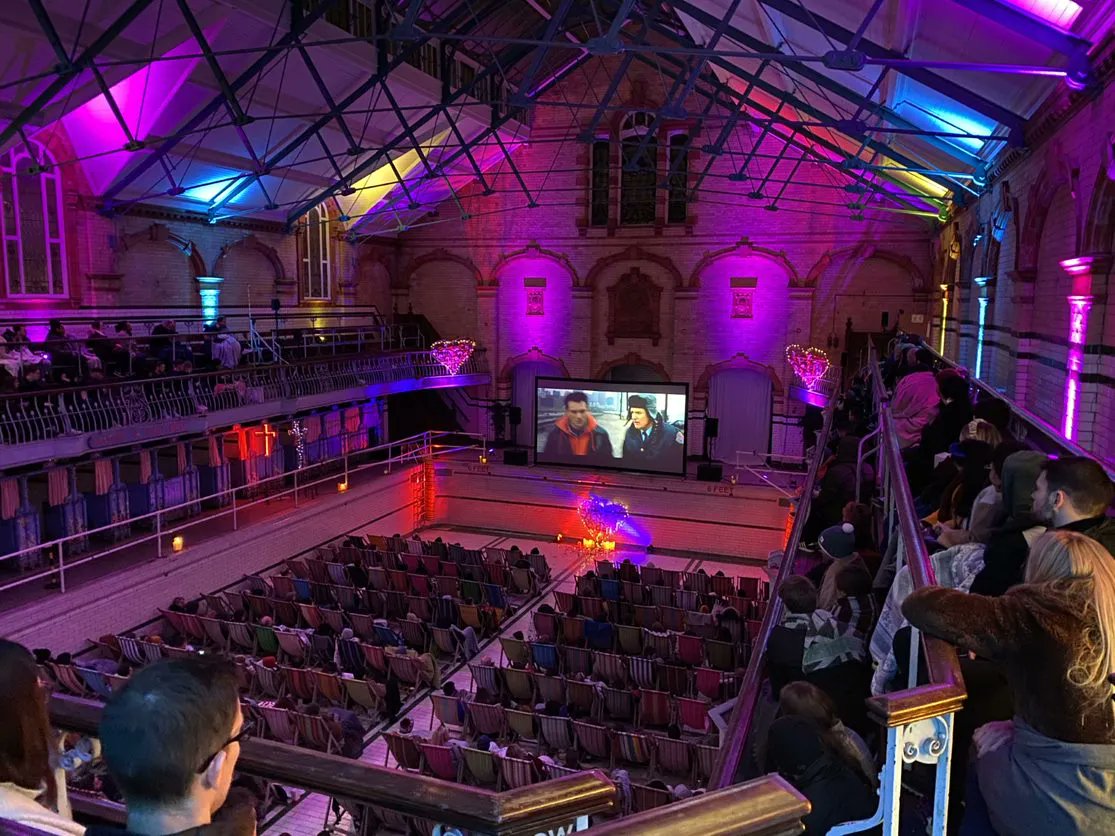 Victoria Baths will become home to a pop-up cinema screening comedy and romance classics to celebrate Valentine's Day.
With the annual day of love only a few weeks away now, independent event production company The Village Screen is returning to Manchester next month to transform this unique and historic venue into a "Cupid-approved pop-up" cinema for Valentine's – and Galentine's – with a handful of film favourites on the agenda.
Tina Fey's 2004 cult classic comedy Mean Girls will be screened first on Thursday 10 February to celebrate Galentine's Day.
Never heard of of 'Galentine's Day'? Coined in 2010, the second season of hit US mockumentary show Parks and Rec included an episode called "Galentine's Day" where the main character Leslie gathered a group of her closest gal pals on the day before Valentine's Day for a brunch full of waffles and love – and it's taken off ever since.
The next flick on the lineup is the 1994 dark, funny, and violent film True Romance, which has a screenplay written by legendary director Quentin Tarantino, and stars Christian Slater and Patricia Arquette.
True Romance will be show on Friday 11 February to celebrate Valentine's Day.
You can choose to snuggle down on candy-striped deckchairs inside the old Gala Pool, or on the original wooden seating that overlooks the empty pool on the Balcony level.
There'll be a delicious selection of independent street food traders on site, as well as a number of drinks and snack options – including hot chocolates, themed-cocktails, Prosecco, freshly-cooked popcorn, and more – and to make your experience that little bit more special, you can even write a love letter to your special someone which will be shown on the big screen before the films begin.
Or you can add a 'snuggle package' to your ticket too to make it an extra cosy date night to remember.
The Village Screen – which have been hosting cinematic events at Victoria Baths since 2016 – are a small, independent event production team known for running experiential cinematic events in various cities across the UK for the past six years.
Victoria Baths first opened in 1906.
With no expense spared in the design and construction of the building, the façade has multicoloured brickwork and terracotta decoration, the interior spaces are clad in glazed tiles, most of the windows have decorative stained glass, and at the opening ceremony of the venue, the Lord Mayor described it "a water palace of which every citizen of Manchester is proud".
For 86 years, the baths provided both essential and leisure facilities, with private baths and a laundry housed there alongside three swimming pools and Turkish Baths, and in 1952, the first public Aeratone (Jacuzzi) was installed.
Although the baths were closed in 1993, the Grade II listed building is still intact, with most of the stained glass and original tiling remaining – and now, it's being transformed into a cinema.
You can find out more information, and grab your tickets here.
Featured Image – Victoria Baths