A festival full of food and live music is coming to Deansgate Mews at Great Northern Warehouse this weekend.
Completely free to attend and spanning three-days, The Deansgate Mews Street Festival will celebrate the eclectic independent food and drink businesses on the street, alongside welcoming 30 different music acts.
The festival will feature live music all weekend from the outdoor stage at The Lion's Den. 
On the music line-up this year are local acts such as Laura Farrow, Ash Palmer, Kate O'Malley, Uno Mass, Broke Casino, and indie-rock band The Siennas will be taking centre stage to entertain guests.
As well as live music, there will also be some delicious BBQ offerings from Deansgate Mews' stylish new artisan shop, The Butcher's Quarter. Already a massive hit with locals, The Butcher's Quarter offers a selection of the highest-quality, locally-sourced cheeses and meats and also offers stylish tasting rooms for guests to experience tasty platters inspired by butchers and delis on the back streets of Rome.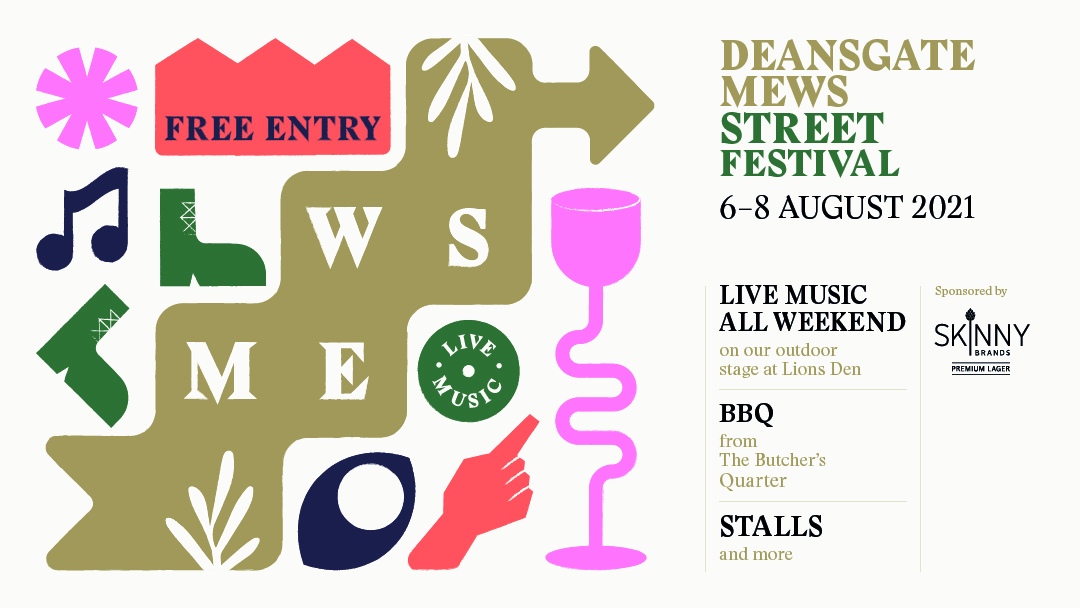 On top of that, there'll be be a pop-up Gift Emporium at the festival – which will host a variety of market stalls that offer a range of quirky gifts from sellers across Manchester.
"We're extremely excited to take part in the Mews Street Festival and offer the people of Manchester the freshest and most scrumptious meats, cheeses and wines," said Graeme Hogg, Owner of The Butcher's Quarter.
"With everyone that is lined up, it looks like this festival will be one to remember."
Market stalls at the Deansgate Mews Street Festival will be charged at £10 per day and these fees will be donated to local community charity, Forever Manchester, which is the only charity that raises money to fund and support community activity across Greater Manchester. 
Any donations made by guests will be collected onsite and also given to Forever Manchester.
And while the festival is free to attend, visitors can also join in the online raffle – where they can win an amazing bundle of culinary prizes courtesy of some of Great Northern's finest establishments, with all profits going to the charity.
"We are delighted to once again be hosting The Deansgate Mews Street Festival," said Mark Schofield, centre director at the Great Northern Warehouse.
"It was always our ambition to make this festival an annual part of the Great Northern calendar and it feels amazing to be able to welcome Mancunians for a free weekend of music, accompanied by food, drink and shopping, after a year's break due to the pandemic."
The Deansgate Mews Street Festival
Friday 6 – Sunday 8 August 2021
Deansgate Mews, Great Northern Warehouse, M3
___
StreamGM and The Manc have teamed up to show some some serious love and support to the region's renowned theatres, nightclubs, and live-music venues with the launch of SeeGM – a digital campaign to shine a bright spotlight on many of the amazing events, club nights, gigs and shows in our region.
You can find out more here.
#SeeGM
___
Featured Image – Facebook (Great Northern Warehouse)