What's On
Hundreds of soft toys are set to be thrown on the ice at the next Manchester Storm game — here's why
A wholesome hockey tradition we can well and truly get behind.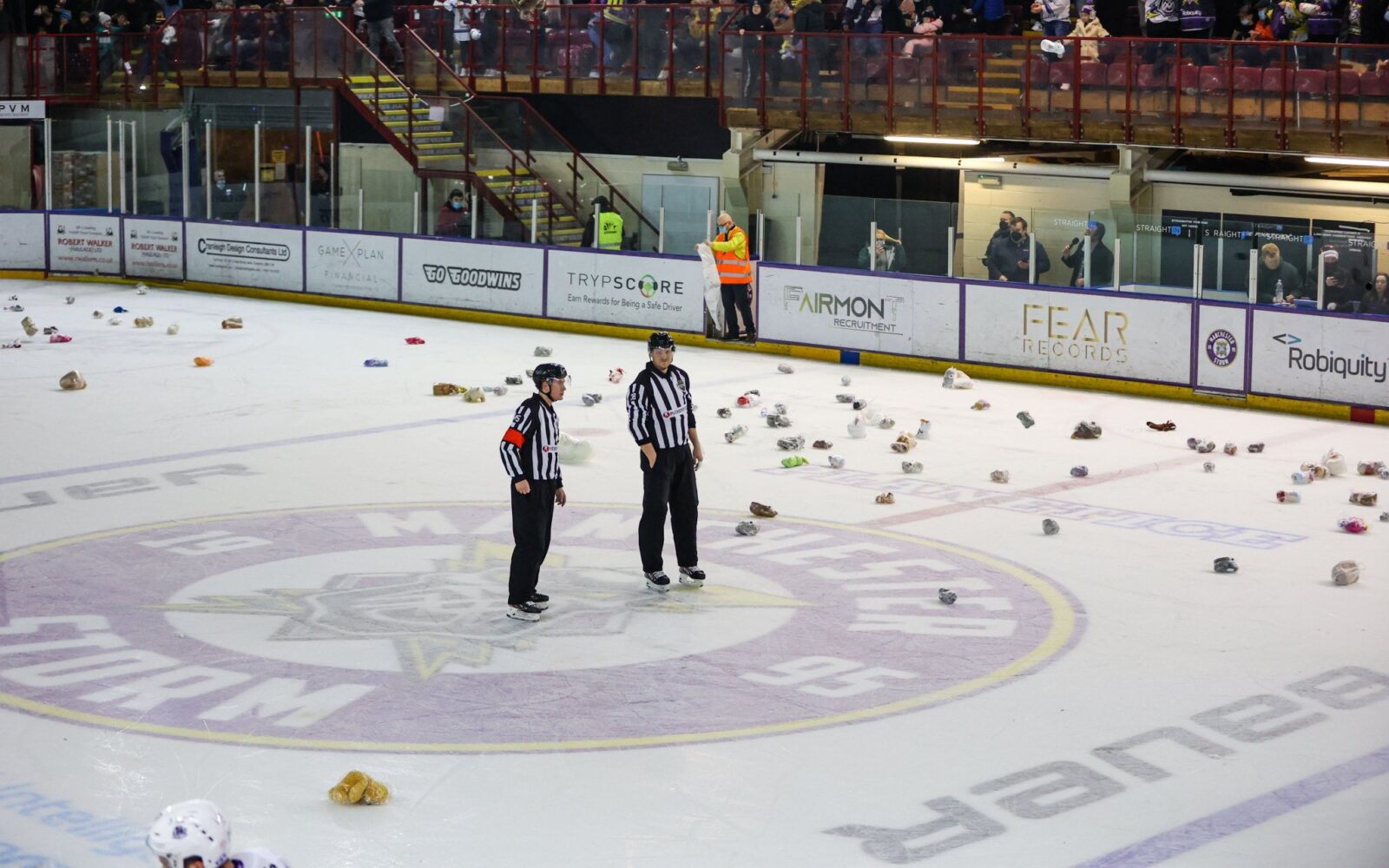 Hundreds of teddy bears and soft toys are set to be thrown onto the ice at the next Manchester Storm home game in a wonderful charity drive for local children.
Manchester's premier ice hockey team play the Belfast Giants in Altrincham this weekend and on top of the action inside the rink, supporters watching in the stands are being asked to bring plenty of plush toys for the iconic 'Air the Bear' ritual.
A popular tradition throughout hockey around the world during the festive period, Air the Bear is a pretty simple concept: fans bring along teddy bears and other soft toys and once the first point of the game is scored, the toys are thrown onto the ice and collected.
Once they are all gathered up, the mass of toys will then be donated to local charities and hospitals around the Greater Manchester area. You love to see it.
How did Air the Bear start?
The wholesome tradition began back in the '90s by WHL team, the Kamloops Blazers. Historically called the 'Teddy Bear Toss', the first volley of soft toys was launched on 5 December 1993.
Organised by the Marketing Director, Don Larson, as a way of helping out families over Christmas, the first goal of the evening was scored by Brad Lukowich and the charitable trend has been carried out by countless teams every year ever since under various monikers.
The biggest-ever Teddy Bear Toss was carried out in 2019 by the appropriately named AHL side, the Hershey Bears, when a world record 45,650 stuffed toys were thrown onto the ice.
Just look at how mint this looks.
Here's hoping the popular Manchester hockey team puts in a similarly good showing and managed a massive pile of teddies for Royal Manchester Children's Hospital and more.
Most importantly, this unique and heartwarming international toy drive supplies millions of children every year and the Air the Bear is one of hundreds around the world.
Read more:
How you can get involved
Manchester Storm's Air the Bear event takes place at 7pm this Saturday, 17 December (doors at 6pm) at their home stadium, Planet Ice Altrincham.
If you want to come along and give the gift of a cuddly toy this holiday season, be sure to wrap your toys in clingfilm so they don't get wet from the ice and while you can donate your old used teddies, just be sure to give them a clean before bringing them along.
More than 1,000 tickets have already been sold — you can grab yours HERE.
For all the latest news, events and goings on in Greater Manchester, subscribe to The Manc newsletter HERE.
Featured Image — Manchester Storm (via Twitter)