What's On
Manchester's new '50 Windows of Creativity' art trail is opening next Monday
The trail is opening next Monday 26th October and will run through to Saturday 5th December 2020.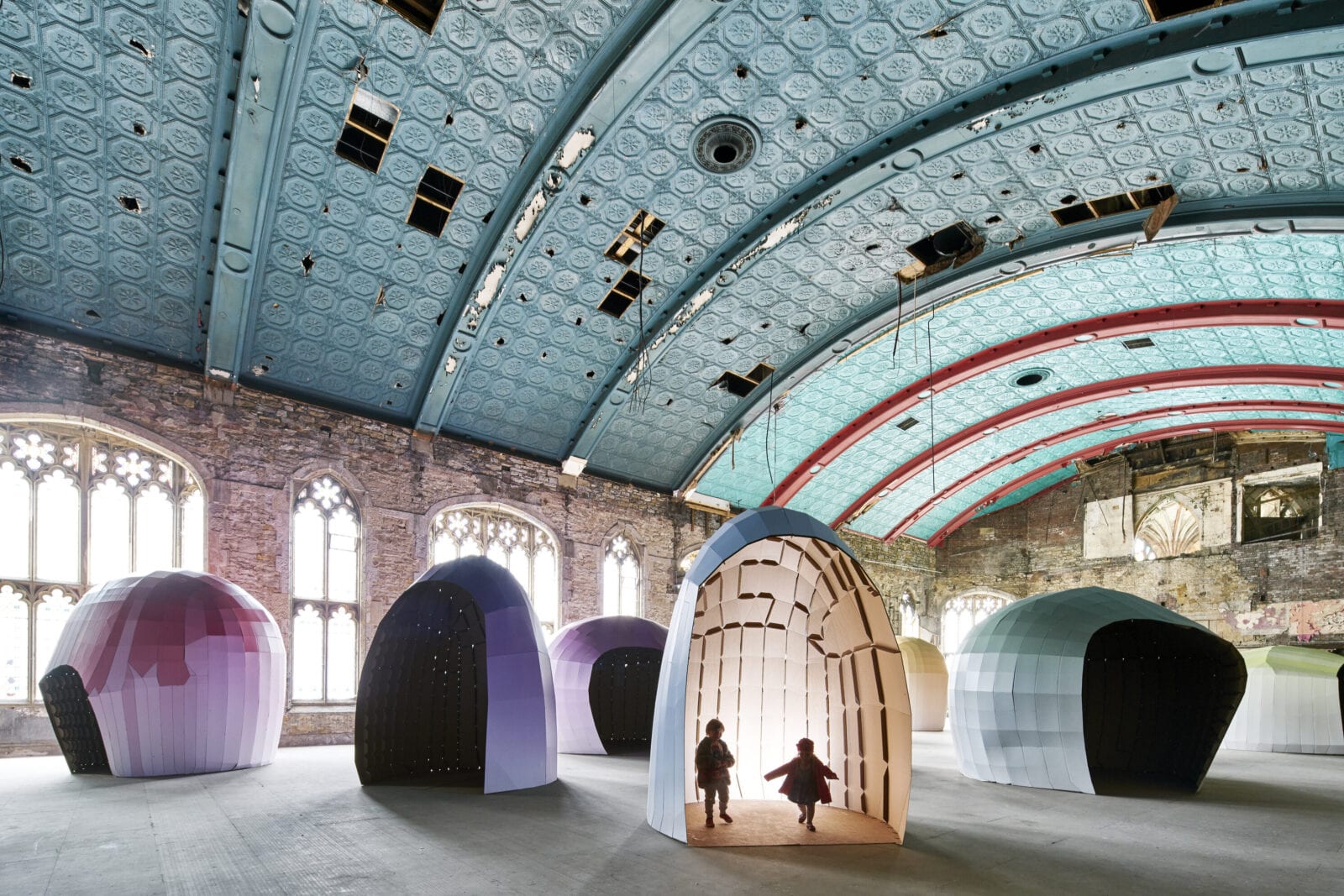 A brand new art trail is arriving in Manchester city centre next week and it's set to shine a light on the incredible work of local artists and makers.
50 Windows of Creativity is a new art trail celebrating Manchester's rich creative culture which will see a huge array of spectacular mosaics, installations, fine art, photography, craft, murals and more pop up in windows, venues, businesses and spaces right across the city centre.
Created by the team behind the award-winning Bee in the City event, 50 Windows of Creativity will aim to transform Manchester into an innovative art gallery and take visitors on a colourful, inspiring and COVID-safe journey around the city centre.
The trail – which is supported by Manchester City Council and event partners Auto Trader and Dandara Living – will seek to raise money for the artists involved, and also the Lord Mayor of Manchester's Charity Appeal Trust – the We Love MCR Charity.
Visitors to the trail will be able to explore the city via the 50 Windows of Creativity app and a specially-designed interactive trail map.
Each of the 50 Windows of Creativity displays can be found in windows and spaces around Manchester city centre and can be enjoyed within necessary social distancing regulations, so all visitors are encouraged to maintain a safe distance, wear a face covering when appropriate, and be respectful to other trail visitors.
The trail is opening next Monday 26th October and will run through to Saturday 5th December 2020.
So, what's in store then?
What can visitors expect ahead of next week?
The trail celebrates the rich and varied culture of Manchester itself and visitors passing ChriSalon on Princess Street might spot Ric Facchin's miniature Manchester Builds, which immortalise some the city's best buildings at their moment in time, whilst the new Kimpton Clocktower Hotel will display a mosaic work by Mary Goodwin, featuring a tryptic of historical Mancunians who are famous by name but not so famous by face.
If you head onto Deansgate, Classic Football Shirts will present mosaicist Mark Kennedy's replica of the 20/21 Premier League Manchester City Football Club shirt – the design of which was inspired by his work – and Sarah Connell's Manchester cityscapes of the Etihad Stadium and Old Trafford can be seen at Wesley Barrell.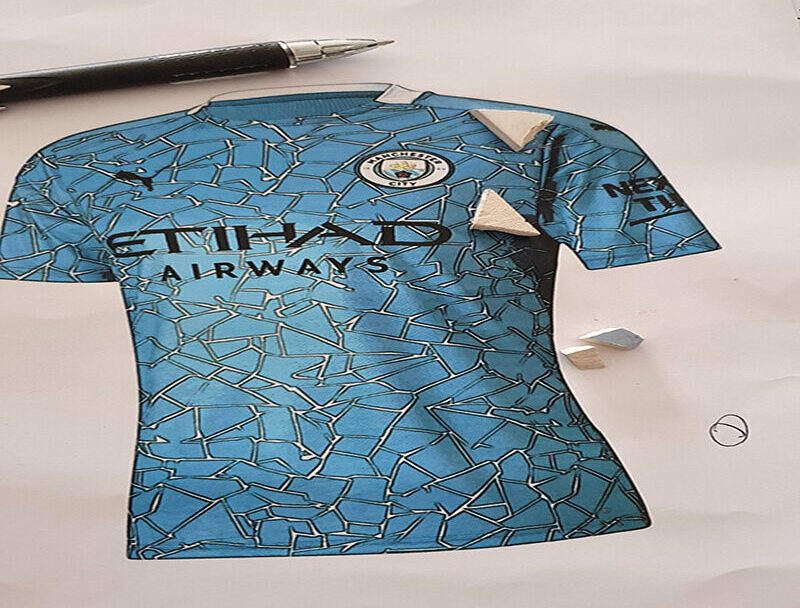 Many of the works will showcase creativity sparked by lockdown.
Sneaky Raccoon's work in Hobs Repro is inspired by the plants and flowers that she photographed while on walks around her neighbourhood and reflecting the sentiment of re-wilding and regrowth.
Others bring a sense of fun and discovery, with Playhouse from Barney Ibbotson Illustration, Ben Clark Design and Playground shown at Hilton House in partnership with Design Manchester bringing to life some of the entries to a global reaching competition to design something to enable people to play at home during lockdown.
Artist and maker Lazerian (Liam Hopkins) will present Curiosity Killed the Cat, which is a conceptual art piece that will morph and change throughout the duration of the project.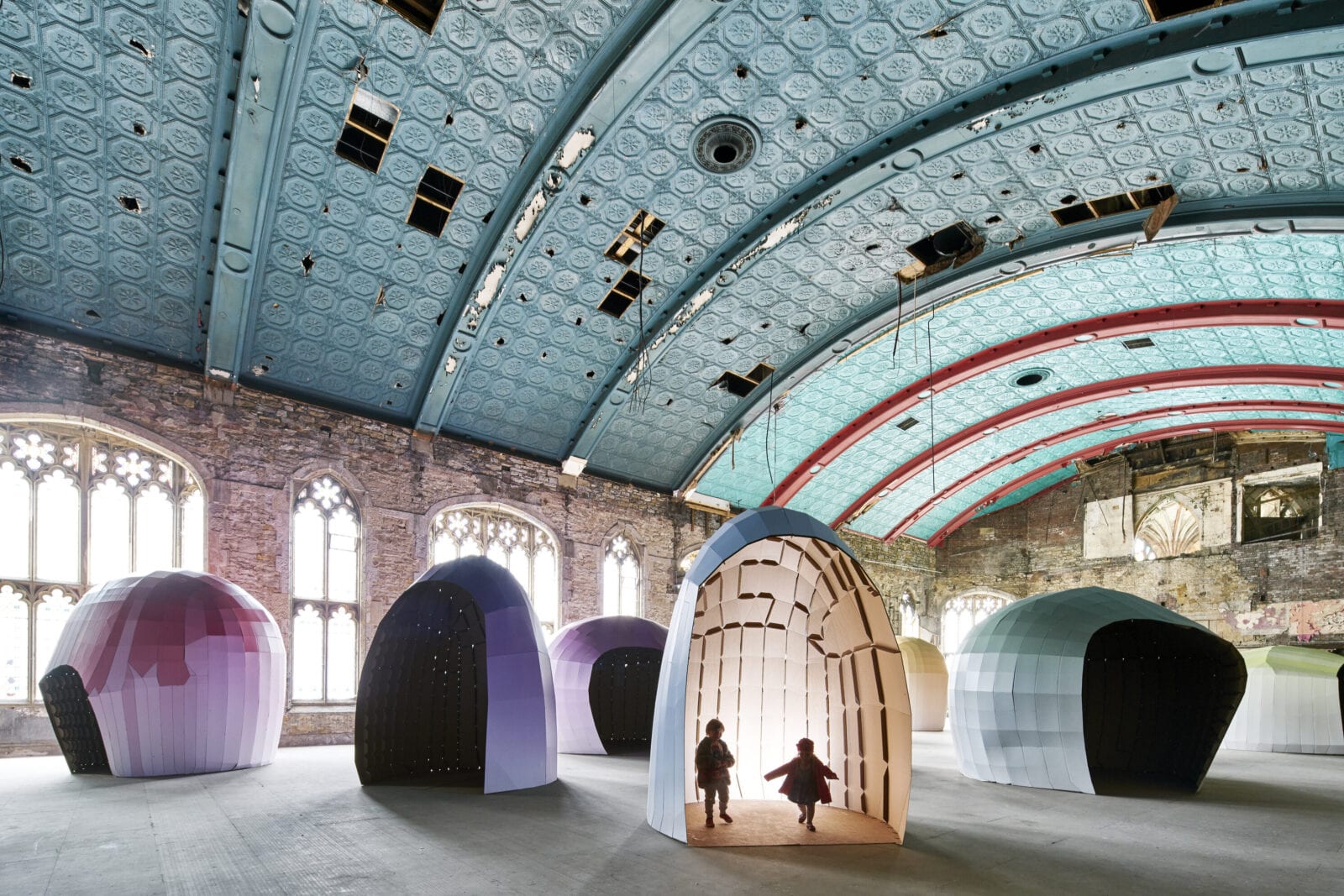 Tim Denton's giant drawing pantograph at Dandara Living explores family connections, friendships and other relationships which create the communities we live, laugh, love and work in, Guy McKinley celebrates humans in all their guises of the present in beautiful colourful stained glass windows at No. 1 Canal Street, and at RNCM, Sumit Sarkar presents a series of sculptures created with a mix of cutting edge digital technology and analogue techniques, which take inspiration from a variety of sources, including religious iconography, science fiction and graffiti.
Large scale visual artworks will pop up around the city.
This includes a mural of Ste Wing by acclaimed photorealistic street artist Akse on Little Lever Street, and award winning photographer Benji Reid's work, which will be displayed on the facade of the National Football Museum.
Atelier Bebop will take over Selfridges Exchange Square, with large-scale graphic work Cosmos inspired by the sunset of summer and the autumn season, whilst Caroline Dowsett's mural at Hatch wraps around the whole inside of its container to create an immersive experience, and Hammo has created a sequence of playful little adventurers, clambering over rocks, climbing trees, crossing streams at Ellis Brigham Mountain Sports in Castlefield.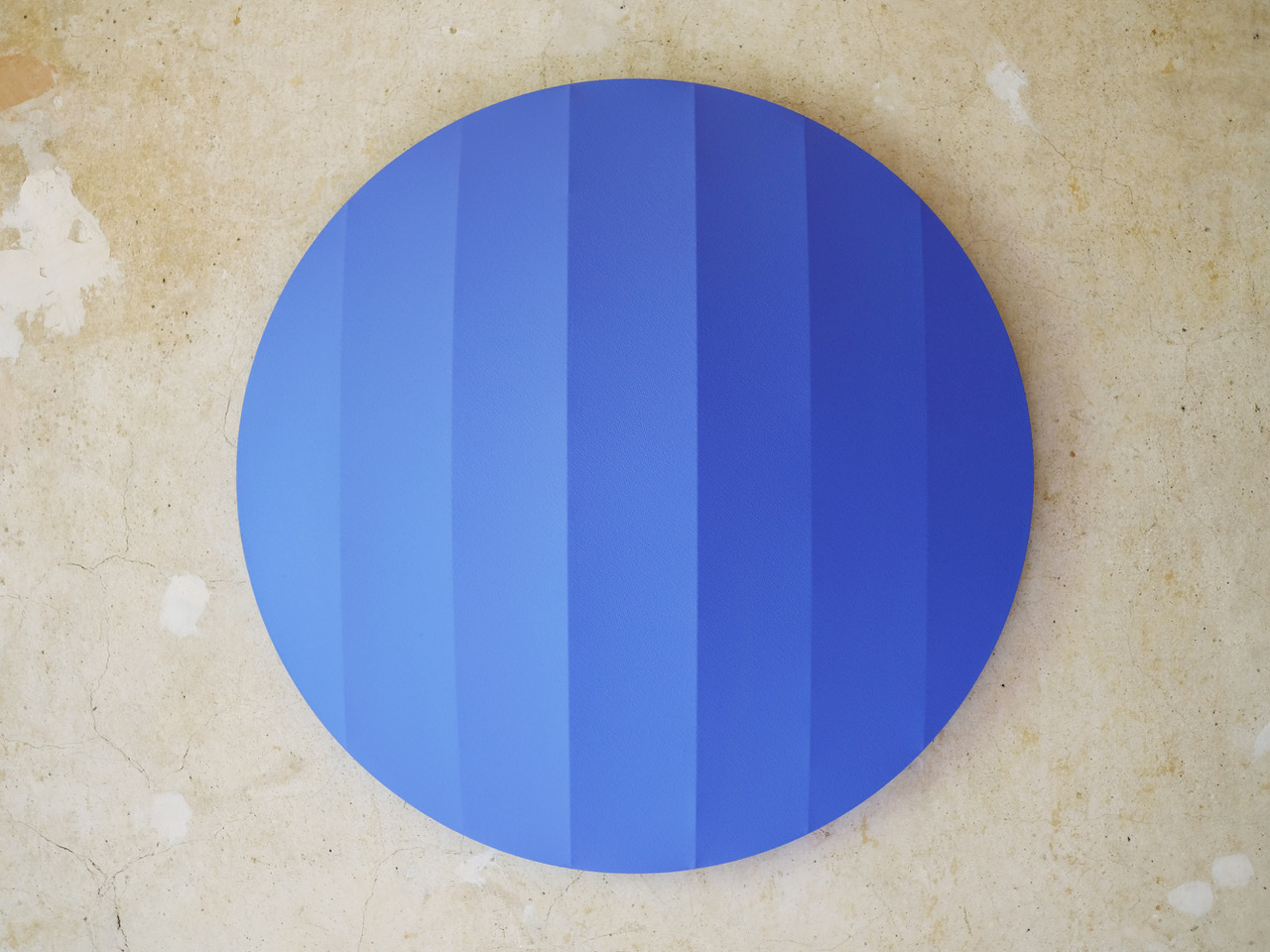 Manchester's ever-present music influence can be seen in the Moovin' Festival Visual Art Collective's installation at KSMCR, which captures some of the festival's madness and magic, whilst one of the many pieces at RNCM includes a photography show from the Manchester Hip Hop Archive.
Elsewhere, in the Northern Quarter, artist Lei-Mai LeMaow's mural at Yard and Coop takes inspiration from old rave flyers and touches on the current precarious situation regarding the music sector.
Other works challenge the viewer to think and will be on display at other prominent city centre venues.
All pieces on display will be available to buy directly from the artist or maker and the project culminates with an auction on 10 December 2020 streamed live from the Kimpton Clocktower Hotel which will see a selection of pieces auctioned with proceeds going to their artists and makers, and to The Lord Mayor of Manchester Charity Appeal Trust – We Love MCR Charity (registered charity number 1066972) which supports disadvantaged communities and individuals to be the best they can be.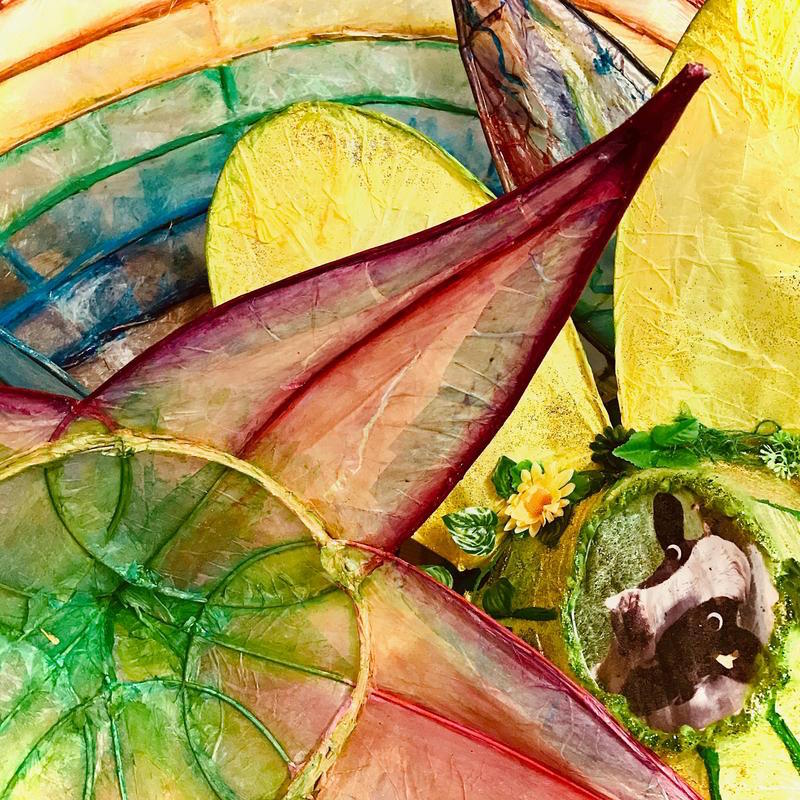 50 Windows of Creativity is being delivered by global public art producers Wild in Art – whose previous work includes the award-winning Bee in the City art trail which took over the city in 2018 – in partnership with Manchester City Council.
Building on Manchester's reputation for innovation and the key strategic role that art and culture plays in the social and economic life of the city, the event is hoping to allow "residents to reconnect with places and spaces in the city centre again" as part of the council's recovery programme.
Ben Reed – Head of Creative Development at Wild in Art – said: "We are delighted to have the privilege of working with the many incredibly talented artists, designers and makers and we are excited to reveal their work and displays.
"This project will transform the city's windows and spaces into an innovative art gallery taking people on a creative journey around Manchester."
Councillor Luthfur Rahman OBE – Executive Member Culture Leisure and Skills, Manchester City Council – added: "Now more than ever it is so important that we show support for the arts community and I hope that people will take the time to safely explore 50 Windows of Creativity and appreciate the incredible talent that Manchester has to offer."
The project is made possible by event partners Auto Trader and Dandara Living, with other businesses including Hobs Repro, Ocean Outdoor, Jamieson Contracting, TfGM and Kimpton Clocktower Hotel also stepping forward to support the trail.
You can find the interactive trail map at the Bee in the City website here.