What's On
The best place to go for a walk in each Greater Manchester borough this autumn
Autumn in Greater Manchester is a wonderful thing and our region is filled with places to appreciate the beauty of this much-loved season.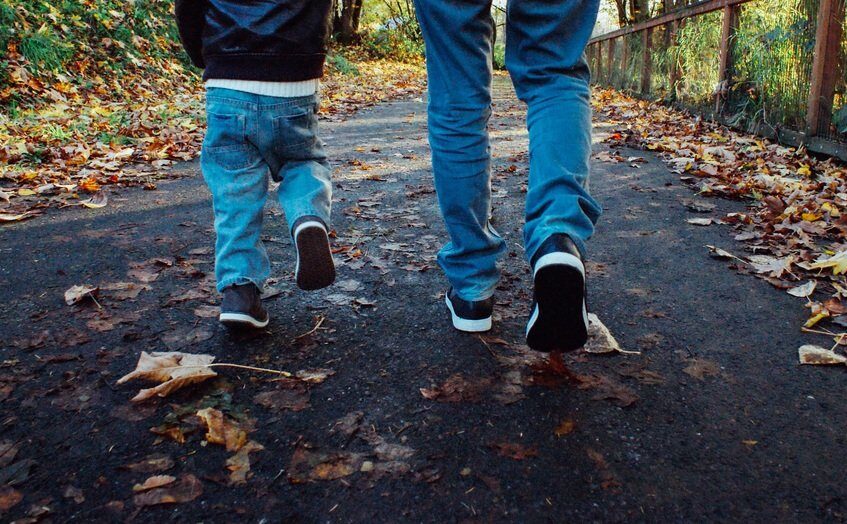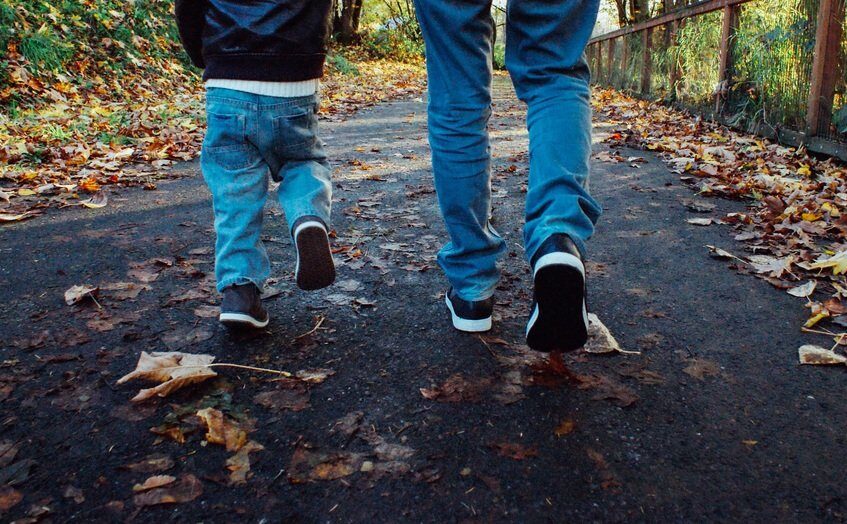 Autumn in Greater Manchester is a wonderful thing.
And our region is filled with places to appreciate the beauty and rich colour of this much-loved season.
Walking is one of the best ways get out into nature and experience everything it has to offer, and now that many of us have developed a new-found love, or rediscovered an old passion for walking over lockdown, there couldn't be a better time to round up some of the best autumn routes in each of Greater Manchester's ten boroughs.
Of course, in the times that we are currently living in amid the coronavirus (COVID-19) pandemic and with Greater Manchester having recently entered into Tier 3 restrictions, it is crucial to stress the importance of social distancing, adhering to any guidelines that the grounds or facilities may have implemented, leaving the place as you found it, and just generally being considerate of other people.
As per the travel guidelines for areas under Tier 3 restrictions, each walking route featured on this list remains within Greater Manchester county borders.
Some of the walking trails on the list may be more popular than others and therefore attract more visitors at peak times throughout the day/week, so this may require you to take a little bit of extra care to avoid creating any over-crowded areas.
With the cooperation of everyone, each place featured can be a perfectly COVID-safe walk for all.
So, let's get walking then, shall we?
Here's our picks for the best place to go for a walk in each Greater Manchester borough this autumn.
___
Manchester
Fletcher Moss Park & Botanical Gardens
18 Stenner Lane, Didsbury, Manchester, M20 2RQ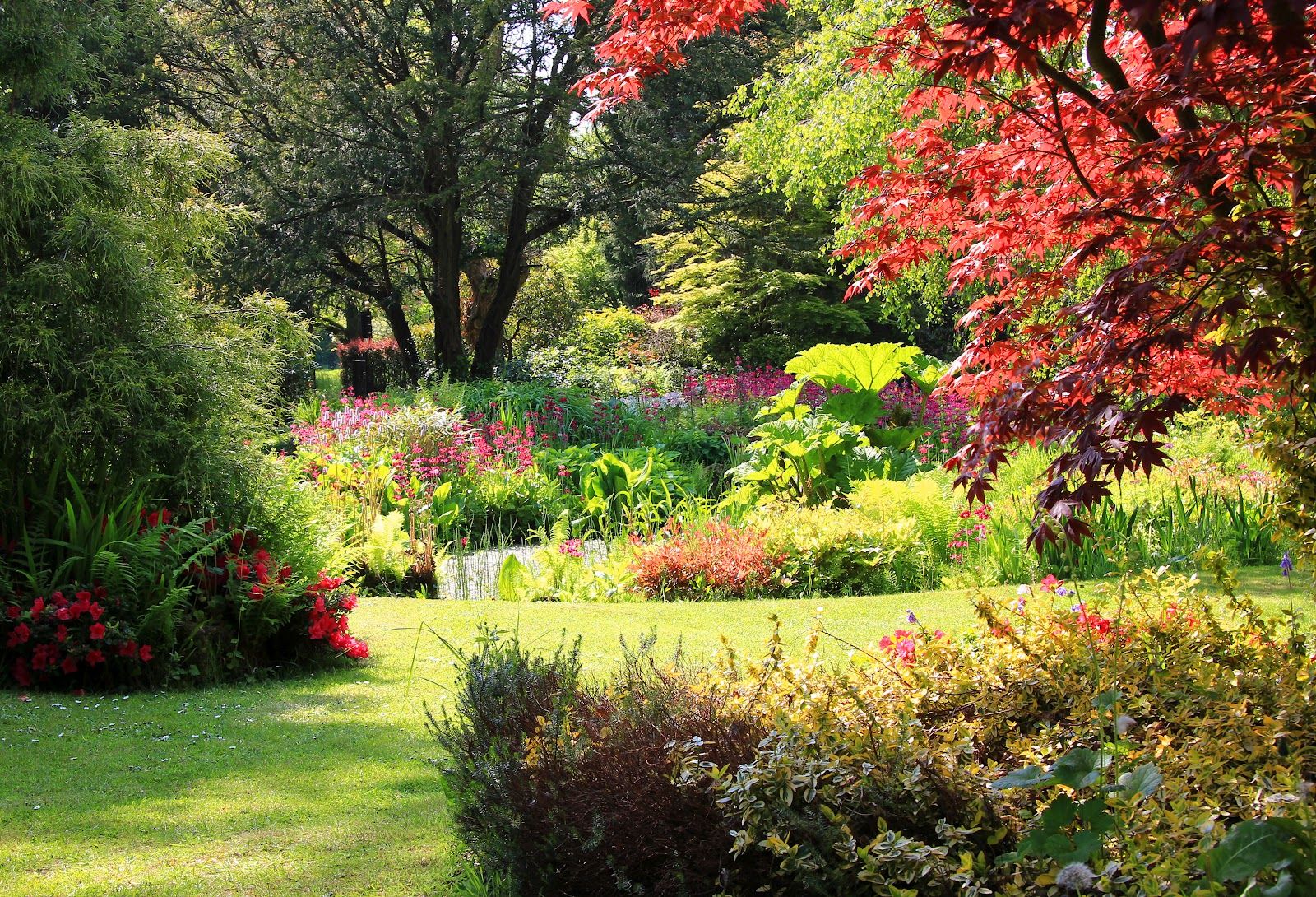 Fletcher Moss Park & Botanical Gardens is one of the most beloved green spaces in the city region.
This 21-acre park in the affluent suburb of Didsbury – which has three entrances on Wilmslow Road, Millgate Lane, and Stenner Lane – was acquired as a gift from Alderman Fletcher Moss in 1914, and the gardens are renowned for their botanical beauty with many antiquated and unusual plants and flowers, making it an ideal place for a leisurely stroll for the family this autumn.
The park has also retained many of its original features, and there is an Alpine house in the gardens adjacent to Fletcher Moss, which together form a picturesque and tranquil haven for visitors.
There's also a visitor's centre onsite, along with tennis courts, a pond, orienteering and nature trails, and a cafe which has recently just reopened to the public with a number of COVID-secure and social distancing measures in place to keep staff and visitors safe.
You can find more information about Fletcher Moss Park & Botanical Gardens here.
Honourable Mentions: Manchester Green Trail, Manchester Wharf City Trail, Alexandra Park, Whitworth Park, Chorlton Water Park, and Clayton Vale.
___
Salford
Worsley Village
Walkden Road, Worsley, Salford, M28 2QT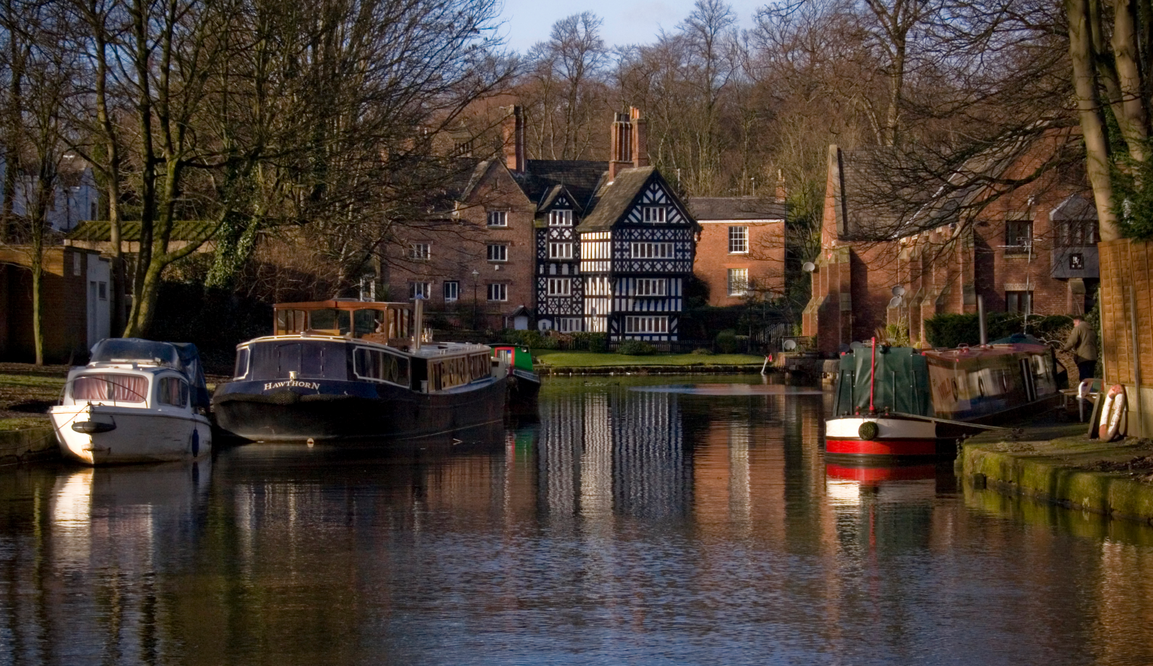 Worsley was once the heart of the transport revolution in Greater Manchester.
Now it's home to this well-trekked three-mile circular walk, which gives you the opportunity to take in the picturesque village, the Bridgewater Canal, its fascinating heritage, and explore the rich woodland area of Worsley Woods, each of which look all the more beautiful during the colourful autumn months.
Important buildings worth spotting on your way include the Bridgewater Estate Offices, the Alphabet bridge, the humpback bridge, the Nailmakers House, Rock House, Packet House, Court House, the former Police Station (The Old Nick), and of course the famous The Aviary mock tudor house.
There's also a wealth of restaurants, eateries, cafes and pubs to stop off at, making this a worthy top choice walking spot for all abilities.
You can find more information about the Worsley Village Circular here.
Honourable Mentions: The Salford Trail, Buile Hill Park & Hall, Salford Quays, Peel Park, and Blackleach Country Park.
___
Bolton
Jumbles Country Park
Bradshaw Road, Bradshaw, Bolton, BL2 4JS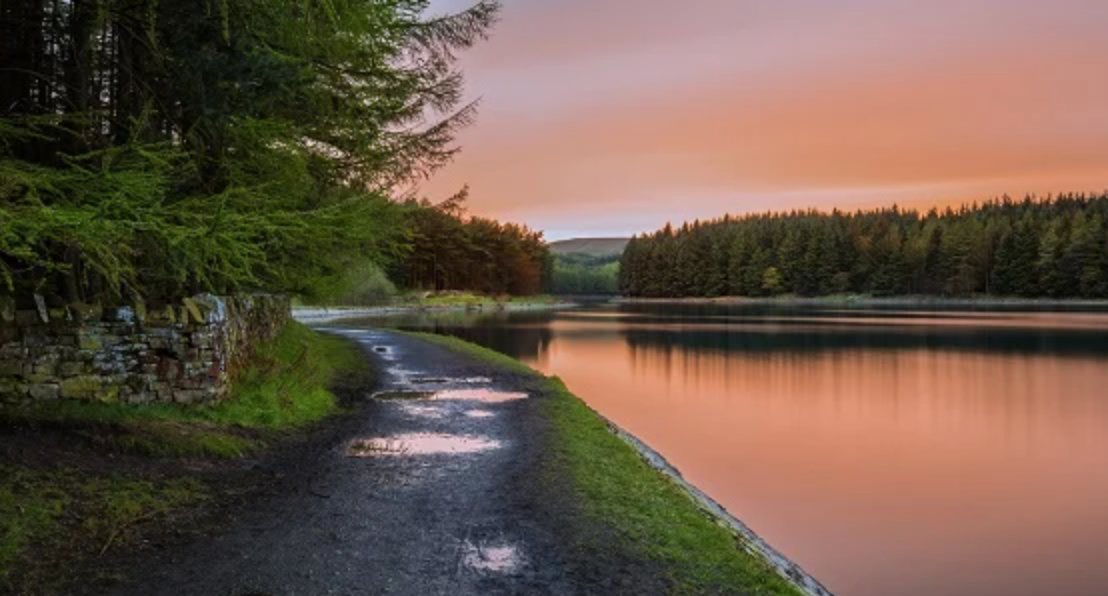 Jumbles Country Park opened in 1971 following the construction of Jumbles Reservoir – one of a number of major reservoirs in/bordering Bolton – and has an easily-accessable path around the reservoir, making it a popular walking trail for all abilities.
It boasts beautiful parkland and picturesque walking routes through a network of footpaths radiating up the valley and across adjacent hills. The grounds can be entered from a number of locations/starting points, and there are two designated carparks, with the main one located off Bradshaw Road.
The onsite Jumbles Country Park Café also provides food and light refreshments for visitors.
You can find more information about Jumbles Country Park here.
Honourable Mentions: The Last Drop Village, Moss Bank Park, Doffcocker Lodge, Moses Gate Country Park and Queens Park. (Rivington Pike, Turton Tower, Wayoh Reservoir and Entwistle Reservoir – each cross the Lancashire border).
___
Bury
Holcombe Moor & Peel Tower
Lumb Carr Road, Holcombe, Bury, BL8 4NN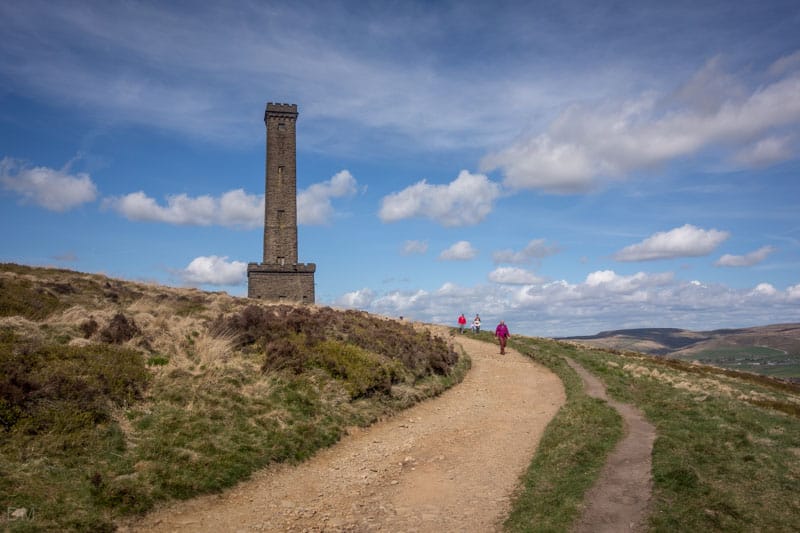 Fancy giving your legs a good stretch?
This circular walk climbs to the Peel Monument on Holcombe Hill, which is an impressive landmark that stands at a height of 1,100 feet (335 m) above sea level and offers some really wonderful views over the surrounding countryside and towns. The recommended best starting point for this walk is from the car park just to the south east of the tower on Lumb Carr Road, and from there you head west.
For the best views, don't forget to head up to Millennium bench, and then continue to explore the expansive Holcombe Moor if you still have the energy.
There's also a number of places for well-earned refreshment along the extended route, or you can instead head into the historic market town of Ramsbottom, which is home to a wealth of independent cafes, restaurants and pubs.
You can find more information about Holcombe Moor & Peel Tower here.
Honourable Mentions: Heaton Park, Burrs Country Park, Nuttall Park, Prestwich Forest Park, and Hawkshaw & Affetside.
___
Rochdale
Hollingworth Lake
Hollingworth Lake, Littleborough, Rochdale, OL15 0AQ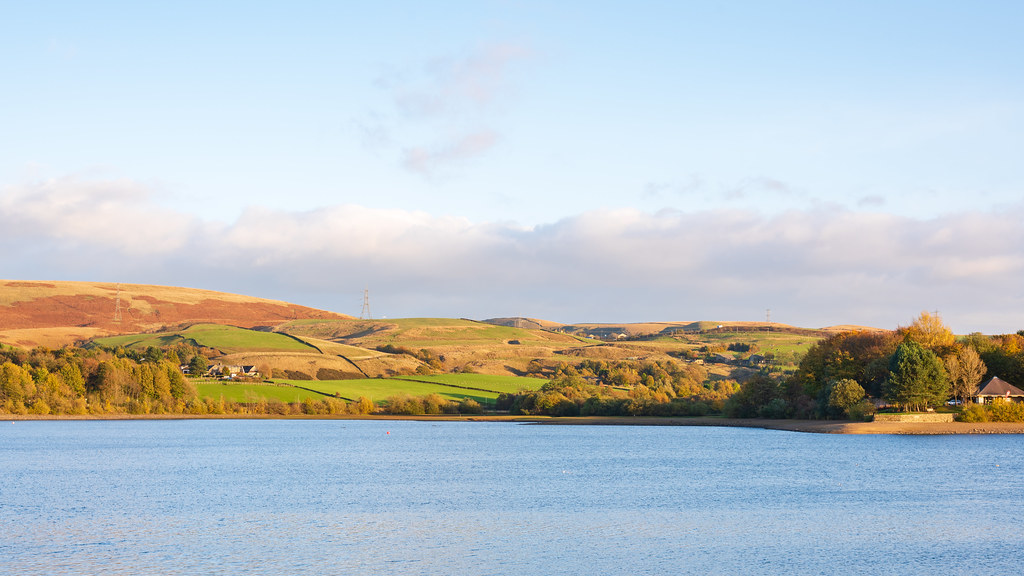 Hollingworth Lake is a man-made lake which spans 118 acres.
It was originally built as the main water source for the Rochdale Canal during the 19th century and in Victorian times was known as "The Weighvers' Seaport", becoming a much-loved attraction for those living nearby shortly after.
Hollingworth Lake itself has an easy access footpath trail around, and the wider country park area then also has plenty of walking routes, which range from easy strolls, to sturdier treks in the surrounding hills.
As the lake is known to attract a large number of visitors at peak times, Rochdale Borough Council says: "We're asking you to consider the safety of yourself and others. If the area looks busy, please consider visiting at an alternative time, or perhaps visit somewhere else that is local to your home."
You can find more information about Hollingworth Lake here.
Honourable Mentions: Blackstone Edge, Healey Dell Nature Reserve, Greenbooth Resevoir Circular, Queens Park Heywood, and Hare Hill Park.
___
Oldham
Dovestone Resevoir
Greenfield, Saddleworth, Oldham, OL3 7NE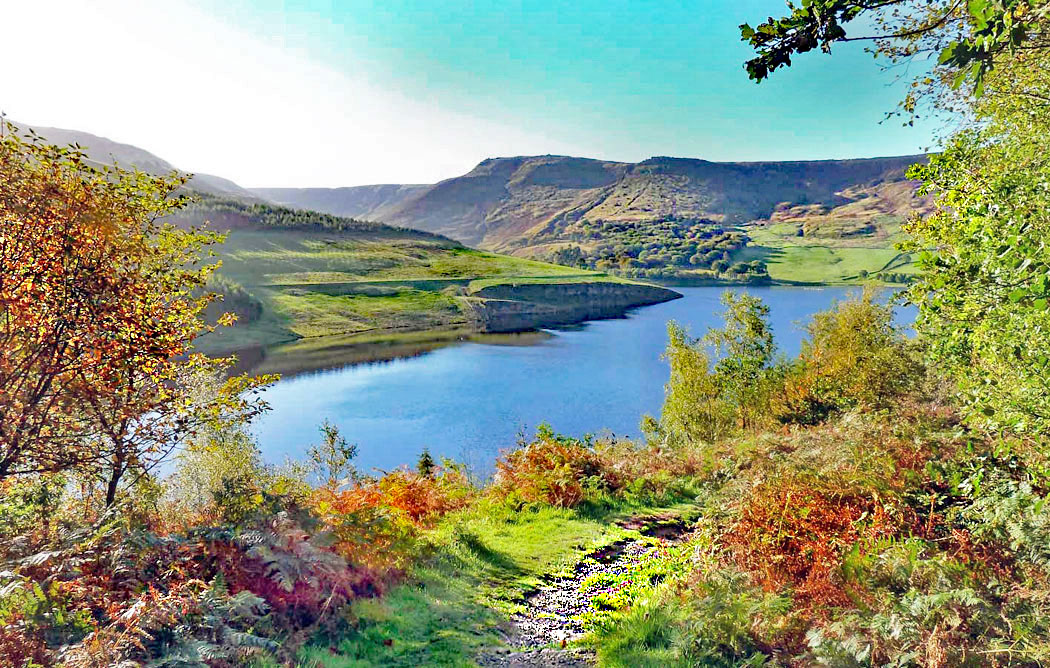 Dovestone Resevoir sitting in the heart of Saddleworth Moor is a beloved gem among many Mancunians.
This picturesque spot has good links to areas of open access moorland and an extensive network of easy access footpaths which makes it simple for the whole family to take a stroll round the reservoir, or stop on the way at Chew Brook to explore the rocks and paddle in the stream. If you're feeling adventurous though, the site also includes two more reservoirs to walk round – Greenfield and Yeoman Hey – from which you can explore Saddleworth moor and the crags above.
Given its beauty and subsequent popularity, this area is also known to attract crowds and so taking extra care to ensure necessary social distance when visiting at peak times is always advised.
You can find more information about Dovestone Reservoir here.
Honourable Mentions: Tandle Hill, Daisy Nook Country Park, Strinesdale Country Park, Besom Hill, and Crompton Moor.
___
Tameside
Werneth Low Country Park
Higham Lane, Hyde, Tameside, SK14 5LR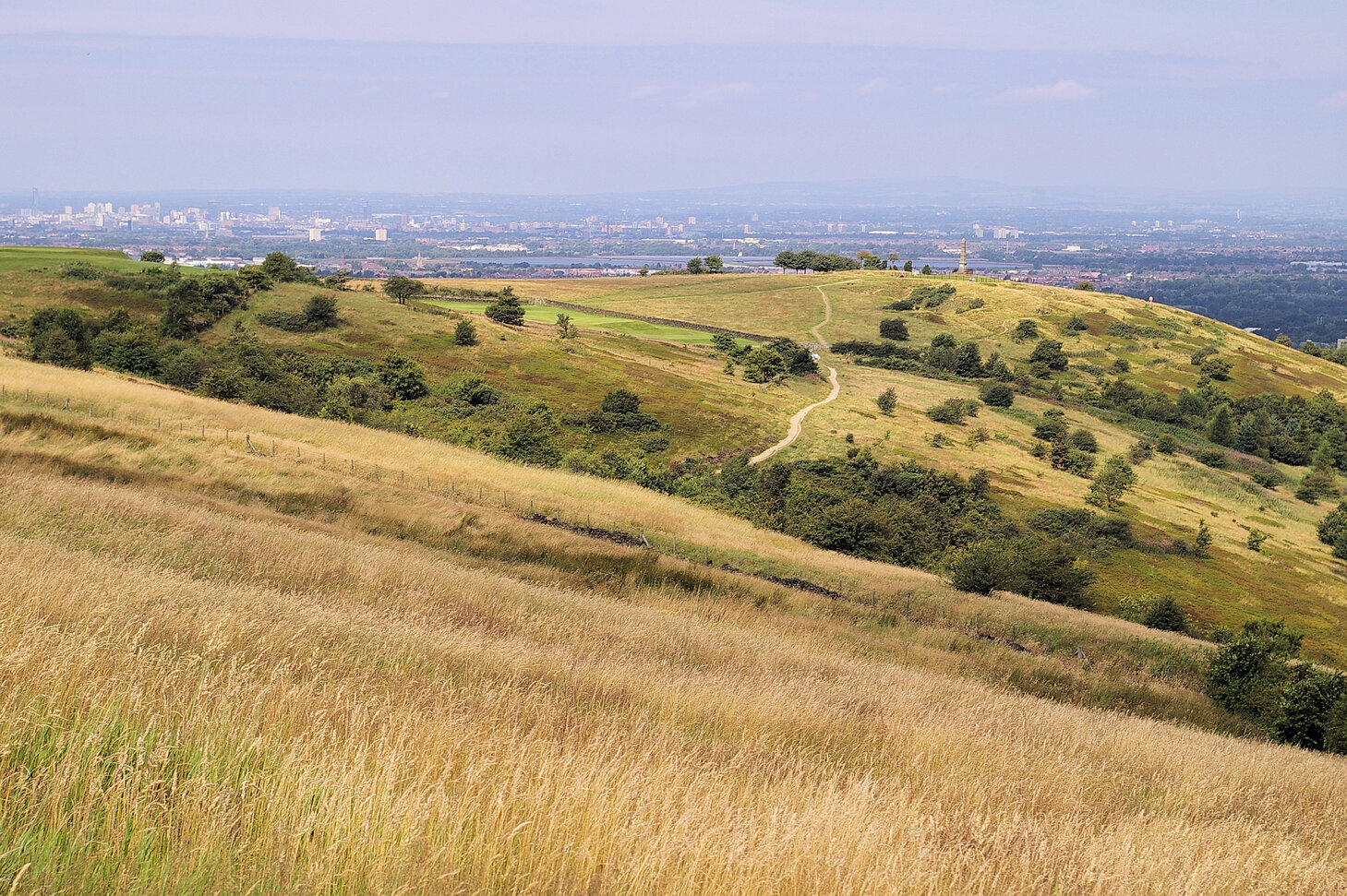 Werneth Low in Tameside offers what is one of the most spectacularly expansive and panoramic views of Manchester and beyond, and the dark blue silhouette of the Welsh mountains can even often be seen on clear days too, as can the Pennine hills close by.
The country park – which is both a haven for wildlife and an area for visitors to find peace and relaxation – extends for 200 acres across the northern and western slopes of Werneth Low.
The number of well-surfaced footpaths, horse riding and cycle routes, picnic areas, view finders, informal gardens, and seats provided at many locations throughout the trail designed for visitors to rest and take time to appreciate this unique area, also make this one of the most worthwhile walks in the region.
Make sure to stop off at the Hare & Hounds Inn in Hyde if you want a little extra time to appreciate this unrivalled view.
You can find more information about Werneth Low Country Park here.
Honourable Mentions: Lover's Alley Trail, Stalybridge Country Park, Harridge Pike, Haugton Green Circular, and Haugton Dale Nature Reserve.
___
Trafford
Dunham Massey
Dunham Massey, Altrincham, WA14 4SJ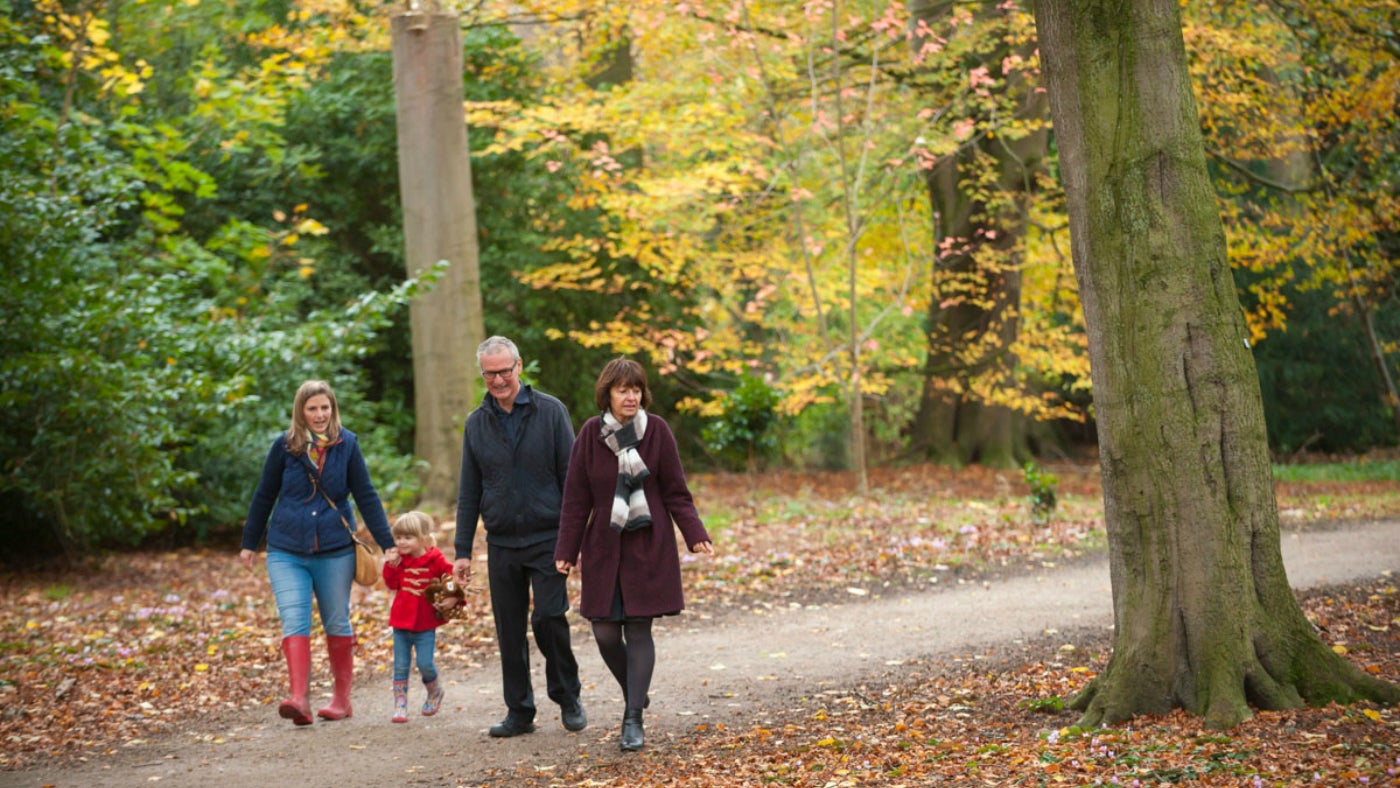 Dunham Massey really needs no introduction.
The extensive 190-acre deer park and gardens in Altrincham boast over a thousand winter shrubs, trees and evergreens, making it the perfect place for a family-friendly autumnal stroll, or to take a moment to sit, listen to the seasonal sounds, and take in the beauty of nature's changing colours.
You can then treat yourself to a warm drink, snack / bite to eat at the Stables Restaurant or Stamford Café, and there's even a wood-fired pizza van onsite seven days a week now too.
Due to the coronavirus (COVID-19) pandemic, Dunham Massey and the National Trust has introduced a number of safety measures, meaning visitors now need to pre-book a ticket for a half-hour timed entry slot prior to their visit, with non-National Trust members required to pay £8.
You can find more information about Dunham Massey here.
Honorable Mentions: Wythenshawe Park and Gardens, Trans Pennine Trail, Banky Meadows and Ashton upon Mersey, Urmston Meadows & Old Ees Brook, and Sale Water Park.
___
Stockport
Bramhall Park
Bramhall Park Road, Bramhall, Stockport, SK7 3NX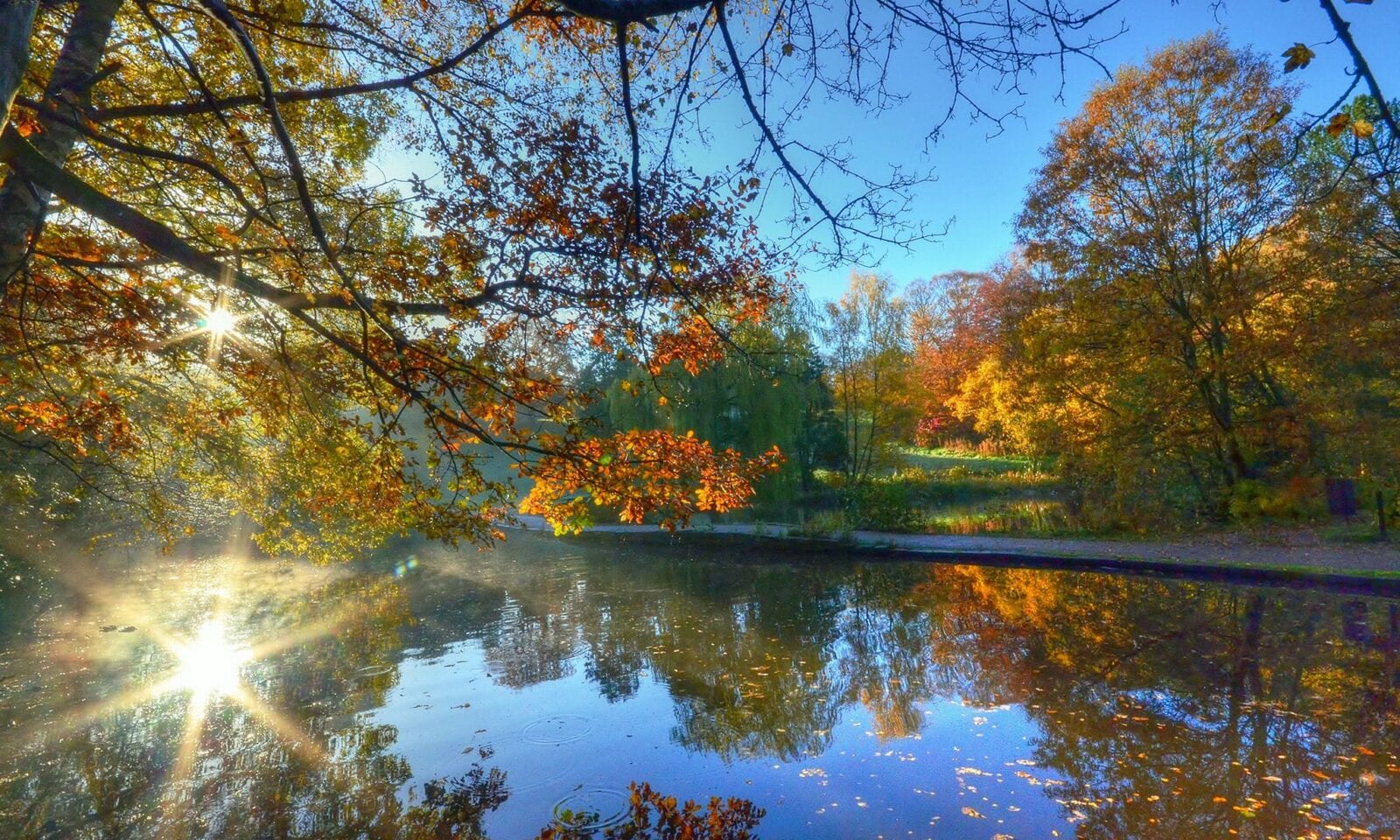 Bramhall Park – which sits in the grounds of the historic 14th century timber-framed Bramall Hall in the Stockport suburb of Bramhall – is a magnificent and beautifully-landscaped greenspace of woodland and walking trails, which makes it another ideal location for an easy stroll, or a brilliant spot to appreciate all the colours autumn has to offer.
The onsite Stables Kitchen Cafe is also a great place to grab refreshments.
The landscaping of the park began in the 1890s – when the onsite ponds were first made – and the park is now also home to a variety of wildlife, as its woodland and lakes provide an excellent environment for habitats to develop.
The park has a pay and display carpark on site, and is also close to rail and bus routes.
You can find more information about Bramhall Park here.
Honourable Mentions: Reddish Vale Country Park, Lyme Park, Fred Perry Way, Heaton Mersey Common, and Etherow Country Park.
___
Wigan
Pennington Flash Country Park
St Helens Road, Leigh, Wigan, WN7 3PA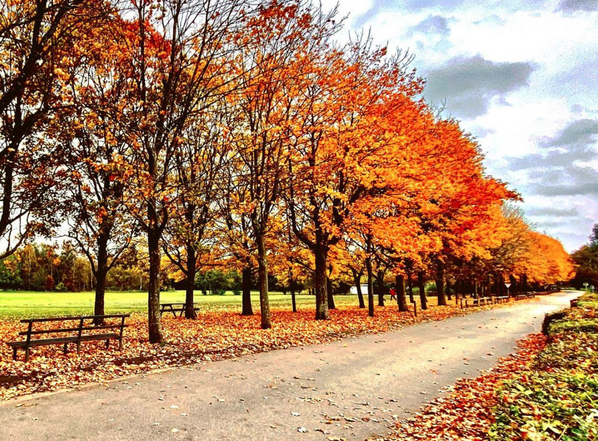 Pennington Flash Country Park is a 490-acre park located between Lowton and Leigh in Wigan, and it offers an easy and family-friendly autumnal walk for all abilities.
As well being great for walkers, with the Pennington Flash Circuit (Jubilee Legacy Gold Route) being the most popular, thanks to the 'flash' – referring to the lakes on the site which were formed over time as a result of the mining subsidence – the park is also considered to be one of the most premier bird watching sites in the North West, with over 200 species to lay eyes on.
A nine-hole golf course is also open to the public, as well as fishing permits available and a children's play area.
While there's no permanent place for refreshment within the park's grounds, food trucks and an ice cream van are known to visit, and there's plenty of amenities at the nearby Parsonage Retail Park too.
You can find more information about Pennington Flash Country Park here.
Honourable Mentions: Haigh Country Park, Fairy Glen, Borsdane Woods, Worthington Lakes, and Mesnes Park.
___
There's no doubt that we've missed some other spectacular walks off this list across Greater Manchester, so which routes would you add into the mix?
What's your pick for the best place to go for a walk in our region?
Let us know.